3-5-2 bearing fruit for Rodgers and Liverpool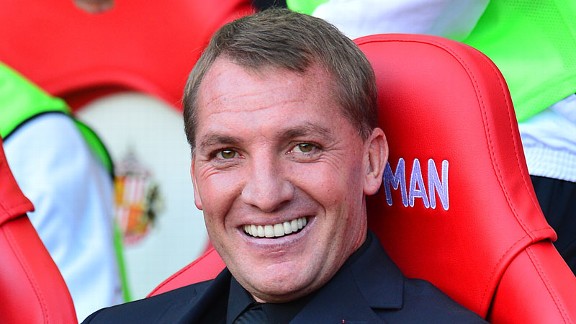 PA PhotosBrendan Rodgers has hit upon what could be the perfect formation for the Reds.

Luis Suarez has a capacity to change everything: football matches, most obviously, and the mood around Anfield, but his transformative impact has taken on another dimension since his return from a 10-game suspension.

The Uruguayan has changed Liverpool's tactics. Not directly -- Brendan Rodgers has done that -- but the availability of a unique player has made Liverpool unconventional. The 3-5-2 formation that was introduced when Suarez made his comeback at Old Trafford renders them the anomaly in a league where a back four is almost mandatory. In an age when strike partnerships are rare, it also allows Rodgers to twin Suarez with Daniel Sturridge.

It is a system that is a product of circumstances, a proof of a willingness to experiment and yet a reminder that some things are sacrosanct for Rodgers. Given his acute emphasis on retaining possession, having a trio in the middle is non-negotiable. "It gives us three players to dominate midfield," he said, explaining his initial switch.

That has been a constant in Rodgers' thinking; in his Premier League career, he has alternated between 4-3-3 and 4-2-3-1. Even his brief attempts to play 4-4-2 last season involved Jordan Henderson becoming an ersatz left midfielder, tucked in so he could join the central duo. It resulted in a lopsided look. In contrast, 3-5-2 offers both balance and a three-man engine room.

While it is unfashionable, there are precedents. It was Roy Evans' preferred shape; Kenny Dalglish occasionally operated with three centre-backs, albeit as a purely defensive move. Rodgers switched to 3-5-2 successfully during last season's Merseyside derby at Goodison Park and started with it at Fulham, only to alter when it wasn't working.

The other manager now on Merseyside, Roberto Martinez, was alone in normally favouring a back three last season. This year, Rodgers is the sole non-conformist. Given their shared commitment to passing, both recognise the advantage of having an extra man at the back in a manner that creates different angles.

In Rodgers' case, however, a surfeit of central defenders also contributed. "It was something that has been forced upon us in terms of the players we have available," he said when trialling the shape. Perhaps that was a little disingenuous; injuries certainly contributed but so did his decision to sign two centre-backs, Mamadou Sakho and Tiago Ilori, on deadline day, to add to the earlier addition Kolo Toure. When Martin Skrtel delivered a career-reviving performance in September's win over Manchester United, Rodgers found himself with too many options. Indeed he started against Southampton with four specialist centre-backs, a move that even George Graham might have considered excessive.

Even with a trio, Liverpool's finest centre-back, Daniel Agger, has begun on the bench for the last two games, while Ilori is yet to debut. Indeed, while Agger's class makes him the sort of defender who ought to relish the extra space 3-5-2 affords him, he is one of three players, for whom the formation could have been designed, who have nevertheless had a watching brief. Glen Johnson is a natural wing-back, and while Philippe Coutinho has prospered on the left wing, Rodgers has long felt he is best deployed as a No. 10. With both sidelined, Victor Moses has deputised for the Brazilian, while first Jordan Henderson and then Raheem Sterling have stood in for the Nigerian.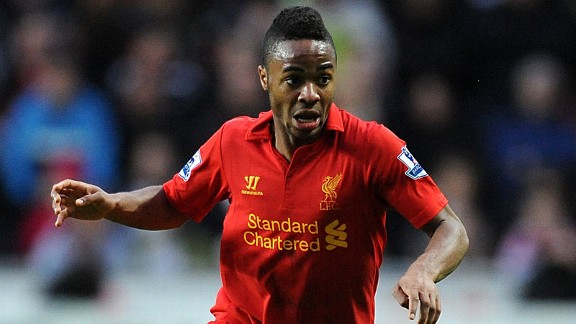 PA PhotosRaheem Sterling has been called into action in defence.

Sterling's deployment was the most improbable -- perhaps not since David Ginola has a winger with such defensive deficiencies been tasked with starting as a wing-back -- but it also indicated that Liverpool were at home to Crystal Palace. It is a risk Rodgers might not have taken against superior opposition. It could prove a rare start for other reasons: wingers tend to be the fall guys when managers adopt 3-5-2 systems. Moses is currently operating infield but is likely to revert to the bench when Coutinho is available.

Because the other downside is that it only allows for three attacking players, two in the forward line and one just behind. And it is worth remembering that Rodgers spent the summer trying to secure a marquee signing who presumably would have made a fearsome quartet along with Suarez, Sturridge and Coutinho: first Henrikh Mkhitaryan was targeted, then Diego Costa and finally Willian.

Had any responded to the entreaties from Anfield, then it is likely Liverpool would be playing 4-2-3-1 with either of the strikers forced to adopt a deeper starting position or become a makeshift winger. Instead, 3-5-2 is a better fit for both, as a combined haul of five goals in the last two games indicates. It should be ideal for Coutinho, too, not to mention the phalanx of centre-backs, plus wing-backs, in Johnson and Jose Enrique, who were sometimes caught too far upfield when playing in a back four. And so it is that a manager whose detailed preparation was epitomised when he submitted a 180-page dossier in his job interview may have stumbled on Liverpool's finest formation after the statement signing designed to make Liverpool more potent in the final third eluded him. There can be benefits when the best-laid plans do not succeed.