Another intriguing EPL title race is taking shape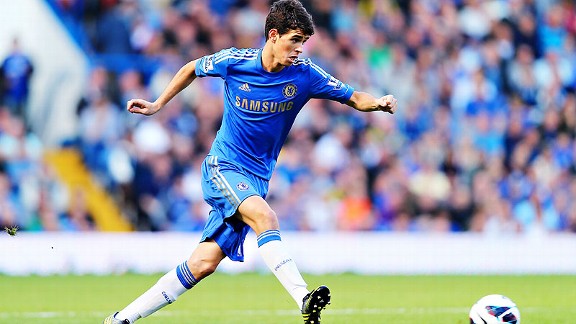 Clive Rose/Getty ImagesCan Chelsea win the league? Creative players such as Oscar, along with Juan Mata and Eden Hazard, will play a huge role in the club's title quest.
Chelsea go into the international break with a useful four-point lead over the two Manchester clubs, yet many are still unconvinced they can finish on top. Only seven games have been played; 31 to go. So to borrow a line from Winston Churchill, "This is not the end or even the beginning of the end, but it might be the end of the beginning."

Chelsea has been immersed in the bad publicity surrounding John Terry and Ashley Cole, and many clubs might have been thrown off course by that. But Roberto Di Matteo, having delivered the FA Cup and Champions League last season, has an understated style that stops a drama becoming a crisis. Cynics say Chelsea has too many creative clones in Eden Hazard, Oscar and Juan Mata, but Di Matteo has played them all together and keeps winning.

I am with my co-commentator Steve McManaman on this. He says "You can never have too much quality on the field." So long as the ball players have the likes of John Obi Mikel and even a reinvented Frank Lampard or Ramires filling the gaps behind them, the blend looks right, particularly with a defence that has conceded a league-lowest four goals so far.

Where Chelsea may have a problem is in attack. If Fernando Torres were injured, it would expose a lack of cover. In that scenario, it would be fascinating to see if Di Matteo might experiment with a Spanish-style "false No 9."

Chelsea's next game is live on ESPN2 on Oct. 20 against old boss Andre Villas-Boas at Spurs, with American star Clint Dempsey likely to be in the lineup. But will former U.S. keeper Brad Friedel be in the team after AVB ended his eight-year run of consecutive EPL appearances against Aston Villa? It might be the first instance of a keeper being dropped after a win at Old Trafford, and certainly Freidel's form has been magnificent.

But at 41 and up against the outstanding French No. 1, Hugo Lloris, it may be that the American will be spending more time on the bench. We will get a big clue when Spurs name the team to play Chelsea.

Elsewhere, both Manchester clubs slipped into their best form yet last weekend. That might be a sign that both are gearing themselves to go on a big run.

Champions City look much more assured with Gareth Barry welding things together in the engine room, and surely the ill-conceived flirting with a three-man defence will be abandoned. United passed the ball wonderfully for long periods at Newcastle, and with Wayne Rooney looking sharper, the 3-0 win had the feel of a turning point.

The surprises have been Everton and especially West Brom. David Moyes' side is a far greater goal threat now that Nikica Jelavic and the darting Kevin Mirallas are on board, but do they have the squad depth to sustain a top-four challenge?

Arsenal are going well too, with the ever-smiling Santi Cazorla illuminating the league and Per Mertesacker emerging as a key defensive rock (he was badly missed against Chelsea in the home defeat).

So another intriguing title race is taking shape.

It won't include Liverpool. Brendan Rodgers' team are already 13 points adrift and yet to win a league match at Anfield. There are signs of promise for the future, but the folly of not signing Dempsey and letting Andy Carroll go without replacing him is coming back to bite them. Sadly, the Boston Red Sox owners who are behind Liverpool have sometimes looked a little naive, but they made the right decision to appoint Rodgers.

This is a team in transition and in need of another striker, a major leader at the back in the mould of Sami Hyypia, and perhaps even a new keeper to replace a stale and increasingly error-prone Pepe Reina.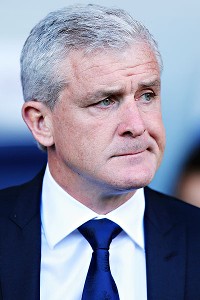 Bryn Lennon/Getty ImagesMark Hughes has bought plenty of new players, but QPR has only two points so far this season.
At the bottom, I fear Mark Hughes has not bought too wisely, and I was shocked by how bad they were when we covered QPR against West Ham. Two points so far tells its own story. Reading look a little short on quality at this level, while Norwich leak far too many goals to be optimistic of staying up.


At least Southampton carry some attacking threat, which may preserve them in the top flight, though it will be mighty close.