Holloway exit an indictment of modern football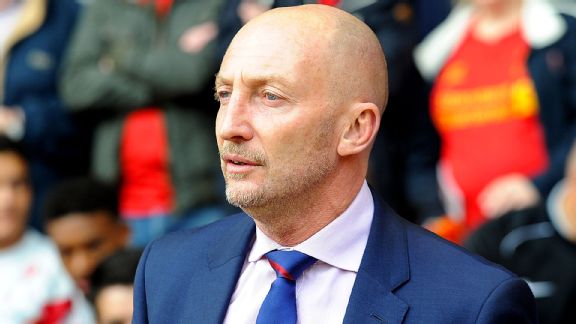 John Powell/Liverpool FC/Getty ImagesIan Holloway lasted just eight matches into the Premier League season after guiding Crystal Palace to promotion last season.
I'm starting to think that Owen Garvan might be the next Nostradamus. Back in July when the 25-man Premier League squads were announced for each club, a furious Garvan took to Twitter after being left out. The midfielder blasted Palace manager Ian Holloway and said: "I'll be here longer than he will... trust me."

Not three months later and Holloway has left the Eagles. Blimey, can Garvan do my lottery numbers please? If he can't get any action as a footballer, maybe he can start reading people's palms? Garvan's Tarot Cards. I'll happily pay a fiver to see what he thinks my future holds.

It says plenty that back in July Garvan was so confident that Holloway would soon be gone and hints perhaps that things weren't all right behind the scenes. Reports on Wednesday suggest Holloway left as he felt he had lost the dressing room. In the world of modern football, player power is the ultimate trump card and perhaps it has struck again.

- Report: Holloway leaves Palace

It's all a bit depressing, though. It's a sad indictment of modern football that clubs and managers are under so much pressure that they feel they have to throw in the towel after just eight games, even though many of those were against top-10 teams. Long gone are the days when managers are given time to cultivate squads over a couple of years. If there is no instant success, then it's time for a change.

Holloway's record doesn't make for fantastic reading. Palace have won just two of the past 18 league games under him, which sounds terrible. But when it came to the crunch he delivered. That previous stat doesn't include the three playoff games in May which earned Palace promotion to the Premier League. Eagles fans will always be thankful for that. Beating archrivals Brighton in their own backyard ranks as one of the greatest ever Palace wins and he was the catalyst, getting the best out of what was a good, but by no means great, Championship team.

I liked Holloway as a man. I found him entertaining and engaging, and spoke on this blog about how I could listen to him talk at length. And for those reasons I really wanted things to work out for him at Palace. He had plenty of faults: he was almost too honest and quite often said the wrong thing in news conferences, riling fans without meaning to, and some of his tactics and substitutions often left a lot to be desired. But he was passionate. Oh lordy, was he passionate. And it was hard to dislike the guy when he seemed to care as much about the club as the fans did.

He also spent a lot of time working with the club in the community. He often visited local schools and spoke to children, each time with the same passion and vigour he showed on the touchline on a Saturday afternoon (or, thanks to Sky Sports, Monday night, or Sunday at midday). Palace are a club that are proud of their roots in the community and, for me, the manager making public appearances and speaking so passionately to locals is almost as important as what happens on the pitch. I know previous manager Dougie Freedman did not enjoy those responsibilities but I hope the next manager does.

Speaking of which, a ton of names have been doing the rounds as to who will be Holloway's replacement and none of them fills me with excitement. Former Stoke City long-ball ambassador Tony Pulis is the favourite, and although his credentials are fairly decent, I'd rather watch paint dry. And then paint more coats over the top and watch them dry. Crystal Pulis? No thanks. Roberto Di Matteo, Avram Grant, Paolo Di Canio and Neil Warnock are some of the names getting mentioned, with even former Palace defender Tony Popvic getting backing from fans. He's a nice chap, but his only managerial experience is in the Australian A League, which he won with the Western Sydney Wanderers last season. My Sunday League team are doing alright, might as well give our gaffer the job. He always gets the drinks in after games, too.

Some fans never gave Holloway a chance. They didn't want him at the club and despite the success of promotion, they never gave him an inch, and no doubt are feeling very smug right now. There are some fans who were angry at Holloway simply because he wasn't Freedman. Dougie was a hero as a player and seemed to be developing into a good manager but left to join Bolton last year. Some supporters have never quite got over that and wanted him back so badly that they were never going to be happy with Holloway.

The reason I liked Holloway at Palace was because it was part of a long-term approach. When promotion was won in May, many fans agreed it didn't matter what happened this season because the long-term future of the club had been secured, and there was a savvy man at the helm. Now it seems all that has been forgotten, it's a short-term gamble to stay up over a more sustainable future. And it stinks! I hate what football has become.

I don't know if this gamble is going to pay off. I still think the squad just isn't that good, but stranger things have happened and clubs have managed to turn things around after disastrous starts by parting ways with their manager, so I do understand why this has happened.

It just makes me sad. It would be nice if Palace had a manager for longer than half an hour. Holloway has not even lasted a year. Before that, Freedman jumped ship 18 months after getting the job and before him George Burley had just six months.

Perhaps the answer is Owen Garvan. He doesn't have much to do at the moment and clearly is good at predicting the future. I mean, what better options do Palace have?