Confidence low at Palace after Fulham loss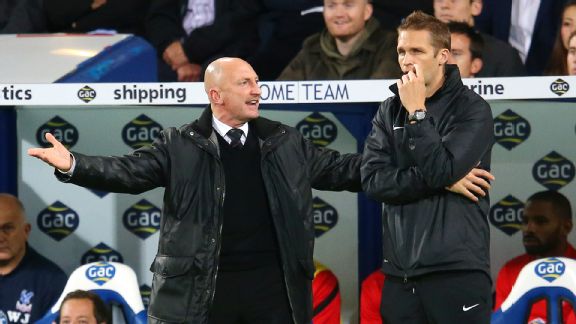 Julian Finney/Getty ImagesIan Holloway was a picture of frustration during Crystal Palace's 4-1 home defeat to Fulham.
Monday's nights televised defeat at home to Fulham -- beamed around the world in glorious technicolour -- was painful to watch. It was a much needed chance for Palace to get some points on the board and try to climb out of the Premier League relegation zone against a team who are poor away from home. But it turned out to be the Eagles' biggest defeat of the season.

But it was doubly painful for me because I think I've broken my toe. I injured it playing football two days before (despite scoring four goals), and after the swelling refused to go down, I was persuaded by a nurse friend to go to Accident and Emergency... about an hour before kick-off at Selhurst! It was a straight toss up: urgent medical care or Palace v Fulham. I chose the latter and hobbled my way towards Selhurst Park.

- Cottagers run riot at Palace
- Holloway meets owner

In hindsight, it was probably the wrong decision, for a number of reasons:

1. Palace were stuffed 4-1, the most goals they've conceded in any game all season, at the same time breaking an unbeaten midweek evening home record that stretches back to March 2010.

2. My toe blooming' killed! All game!

I hobbled around the stadium (having got a cab from my house no more than two miles down the road) and dragged myself up the stairs to Crystals Bar for a pre-match pint where co-chairman Steve Browett told me I'd made the "right decision" in choosing Palace over immediate medical attention. I then made my way round the stadium to the Arthur Wait stand, which took about four hours, to get to my seat right on kick off. I was a mess.

But Palace weren't. They looked confident and assured in the first half an hour against the Cottagers and everything seemed to be going well. Adrian Mariappa scored a nice header, Dwight Gayle caused problems with his darting runs, Mile Jedinak broke up lots of Fulham attacks and even Stuart O'Keefe -- by no means a regular -- played well. But two spectacular goals from Pajtim Kasami and Steve Sidwell knocked the stuffing out of the Eagles and they looked very unsure of themselves after that. Fulham took advantage in the second half with two more goals.

By the end of the game my toe was in absolute agony. I could barely stand on it and walking was almost impossible. I felt like Richard Attenborough in Jurassic Park, hobbling along behind everyone else like an old man. And the Palace players, too, looked like defeat had etched years onto their faces. They seemed devastated.

The Palace fans were in shock. Fulham supporters looked like they'd just won the Euro Millions; a state of surprise and joy. They didn't expect to win and didn't really deserve to. Palace have had a fair amount of bad luck already this season (conceding a penalty at Old Trafford for a foul that was two yards outside the box, losing 14 players to injury, having a stonewall penalty turned down at Stoke) and Monday's defeat to Fulham can be added to the list. For the first half efforts, Ian Holloway's men deserved to head into the break 1-0 up. As it was, they went in 2-1 down and hemorrhaging self-confidence.

And if luck is lacking at Selhurst, so is confidence. I know that the odds and pundits are all against Palace this season, but if they don't believe they can get results, no-one is going to hand them points. When the players emerged for the second half on Monday there was only one set who looked like they were going to win the match, and it was the ones dressed in white.

Whether that's down to Holloway's tutelage, the pressure of top flight games or just a lack of Premier League experience, something isn't quite working. Teams like Stoke and West Brom have managed to survive year after year not due to ability, more down to self-belief.

And right now that is shot to pieces at Palace. And having fans verbally abuse Holloway after the game (as happened at the final whistle) will not help anyone. The odds are already against Palace and they need everyone sticking together. Holloway's future is now reportedly hanging in the balance, but I'd like to see him stick around, not because I think he has much of a chance of keeping Palace up but I would just like to see the club keep a manager for longer than one year. Holloway's first anniversary is quickly approaching, but if you believed the bookies, he won't make it. In fact, Palace play West Brom on November 2, and the Baggies have a reputation for being the last opponents for many a manager before the chop. Holloway joined the Eagles on November 3 last year. Just saying.

I, meanwhile, have spent the couple of few days nursing a (suspected) broken toe and bruised ego. While I have plenty of time for my wound to heal, Palace are running out of time to patch things up.