Smoke bomb saga in perspective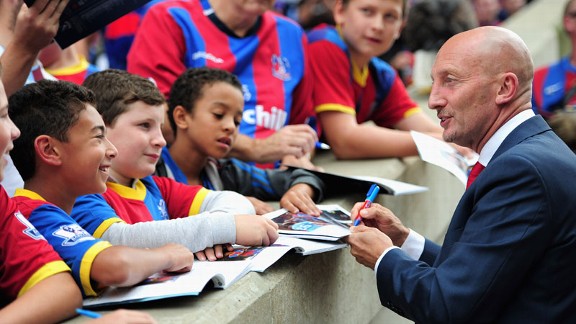 GettyImagesCrystal Palace have banded together in the past and must do so again.
Crystal Palace fans are bloody brilliant. They always have been, as long as I can remember since I started regularly watching games about 15 years ago, and this despite never winning any major trophy in my lifetime (or any Palace fan's lifetime, unless you count the Zenith Data Systems Cup as a major trophy).

There has always been something about being a Palace fan -- the constant disappointment, the lifelong sense of underachievement, the sitcom-style bad luck -- that put things into perspective for me. Forget winning, having fun is more important. And Palace fans have always had a great sense of humour; some of the chants at Old Trafford last month were just that (my favourite being 'Who's the Scouser in the wig?' when Marouane Fellaini was brought on).

Going to games has always been fun, whatever the restult. I genuinely feel sad for fans of top six clubs who can't appreciate the good times and the bad times and just enjoy watching their team with their mates.

But at the moment, Eagles fans are being divided by a debate involving smoke bombs. Some fans took them to Anfield last week and let them off during the game, covering most of the away end in red and blue ash. It's not the first time they have been smuggled into the away end at Palace games -- at Watford and Charlton last season they were also used and at the League Cup semi-final at Cardiff the season before. Not withstanding the flares being a literal smokescreen for Palace's woeful performance on Saturday as Liverpool cruised to a 3-1 win, the use of the devices put a couple of fans with asthmatic problems in hospital and frightened some younger fans to the extent they had to leave (arguably a blessing in disguise as they didn't have to witness Palace being awful).

It shouldn't really even be a debate; smoke bombs are illegal and banned at all football grounds in the UK. They are a health (and visual) hazard and are a genuine danger, no matter what your views are of whether they look cool or improve the atmosphere. Anyone advocating the use of them is pretty much encouraging illegal activity and I'd be even more of an idiot than I already am if I did the same. As it goes, I'm not really a fan of them. I think you can create a brilliant atmosphere without them (as Palace have done on countless situations).

But the smoke bombs debate has got a bit out of hand on internet forums and social media (shock, horror!) Now some fans are claiming that if you don't support the use of flares you aren't a "real fan", or if you don't go to every Palace game home or away your opinion on the matter doesn't count. This is ridiculous for a number of reasons; firstly, there is no such thing as a "real fan" certainly not for a club like Palace, you are either a fan or you aren't. They aren't the sort of club you support for the glamour, and with all the pain and suffering they put their poor fans through, if you still want to openly admit you are a Palace fan after all that, then you are more than a real fan (you're a real masochist, that's for sure). Secondly, there are plenty of fans who aren't able to get to games for whatever reason (distance, money, disability) whose opinion counts just as much as anyone else. To suggest they don't care as much as Palace as someone who goes to every game home and away is insulting.

What I like about being a Palace fan is that I am part of this cool little club that not many people want to be a part of, but those that do share this unknown bond because we are part of something special. As legendary radio DJ John Peel once said: "Supporting Palace has a certain cult value, like pretending that some Peruvian rock band is the best in the world." It seems almost energy wasting that something as stupid and pointless as smoke bombs is causing some people to get so abusive and personal. Maybe it's because Palace aren't very good at the moment. I suppose if the Eagles had won at Anfield no-one would be kicking up much of a fuss, this whole saga is a welcome distraction from the reality that the team is struggling on the pitch.

The smoke bomb saga has already had a knock-on effect on Palace game; fans who went to the U-21 clash between the Eagles and Brighton a few days later were subjected to searches before entering Selhurst Park and supporters can expect heightened police presence at future games (at the club's expense). Indeed the fans that let the smoke bombs off are some of the same who moan about over-zealous policing of matches. As own goals go, it's a fairly big one.

I think some people forget Palace nearly folded just over three years ago and Eagles fans came very close to not having any fellow supporters to fall out with at all. When the new owners were bashing out a deal to save the club no-one cared about smoke bombs or calling each other "real fans" -- we all wanted Palace to survive and that was it. Maybe some supporters should remember that when they next accuse a fellow Eagles fan of not caring as much as they do.