Palace in need of defensive muscle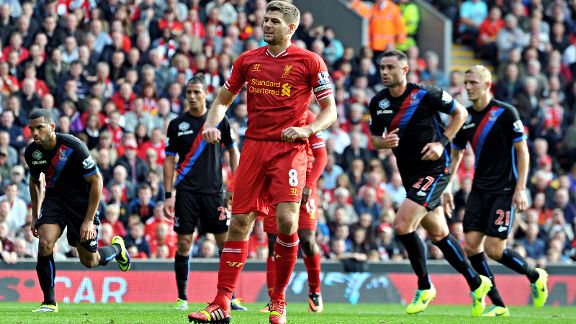 GettyImagesCrystal Palace players look on as Steven Gerrard scores from the spot.
Some of the best things in the world are defenders. Judge Dredd, he was pretty great. Men In Black, they were defenders of the whole bleedin' galaxy. Even the Land Rover Defender looks like a solid enough car (albeit a massive gas guzzler and I would never drive one). But all these things are proper defenders. And what Palace need right now are some proper defenders.

I worried in one of my pre-season articles that the defenders in the Eagles squad were not good enough for the Premier League and Saturday's defeat at Liverpool seemed to prove that, as they were destroyed in a 20 minute blitz thanks to Luis Suarez and Daniel Sturridge. With that, the game was over as a contest.

The gulf in class between the Liverpool front men and the Palace defenders was monumental and the Reds looked like they would score every time they flowed forward (and should have had more goals; Victor Moses missing a seemingly simple tap-in, perhaps he didn't have the heart to stick it even more to the team that developed him as a kid).

- Report: Liverpool 3-1 Crystal Palace

Palace's defenders were really at sea. Left back Dean Moxey, who looked to have settled a bit in his last few games, seemed overawed by the whole thing, letting Raheem Sterling (who was playing at right wing back) cause him all sorts of problems, and tugging the little guy back for a penalty just before half time (which was outside the box, but we've become used to poor refereeing decisions at Top 6 teams by now).
Damien Delaney was turned inside out so much by Sturridge for the second goal that he is still being unravelled now, and even Joel Ward -- Palace's best defender -- looked sloppy in possession and confused at times. It was a horror show.

Only Adrian Mariappa, a deadline day signing from Reading, looked like he'd played at Anfield before (and actually, WAS the only one who had played there before). He was calmer than the others and had to mop up constantly, but he can't be expected to do so all game. Perhaps Palace missed the injured Danny Gabbidon (can't believe I'm typing that) -- at least he has the experience of playing the likes of Liverpool.

Not that I expected Saturday's game to be anything other than mission impossible. Liverpool are in brilliant form this season and had Suarez returning for his first game back an Anfield after a 10-game ban for biting an opponent and he was desperate to impress. Yes, Palace had taken some heart before the game from Southampton's shock win at Anfield two weeks previously but there are massive differences between the Saints and Palace.

For a start, Southampton's impressive form this season is built on a solid defence; they have only let in two goals all campaign. Palace witnessed that as they restricted the Eagles to just one chance at St Mary's last week (which Marouane Chamakh wasted as he decided to dive instead of dink the ball home). In contrast, Palace's defence is the second most generous in the league, having shipped 13 already. And for all the exciting players Ian Holloway has bought in attack, they mean nothing if the back four isn't filled with Judge Dredds and Men In Black (although the new Palace away kit is black with a red and blue sash so technically they are men in black).

When Holloway brought Blackpool up in 2010, he gambled on a setup that allowed his team to attack at will and not really worry about the defence and it almost worked; but at Palace his forwards don't get any chances and the defence and midfield are just constantly under attack. It's not healthy and it's not enjoyable to watch.

The dreadful early twenty minutes at Anfield did detract somewhat from some of the rest of the game where Palace did show some attacking promise. The return of Yannick Bolasie on the wing finally gave the Eagles some width and Dwight Gayle looked as perky as he had done in previous games, but is now starting to add some final product, glancing in a great header.

And in Jose Campana, Palace have a real gem of a midfielder; classy, elegant and clever with the ball. I assume he has not started recently because he is slightly injured, but when fully fit he needs to be in that first XI every game. Yes, the new players will take time to gel, and yes they do all look a bit out of sorts at times, but there is some genuine talent in there. Once Holloway has found a settled system and selection, they could start to actually do the business. The only worry is that once that happens, Palace will be cut adrift at the bottom.

So, going forward Palace do have options, and options that could be good enough to keep them in the Premier League. But until that defence is stocked with Judge Dredds, they will continue to find themselves playing at the wrong end of the pitch, and will find it's going to be a very long season.