Wince-inducing moments at St Mary's
I already have a few things in my life to be embarrassed about; I once got refused a job at the Co-op, there are photos of me with dyed blonde hair and I own TWO Taylor Swift records. Not one but two. Yet Palace's 2-0 defeat at Southampton on Saturday might be even more embarrassing than all of those put together.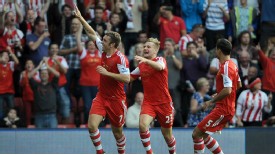 PA PhotosSouthampton's Rickie Lambert celebrates his goal.
A loss at St Mary's wasn't totally unexpected. In fact, I was pretty much prepped for it. The Saints are flying this season and were sixth in the Premier League and unbeaten at home going into the game. By contrast Palace were searching for their first away win of the season, and hadn't scored in their previous two games. (Which had been the only two games up to that point I'd seen live. Coincidence?)

All the wise betting men would have gone for a home win, and that's exactly what happened, as Pablo Osvaldo and Rickie Lambert wrapped up the victory to briefly take ‪Mauricio Pochettino's men into the Champions League places. But it was the manner of Palace's defeat that really left fans frustrated and leaves me feeling a bit embarrassed.

If ever you wanted an example of the cliché "a game of two halves", this was it. The Eagles looked fairly solid in the opening 45 minutes, restricting the Saints to one Lambert chance and having sustained periods of possession but, crucially, created very little. This was the same in the previous two games against Manchester United and Swansea; some pockets of promising play but very little in the way of genuine chances. Last season in the Championship, Palace were cutting teams open at will and enjoying themselves to bucket loads of chances, but this season is so very different. The absence of Wilf Zaha and Glenn Murray definitely doesn't help.

Yet the first half at St Mary's was cause for optimism at half-time in the away end. The team had played fairly well and could, with a bit of luck, sneak a point. Bu two goals in the first three minutes of the second half put an end to that. And the one thing that soured a relatively decent first half and left me feeling embarrassed was Marouane Chamakh's ridiculous dive in the box.

The Moroccan did well to skip away from the Saints defence and bear down on Artur Boruc with the seemingly simple task of dinking the ball over the keeper. But Chamakh instead tried to round Boruc, doing so successfully, but left his trailing leg out close enough to Boruc to make contact and go to ground. The referee was having none of it and quite rightly booked the Palace striker (even though at first view from the other end it looked like a spot kick and the Palace fans were incensed when nothing was given).

Eagles boss Ian Holloway will surely be fuming, not only because it turned out to be his side's best chance of the game, but because not a week earlier he was telling reporters how disgusted he is with diving in the game after Ashley Young's antics at Old Trafford as Palace went down, 2-0. Holloway eulogised at length he had never dived in his life, and would not accept it at the club. Chamakh must have not been listening because his tumble was clear and embarrassing.

It's upsetting for the club because a lot of attention is paid to Holloway's words each week (the normal ones and the quirky sound bites) and to have any chance of staying up, the team needs everyone singing from the same hymn sheet.

If Holloway has a go at divers and then one of his own players does exactly that, it makes Palace look a bit pathetic. Chamakh's dive could not have been timed worse and I'm sure he will be on the receiving end of some harsh words from Holloway (and probably a fine). If Olly could force him to sort out that terrible haircut too, that would be lovely.

The other embarrassing bit of Saturday's defeat was Saints' first goal, which was another example of Palace's generosity this season. And it came from an unlikely source, as Mile Jedinak -- Palace's player of the year last season – gave the ball to Dani Osvaldo on the edge of his own box, and the 15-million-pound man blasted home.

It's the second time Jedinak has done this (he gave the ball to Young for United's first goal a few weeks ago) and it capped another indifferent display from the Eagles skipper. And, like Chamakh's tumble, Jedinak's generosity came a few days after Holloway told the press he wanted to cut out slack passes from Palace players in their own half. To do the same thing in the very next game is, again, embarrassing. Palace can do better than this, and they need to soon or they will be cut adrift.

I'm never embarrassed to be a Palace fan, and again on Saturday the Eagles fans were in fine voice, even after the team went 2-0 down, and continue to be a credit to the club. They are easily the club's best performers so far, and for the sixth game in a row Twitter was flooded with compliments from Southampton fans after the game.

I'm confident Jedinak and Chamakh will turn it around. They're both brilliant players and have the ability to be Palace's key men in keeping the team up this season. But on Saturday they made me feel even more embarrassed than the Taylor Swift admission (well, sort of).