Crystal Palace season preview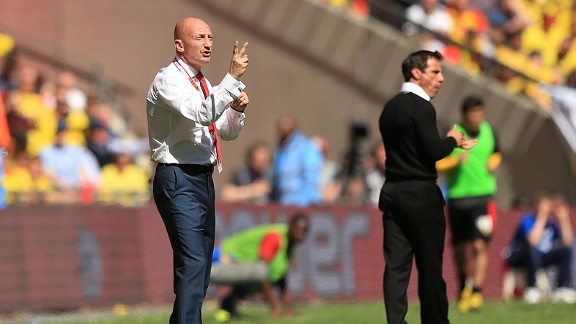 PA PhotosIan Holloway's Crystal Palace beat Gianfranco Zola's Watford in the Championship play offs for a place in the Premier League.
What's changed since last season?
How long have you got? Palace have a new badge, a sexy new kit and the stadium has been spruced up with all the trimmings the Premier League requires, like electronic advertising boards and a 'mixed zone' area (which at the moment is just a fence). Oh and the club's bank balance has been swelled by roughly £140 million. It's a brave new world for Palace at the moment and despite the fact the Eagles are almost certainly set to endure a season of suffering, the money that has been earned from gaining promotion will change the club forever. The owners have promised to put the cash into continuing to rebuild the infrastructure of the club and ground and help make Palace more self sustainable. After nearly losing the club to administration just three years ago the turnaround has been nothing short of miraculous.


Key to this campaign?
More players. The ones that got Palace into this crazy, crazy league will be heroes to me until the end of time and I will love them as much as I love my family (possibly more) but they quite simply aren't Premier League standard. Not that you always need a team full of top flight quality to stay up - manager Ian Holloway showed that in his last stint here with Blackpool - but it helps. Maybe they will prove me wrong (god knows I'm regularly shown to know next to nothing by this lot) but I break into a cold sweat at the thought of Robin van Persie running at Damien Delaney and Dean Moxey. But Holloway has promised as many as FIVE new faces by Sunday's opener against Spurs - I just pray to God some of them are defenders.

Home form is also key; the teams that come up and stayed up are the ones that make their grounds into fortresses (not literally, away fans already moan enough about getting to Selhurst Park, a moat and drawbridge would only make them moan more). Palace can do that; Selhurst is one of those old fashioned stadiums where the crowd are close to the pitch and the noise gets caught in the roof of ageing stands. Take a scalp or two in SE25 and suddenly Palace will be looking confident.

The other key to this campaign is Holloway himself. There are still a few Dougie Freedman detractors who wish he'd taken us up instead (and as a 'Palace legend' it would have been nice but he tainted that when he jumped ship to Bolton in October). Personally, I think the Eagles have the best man for the job of keeping the club up right now - Dougie is painfully inexperienced - and there is something about Ollie at the moment that suggests he is determined to show he can be that man.

Predicted finish/realistic goal
17th-20th. If the Eagles finish four places above bottom spot then the season will have been a massive success. If not it's not the end of the world; we'll go back down with an improved stadium, plenty of money in the coffers and 10 months of fun behind us. But to be honest, the Eagles are desperate to stay up. We've been promoted to the Premier League four times and we've never lasted longer than one season each time. We've already set history this year by becoming the team to win the most playoff victories every - lets add another bit of history by finally staying in the top flight, yeah?

Make or break season for...
Manager Ian Holloway. He is sick of being the nearly-man of football. Known for his jokes rather than his success on the pitch. He couldn't keep Blackpool up in 2011, he failed at Leicester. He wants to prove he can keep a team in the top flight - and do it his way. By playing the sort of fast, attractive football we've come to admire from European teams. There will be less press conference quips, less chances for newspaper hacks to bring out adjectives like 'joker'. It's gonna be downright boring sadly... no it won't.

One to watch
Jonny Williams. A product of the Palace academy, 19-year-old 'Joniesta' - coined because of his similarity in style to Barcelona star Andres Iniesta (with receding hairline to boot) - already looks like a seasoned pro and has become a fan favourite and first-team stalwart despite breaking into the team less than two years ago. He managed to find pockets of space in the bustle of the Championship so with a bit more time and space in the top flight he could really come of age.