Injury bug wreaking havoc at Palace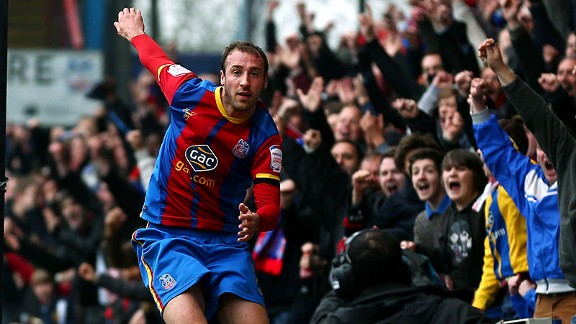 Clive Rose/Getty ImagesGlenn Murray tallied 31 times for Crystal Palace last season, but won't be available to play this season until January.
Palace are top of the league! Well, a league. Ok, it's the injury list league. The Eagles have the most injuries of any team in the Premier League at the moment; nine players in total in the treatment room which -- as I've seen how small that room is -- must be extremely cosy.

Those bods in the invalid lounge are goalkeeper Lewis Price; defenders Paddy McCarthy, Jack Hunt, Joel Ward and Jonny Parr; midfielders Jonny Williams, Yannick Bolasie and Jerome Thomas and last season's top goalscorer striker Glenn Murray. And as announced by Ian Holloway at his Thursday press conference this week, new defender Adrian Mariappa has also picked up a knock. Maybe the deadline day arrival just wanted to be with the in-crowd seeing as basically everyone else is injured.

- Report: Holloway reveals late bid to re-sign Zaha

Murray is the only one from that list of injured players who hasn't been included in Holloway's obligatory 25-man squad, meaning the Eagles boss is already missing 31% of his playing squad. (That doesn't include youngsters as those under the age of 21 don't have to be included in the squad of 25, but out of his experienced players, that's nearly a third who are out of action).

Now, I'm not making excuses already for Holloway seeing as the season is merely weeks old but...well, ok I am. Any team is going to struggle with a third of its squad missing. Imagine having a third of your body missing; you'd find it tough to carry out the basic of daily activities. Or imagine a third of your car was missing, every journey would be al fresco. Palace are really going to struggle if they continue to have this sort of injury curse throughout the season.

New signing Hunt -- a much needed defender -- broke his ankle with almost his first touch in training and will be out until the new year. Midfield prodigy Williams -- know to Palace fans as 'Joniesta' on account of having a similar playing style, and similar receding hairline, to Barcelona star Andres Iniesta -- picked up an ankle injury on duty with Wales (the second time in two years that has happened after he broke his leg while away with the Welsh U21s) and will be out until Christmas. Ward, Palace's best defender, will likely miss this weekend's game with Swansea and Bolasie and Thomas are two much-needed wingers who haven't played a single minute of league games this season yet. Murray -- who scored 31 goals last season and was the top-scoring Brit in Europe -- ruptured his cruciate against Brighton in the playoffs and won't be back until January.

But this isn't the first time Palace have struggled with injuries after getting promoted. In 1997 Steve Coppell's squad was ravaged by injury, including to star man Attilio Lombardo (who was basically Palace's only decent player) while fellow Italian Michele Padovano became so comfy on the physio's table he spent the rest of the season there.

In 2005, the Eagles signed former Inter Milan striker Nicola Ventola who looked like the man to keep the club up but, typically, he suffered an injury and barely played. He did finally recover to score against Southampton in the penultimate game of the season but it was almost too late by then. However, Ventola was as devastated by the club's relegation as the fans were, loudly proclaiming "A-why a-Creestal Palace get relegate, A-WHY?!" at the end of season awards ceremony. Nice to know he cared.

Even as far back as 1995 when Palace finished fourth from bottom but were sent down anyway as the Premier League chose that season to downsize the top flight from 22 teams to 20, top scorer Chris Armstrong was banned for a month after failing a drug test for cannabis. Plenty of Palace players before and since have played like they were stoned, but it turns out Armstrong actually was (and was still the team's best player).

So it certainly looks like Palace have had bad luck when it comes to injuries and suspensions (and already that's been the case this season with Kagisho Dikgacoi's debatable red card at Old Trafford) and it does sort of make a mockery of the 25-man squad limitations. If it carries on like this, Holloway will have to get on the blower to the 'Emergency Loans Department', although it will never get as bad as it did back in 2010 when the club was hemorrhaging money, selling players and losing so many to injury that manager Neil Warnock could barely field the 16 required for a game at Doncaster.

I hope it doesn't get that bad because Holloway has a squad good enough to stay in the Premier League when they are all fit and dandy, but if the finger of fate decides to poke him in the eye any more, Palace could have a real problem on their hands.