Eagles hard done by at Old Trafford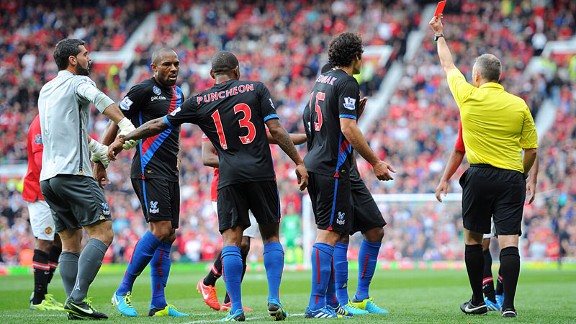 GettyImagesKagisho Dikgacoi is red carded for bringing down Ashley Young, resulting in a Man Utd penalty.
Supporting a team like Palace (and I'm sure it is the same for fans of any club that aren't in the Premier League top six) is like being the underdog in a movie. The Rebel Alliance to the Premier League's Galactic Empire. The only difference is that in Hollywood, the underdog gets their way against the evil overlords. In football, evil seems to prevail far more often than cinema audiences would normally put up with. Not that I'm calling Manchester United the evil overlords of course, but you get the metaphor.

At Old Trafford on Saturday it felt very much like Palace were Luke Skywalker and his pals, infiltrating the Death Star... but here was no happy ending as the Eagles lost 2-0.

A terrible refereeing decision to award United a penalty for a foul that was clearly three yards outside the area just before half-time decided the game, with Palace also being reduced to 10 men as a result. A tough task made even tougher. The Empire wins.

- Okwonga: Januzaj leaves OT eager for more
- Brewin: Moyes makes Marouane wait

It may seem like bitterness, but it's tough not to feel hard done by when you come away from a ground like Old Trafford having put in a hard working performance only to lose due to a very unjust decision. It doesn't seem fair. Kagisho Dikcagoi's challenge on Ashley Young was clearly outside the area. Whether it was a red card for a professional foul is still up for debate but the fact of the matter is it was NOT a penalty.

Throw into that Ashley Young's habit of diving (for which he was booked earlier in the game) and it all starts becoming rather unfair. And without bringing officials' integrity into disrepute you really do have to wonder what is going on when a man like Sir Alex Ferguson admits he did pressure referees into giving Manchester United 'Fergie time' http://www.telegraph.co.uk/sport/football/teams/manchester-united/10063481/Sir-Alex-Ferguson-I-did-pressure-referees-into-giving-Manchester-United-Fergie-time.html and the like during his time in charge. The stereotype that referees favour the home side at Old Trafford stops becoming a stereotype and starts looking like a depressing fact.

There were, though, plenty of promising signs for Eagles boss Ian Holloway and his team of Jedis (there actually is a 'Jedi' in the Palace team in captain Mile Jedinak so this analogy totally works) -- the team were organised and hard working, restricting United to a few pot shots (and one Robin Van Persie volley that hit the bar). The Eagles tried to play a passing game, even when down to 10 men, and looked confident in possession -- almost too confident at times as they gave it away rather too easily. But it shows Holloway is not happy with his team coming to places even like Old Trafford to defend and sneak a point; he wants his players to play attractive football and entertain.

With players like Jose Campana, Jason Puncheon and Marouane Chamakh growing in fitness and stature, Palace could become very pleasing to watch this season. Especially as no-one expects the Eagles to stay up, and with the amounts of money fans are charged to watch games (£46 at Old Trafford on Saturday) supporters are right to demand entertainment. Holloway definitely entertains with his post-match interviews, but he clearly wants his team to do similar on the pitch.

The Eagles fans too were entertaining, outshining their Manchester counterparts all game and offering gems like 'Who's the Scouser in the wig' at Marouane Fellaini and 'Is there a fire drill?' towards home supporters as they streamed out 10 minutes before the final whistle. In fact, despite the result, it was one of the most fun away days I've had in some time. Even in times of injustice, Palace fans find a way to enjoy themselves. And it's because of that I will always be grateful I support a team like the Eagles and not a team like United.

I wasn't expecting a result at Old Trafford and had Palace lost to a fair goal I'd be the first to admit United deserved it, but when you come away with nothing thanks to some perceivably unjust decisions, it's hard to take. Wayne Rooney did score a decent free-kick towards the end of the game to make it 2-0 and secure victory for David Moyes, but again there were questions surrounding the awarding of the free-kick; a foul on Adnan Januzaj that was similar to a foul on Palace's Jimmy Kebe a few seconds earlier that wasn't given.

Depressingly nothing will be done, referees won't get demoted, rules will not get more stringent, teams like Palace will not get compensation. Officials will just get to eulogise about how they used to text with Fergie in their autobiographies and clubs like Palace will get relegated and no-one will care.

And for teams like United it might not matter; a long season with plenty more winnable games, but for Palace, that point they could have earned (and probably deserved to earn) could be the point that keeps the team in the Premier League come the end of the season.

You come away from games like that at Old Trafford and do wonder if it's even worth taking part when the playing field is so uneven. There is no Han Solo or Millennium Falcon for teams like Palace when they come up against the Galactic Empire of the Premier League.