The strange case of Florian Marange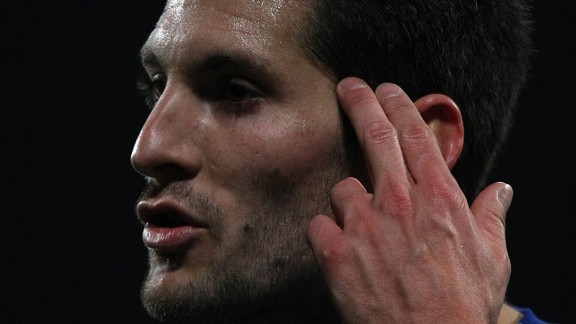 PA PhotosDefender Florian Marange signed for Crystal Palace from Bordeaux but was not named in their 25-man Premier League squad.
We don't always get what we want in life. I don't live in a big house, I don't have a chocolate fountain in my garden and Zach Braff is not my best friend. But sometimes you just have to make do with what you have.

New Crystal Palace signing Florian Marange just wants to play football, but it looks like he isn't going to get his wish after being omitted from the Eagles' 25-man Premier League squad.

And the 27-year-old left-back/centre-back is NOT happy about it.

- Marange 'disgusted' with Palace

"I am disgusted," he is quoted as saying in French newspaper L'Equipe. "If I knew that rule, I would have asked to add a clause on my contract.

"But my adviser didn't tell me. And now people almost tell me it is my fault. I played in the League Cup against Bristol City. We lost but I made no fault on the two goals conceded. I only did seven or eight training sessions."

Although it isn't just pitch time that Florian wants, he also seems keen on getting a proper presentation and all the trimmings that come with being a new player. He forgets, of course, that it's Crystal Palace he has joined and not the New England Patriots.

"I was not presented to the press. I never had any official photo and I am still waiting for my club suit. I stayed for a fortnight in a hotel before settling in a house and the officials told it was up to me to pay the bill. This is a big mess."

Unfortunately for Florian it doesn't look like he will get any of his wishes granted and appears to have been dumped by the club already. The fact that he hasn't impressed and looked decidedly average against Bristol City (despite his protestations) won't have helped.

Also, the surprise form of Dean Moxey -- the club's current let-back -- won't have helped Florian's cause. Most fans were prepared for Moxey (and fellow defender Damien Delaney) to be cast aside after promotion but both seem to have taken to Premier League football swimmingly.

And with Norway international Jonny Parr waiting in the wings to challenge Moxey at left-back once recovered from injury and new centre-back Adrian Mariappa arriving on deadline day, Florian's chances of playing for Palace seem slimmer than mine of convincing Zach Braff to be my mate.

Marange's outburst won't have helped his cause of course, although he wasn't the only Palace player to make his unhappiness known. Midfielder Owen Garvan took to Twitter when he too was left out of the 25-man squad. He appeared to have a pop at Eagles boss Ian Holloway when he tweeted: "I'll be here longer than he will... trust me."


I'll be here longer then he will...trust me

— owen garvan (@garvalution) September 4, 2013


He then later tweeted a link to Frank Sinatra's 'My Way' as well as another tweet saying: "It's amazing what you can find out online these days." Either Garvan found out that he wasn't in the squad via the internet or he just discovered Wikipedia. And Garvs clearly isn't embarrassed by his outburst as at the time of writing this article he still has all three tweets up on his timeline.

Unfortunately, for a player who was instrumental in Palace's promotion last season and, in my opinion, was unlucky not to make the final 25-man cut, Garvan's apparent actions do not make him out to be Mastermind champion. He was due to be sent out on loan until January, but the odds are he now won't return to Palace again, despite signing a new two-year deal in the summer.

Marange's outburst could well land him the same fate, although he is only on a one-year deal. But the fact he has not yet even seen what the Selhurst Park bench feels like let alone smelt the grass on the pitch indicates he isn't anywhere near Holloway's plans.

Both players, though, could learn a thing of two from team-mate Peter Ramage. He was also left out of the 25-man squad and has been sent on loan to Barnsley, but instead of moaning about it on Twitter or slagging off the club in the papers, the centre-back -- affectionately known as 'Rambo' to supporters -- claimed "Palace fans have not seen the last of me".

He told the Croydon Advertiser: "[The Palace fans] are second-to-none -- they always have been to me -- and it took me an hour to read through all the messages from them. There was a little tear in my eye when I read a few of them because they have always been good to me and I love them to bits."

Talk about good PR! These sorts of comments mean Rambo will still be in the fans' minds despite being hundreds of miles away. Such a display of maturity and character is probably something Holloway will need come the end of the season when Palace will undoubtedly be fighting for their Premier League lives.

Sometimes we all have to be a bit grown up about things. I've accepted I won't live in a big house and I'm happy with my tiny room in Streatham. Zach Braff may never be my friend but I do have box sets of Scrubs to make up for that and the chocolate fountain would probably be bad for my health. Marange and Garvan need to accept their position at Palace or they will never be happy.