Sentiment avoided in deadline success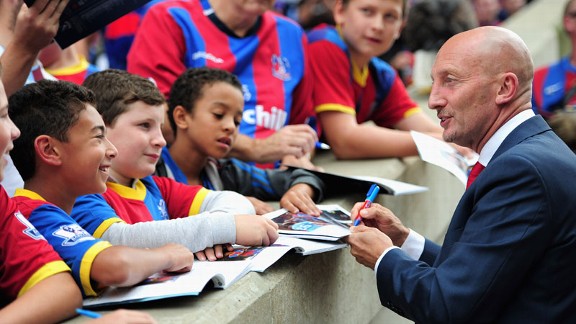 GettyImagesIan Holloway made an impact in the transfer market, with limited funds at his disposal.
We are regularly told there is no place for sentiment in football, but without it, what else do we have? Fans fall in love with players and there's nothing you can do about it. For me it was a player called Matt Jansen who joined Palace when I was about 14; he was the most talented player I'd ever seen play live (and possibly still is) and glided over the pitch, the ball sticking to his foot like it was attached by a piece of string. He left Palace in 1999 and I so badly wanted him to return for the rest of his career -- which was sadly ended early after a motorcycle accident in Rome.

So I can understand why some Eagles fans were getting giddy with excitement at the prospect of Andy Johnson coming back to Selhurst in this week's transfer deadline day. 'AJ' was a massive hit at Palace back in the early 2000s; he scored 85 goals in 160 games, most of which propelled the club into the Premier League and then almost kept them there. He instantly found his way into Eagles fans' hearts -- and club folklore -- with a hat-trick against fierce rivals Brighton a few months after joining and never let up the goalscoring exploits until his £8 million departure to Everton in 2007.

Palace are the sort of club that love unearthing a star, be it from the excellent academy or from the lower leagues, and AJ was a perfect example of this. He was just 21 when he arrived at Selhurst, and was in fact part of a deal to take fan favourite Clinton Morrison to Birmingham City, a deal which wasn't greeted with much excitement from many in South London.

But by the time he left Palace five years later he had become the top British goalscorer in the Premier League and had played for England. Palace fans felt like they played a part in that and when a player does so well at a club, the supporters take on paternal roles; it feels like your kid is excelling at school.
So when the news emerged late on Monday night that a now 32-year-old AJ was in talks over a move back to Palace, Twitter went into meltdown with fans' excitement, especially when it turned out he was at the club's training ground seemingly agreeing terms on a three-year deal.

I, however, wasn't so excited about AJ coming home as others were. And not because I don't love him as much as the rest of the Palace faithful; he is one of my favourite ever players and forced to put together an All-Time XI I'd probably have him in there. He was pivotal to the short success we had in 2004 and 2005 and never gave anything short of 100% for the team, even when it became clear his head had been turned and a move to the Premier League was imminent.

No, the reason I didn't want AJ back was because I was terrified he would tarnish his reputation by not being as good. Obviously it would be impossible for him to be as good as he had been in his first Eagles stint, but he made a rod for his own back there because fans would remember those prolific times and hope for something similar. Had we signed a 32-year-old Andy Johnson that hadn't played for Palace before, expectations wouldn't be so high, but this is different. Logic goes out the window a little when sentiment is involved.

We have had a few heroes come back before, as players and managers, but the likes of David Hopkin, Peter Taylor and Steve Kember did rather ruin their legend statuses by being rubbish second time round.

I want to remember AJ the way he was and not, as I feared would have happened, as an ageing striker with dodgy knees picking up a huge packet and not playing much. Some things are just meant to be left alone.
That said, imagine the noise at Selhurst if his number came up for a 15 minute cameo towards the end of a game! The support would be overwhelming and would probably suck the ball -- and AJ for good measure -- into the goal. He is a club legend, that's for sure, and still holds Palace close to his heart, but let's leave it at that, shall we. The memories are enough.

Away from AJ, Palace spent rather sensibly in the transfer market, especially given they were frustrated by a few failed deals in the final hours of the window. Arsenal blocked a move for Nicklas Bendtner to join the Eagles after the Danish striker had agreed to move, because Lukas Podolski had picked up an injury and they had failed to sign anyone else. Brighton did everything they could to stop their best player Liam Bridcutt moving to their rivals (still smarting from that AJ hat-trick 11 years ago) and the Johnson deal in the end was aborted thanks to QPR changing their minds at the last minute.

As it was, Cameron Jerome came in as the new striker; not the most inspirational of signings but he could well get a few goals and that could be enough to keep Palace in the Premier League. Barry Bannan and Adlene Guerdioura arrived in midfield, both with quality and disappointed fans at former clubs, and the much needed defender surfaced in the shape of Reading's Adrian Mariappa, another highly rated player.

It means Palace have signed 16 players -- the most of any top flight team this summer -- but all for under £10 million, which shows the sort of budget Ian Holloway and co. are working with. I think they are doing things right and I believe those frustrations will turn into celebrations at the end of the season. And when we have the relegation survival party, we'll invite AJ along for a drink or two.