Where Eagles dare to dream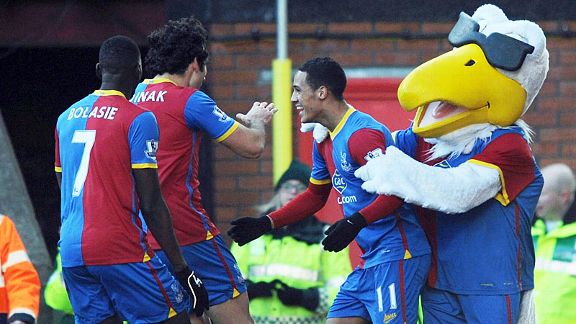 GettyImagesPete the Eagle embraces Tom Ince after he scored on his debut for Crystal Palace against West Brom.
I got the chance to chat with Crystal Palace legend John Salako before Saturday's 3-1 win against West Brom and he said the Eagles needed to "dare to dream" about staying up.

- Mel fumes over Palace penalty

Now, I can never really remember my dreams. I usually wake up with the vague recollection or some weird scenario where I am having a fight with a Care Bear while former Leeds striker Tony Yeboah played the ukulele, or something like that. But that usually fades pretty quickly.

But when it comes to Palace, fans have plenty of dreams. They dream that the club survives in the Premier League, and builds on that success to become a stable top-flight club that could eventually push for a place in Europe or something like that. They dream the club will become financially stable (which it sort of is already) and maybe even self sufficient. They dream of a new stadium which has toilets that work and serves tea where you can actually have milk with it.

They "dare to dream" of all those things, but on the pitch it looks like the Palace players have taken on Salako's advice. The confident and bullishness that oozed out of the Eagles team against West Brom is an indication of just how much they believe they can stay up.

The bookies are starting to believe it, too; Palace are no longer favourites for the drop having been so for most of the season -- that honour now goes to Fulham. (Palace are third favourites though, so the bookies still think they will go down).

The win over West Brom was a real team performance. It wasn't down to the match-winning ability of one or two players, and the game wasn't won by a single piece of individual brilliance -- it was down to every single player in that Palace team.

They all played a part. Julian Speroni pulled off some world-class saves to deny the Baggies; new defender Scott Dann made some important headed clearances; Mile Jedinak got in some vital blocks in the centre of the park; Marouane Chamakh flicked the ball onto Tom Ince and was always looking to play the new boy in. Had even just one of them not done their job, the win might not have happened.

It's this togetherness that pleases Palace fans more than anything. Having a solid team spirit and performances that are as much down to the cohesion of the squad as they are individual brilliance will keep Palace up. Because when it's going great, we're all happy, but when things get tough, that togetherness will pull the team through and help earn sneaky points here and there when perhaps they were off the table.

Ince -- of course -- shone brightly on Saturday. Pundits questioned whether he could make the step up from the Championship, but he took to the top flight like an Olympic duck to water and won gold. He looked like he'd been a Premier League player for years -- a brilliant mix of ability, effort, superb positioning and anticipation of play. His goal was an example of that with an excellent run into the smallest of gaps and a cool finish over the keeper.

That confidence is priceless for Palace, and already you could see the rest of the squad lifting their game as a result.

The other new lads looked great, too; Dann was solid at the back and Joe Ledley not only made left-back his own but celebrated his debut by nodding in a brilliant header in the first half.

They deserved the victory against West Brom, much like they did against Hull, Stoke, Cardiff and West Ham. These weren't lucky results, and Palace fans would be worried if they were. Instead they were hard-fought, solid wins. Deserved three points each time.

Of course this is Palace, and traditionally they go on to ruin all the good work at some point in a spectacular implosion, but there is something about this team that makes me think history will not repeat itself. I've never been so confident that good things are to come ... as long as they continue to "dare to dream."

Let's just hope the dream doesn't turn into a nightmare in the remaining 13 games. I'm confident it won't.