For Crystal Palace, points are beautiful
They say beauty is in the eye of the beholder. Something one person finds stunning might be merely average to someone else, while an object or person you wouldn't look twice at can appear to be the most beautiful thing on earth to another.

However, there are exceptions to the rule and I think everyone would be in agreement that the second half of Palace vs. Hull was nothing short of offensively ugly.

- Puncheon knocks out Hull

It was a horrid match and one in which Palace really rode their luck but they emerged victorious, clutching three points firmly in their hands like Indiana Jones having just escaped the Temple of Doom.

They are points that are crucial in the race to avoid an instant return to the Championship and that, really, is all that matters at the moment.

Yes, some fans aren't happy that what's being served up isn't particularly pleasing on the eye but it is getting results. Three wins from the last five games, featuring three clean sheets and a peppering of goals, have taken Palace to the heady heights of 14th in the Premier League. FOURTEENTH!

I don't think any Eagles fans expected to be that high up the league at any point this season or, indeed, ever! The club has an excellent chance of staying up, especially considering that those below seem incapable of picking up many points.

Because who really cares if Palace play ugly but win? I don't! As long as the team picks up points I'll be happy. And yet, although it isn't total football, what is being served up isn't that bad either.

When the likes of Yannick Bolasie and Jason Puncheon get a bit of space to stretch their legs, the Eagles can produce some fairly exciting stuff. The quality is still lacking -- too many times against Hull (and in most games this season) the final pass or shot was off-target -- but what is huge is the fact that chances are being created and competitive performances are being turned in.

The club lucked their way into the Championship playoffs last season, and won the lottery ticket to be in the top flight, and yet are now making a real fist of actually staying up (for the first time ever in their Premier League history, by the way).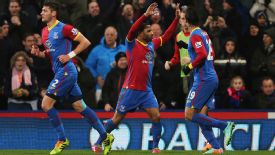 GettyImagesPuncheon scored Crystal Palace's winner vs.Hull.
It's a mark of a good team (or at least not a terrible one) that they can come under pressure during games and hold firm, riding it out. Palace did just that against Hull, having had a fairly productive first half, during which Puncheon slammed them into the lead after 16 minutes.

After the break, though, the Tigers attacked and yet, despite a couple of efforts that flew inches wide or over, Palace came away from the match, though a little battered and with a few scars, intact like a boxer taking a pounding in the last few rounds but winning on points. No pain no gain.

The Eagles are starting to prove there is more to them than just plucky confidence: there is brawn and toughness. There is also Tony Pulis, who has helped get the best out of some remarkably average players.

The likes of Damien Delaney, Adrian Mariappa and Yannick Bolasie aren't really top-flight calibre but, with a bit of Tony magic sprinkled upon them, they have looked like they belong in the top flight.

On Tuesday, Delaney and Mariappa were joined in defence for the last few minutes by Paddy McCarthy. Palace's club captain was making his first game back after 21 months out with injury.

His return was like a character reappearing on a long running soap opera and the fans loved it, giving him a massive cheer when he replaced Danny Gabbidon. McCarthy was with Palace when they were 90 minutes from relegation to League One and potential liquidation and now is playing for a club targetting mid-table in the top flight.

That journey from the bottom to the top has been a quick one for the Eagles as a whole and a return to the doldrums remains a possibility. However, there is something about the attitude, organisation and the downright ugliness of this current lot that makes me think they might just survive.

And then they'll be the most beautiful team in the world; I don't care what anyone says.