Eagles stay grounded amid January chaos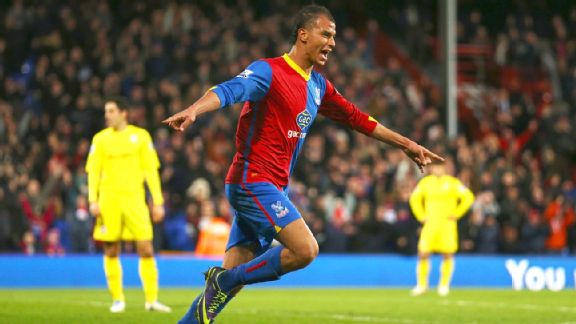 AllsportMarouane Chamakh's goals have helped give Palace survival hopes.
When I was a kid I played a lot of board games. My parents were fairly traditional and we didn't get a Sega Mega Drive until I was about 17 and by then everyone else had PlayStations anyway. They refused to get satellite television so when the normal channels got boring my siblings and I would turn to the likes of Monopoly to entertain ourselves.

I got quite good at Monopoly and my tactic was always the same: buy the unattractive London streets like Old Kent Road and all the light blues -- rather than Park Lane and Mayfair -- and slowly drain my opponents of their cash. It always worked and I basically became the Walter White of Monopoly, generally running everything and with everyone owing me money.

The January transfer window always reminds me of Monopoly. Some teams go down my route of picking up smaller names while some chuck all their cash at the glitzy options.

In August, Palace took the former approach and it looks like they might be doing the same this month. Hull, by contrast, have gone for the dark blues, spending 12 million pounds on Nikica Jelavic and Shane Long and paying then 50 thousand pounds a week!

It's hard to say which approach is best, really. That gamble to spend well outside your budget could well keep the team in the Premier League and earn millions upon millions of future pounds but, if not, you tumble into a financial mire that the paltry parachute payments ain't going to save you from.

- Palace knocked out of the FA Cup

Palace fans are still waiting for the first bit of confirmed transfer news, with the window open for only a few more days. The sort of names being linked with a move to the world's greatest club are the Bow Street and Northumberland Avenue of the transfer window: Brighton's Will Buckley, former Liverpool midfielder Momo Sissoko and Scott Dann. They're not inspiring, but would do the job.

We all know the owners of Palace are not prepared to gamble the future of the club on big-name signings: the fact they managed to get Arsenal to pay most of the wages Marouane Chamakh is earning this season is a sign of that.

Other names, such as Danish defender Andreas Bjelland and Brondby striker Simon Makienok would be more like landing on "Chance" but, at 2 million pounds they are low gambles and you never know -- you could end up winning a beauty pageant!

Tony Pulis has admitted he still wants to bring in four or five new players but is quickly running out of time. Palace have missed out on a few targets, reportedly by backing down on wages which, at the same time, is encouraging and leaves fans frustrated.

Iain Moody was the transfer guru signed from Cardiff last year but with no new arrivals yet under his spell, you do start to wonder whether he is quite the expert we were all told he was.

The frustrations of still having no new arrivals at Palace are, for me, outweighed by the worry of the club plunging into big money problems if the moves do not work out. Even when the club was promoted last season, most fans were just happy to enjoy a year in the Premier League but, with the Eagles now sitting in 16th, it's understandable that some supporters are desperate to stay up.

Money doesn't need to be splashed. The best players in the squad current were all brought in on the cheap. Joel Ward arrived from Portsmouth for 500,000 pounds while Mile Jedinak and Glenn Murray were free transfer signings!

The same goes for Jonny Parr and Danny Gabbidon -- widely regarded as Palace's best defenders now that Ward is a midfielder -- while Yannick Bolasie was acquired from Bristol City for 250,000 pounds and Barry Bannan came from Villa for not much under 1 million pounds. Sensible spending.

Success can be achieved on the cheap, but the pressure of the two transfer windows does leave many fans feeling like there isn't much time to do that. Really, the best bet would be to scrap the windows all together. It forces clubs to spend way above market prices and although it adds plenty of excitement, it really isn't a sensible idea.

I just hope Palace stick to mopping up the light blues, pinks and oranges off the Monopoly board and maintain a pragmatic approach to survival rather than going for Park Lane and Mayfair.

More to the point, why is there no little eagle piece to play with? That would make Monopoly more classy in an instant.