Puncheon a hero again as he lifts Crystal Palace out of drop zone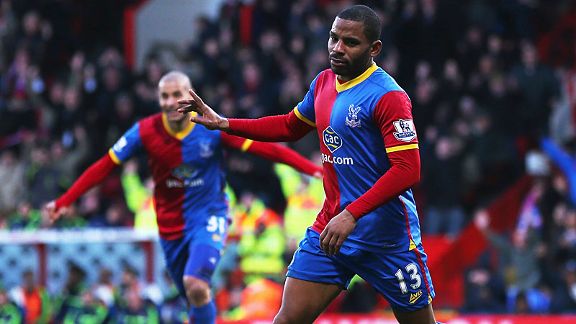 GettyImagesJason Puncheon put Crystal Palace a goal to the good against Stoke City.
Football is like pantomime. There are heroes and there are villains and -- sometimes -- there are those who embody both at the same time. In the last week, Palace midfielder Jason Puncheon has gone from hero to villain, to super villain, to hero again. And I'm not quite sure what role he will play next week.

Punch netted a penalty against Norwich on New Year's Day but then went on to miss a terrible, terrible spot kick against Tottenham a week later. He then made himself even more unpopular with Palace fans by seemingly backing out of a permanent move to the club, but was the hero again when he scored the only goal of the game against Stoke this weekend -- a result which takes the Eagles to the heady heights of 16th in the league.

Puncheon's up and down few weeks perhaps best embody what it is like to follow Crystal Palace -- never assured of anything, massive highs followed by crushing lows, and then a surprising high again. It's tiring.

- Pulis praises Puncheon
- Palace pip the Potters on Pulis day

The winger's form has also been somewhat erratic since he arrived on loan from Southampton in August. His first few games looked very promising; he was running at defenders, getting crosses in and having a huge influence on the game -- particularly in the first win of the season against Sunderland at Selhurst.

But as the team's form dipped so did Puncheon's, and he was largely anonymous and started to become a hindrance. It almost wasn't worth playing him at times. But all the while you knew he had that bit of class -- one of the few bits of real quality in the squad -- to change a game.

His brilliant turn and cross against Fulham led to the first goal of the game as Adrian Mariappa headed home, but in the second half Palace fell apart (after two stunning goals from the Cottagers against the run of play before halftime). You'd have been looking at Puncheon as one of the players to get back into the game, but he was quiet and was subbed for Marouane Chamakh.

He seems like a real confidence player; when the team were low on morale so was he, but when things are looking better again he comes alive. In Tony Pulis' first few home games against Cardiff and West Ham, Puncheon was the one creating chances and making things happen. Another brilliant swivel and cross for Cameron Jerome opened the scoring against the Hammers.

Last week's penalty calamity against Tottenham could have been a turning point for Puncheon. With a loan move poised to become a permanent one, and with the Eagles looking very good in the opening period at White Hart Lane, Puncheon managed to balloon the spot kick high and wide. The miss went viral. All over the Internet and social media. Puncheon got abuse from fans (not Palace fans I hasten to add) and then responded with a Twitter outburst.

Some players wouldn't be able to recover from this. The pressures of playing in the Premier League and the minute-by-minute scrutiny means players are never more than a few seconds away from their successes and failures. It made the Stoke clash even more important for Puncheon. Would he respond in the best possible way or would he retreat into his shell as he had done plenty of times previously this season?

Thankfully for Palace fans, it was the former. He was brilliant. A constant attacking threat as the Eagles looked very confident in a game they had to win. Then came the crowning moment; Puncheon was quick to pick up on a misplaced pass in the Stoke box and calmly created space for himself before firing home. It was a big goal for Palace this season and the perfect response for Puncheon.

His celebration was almost one of relief. Relief at putting the penalty horror against Spurs behind him and relief at inching Palace closer to three precious points.

In the pantomime world of the Premier League I expect there will be a few more heroes and villains this season, but if Puncheon signs permanently and continues to produce those sort of performances, he will be the Eagles' knight in shining armour.