Selhurst Park comes alive for Eagles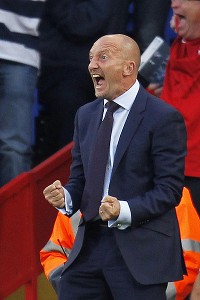 Ian Kington/AFP/Getty ImagesThe energy of Crystal Palace manager Ian Holloway on the touchline mirrored that in the stands at Selhurst Park.
They say supporting a team such as Palace is bad for your health and on Saturday that was almost true for me as I had to follow the game from the Accident and Emergency room at my local hospital. It wasn't actually because of anything Palace-related; I'd simply overindulged the night before and was convulsing in the morning, but perhaps the seizures were brought on by years of watching the Eagles. The doctors couldn't find out exactly what caused them so I'm going go with that. Thanks, Palace!

As it was, I had to follow the opening 45 minutes of the Eagles' first win of the season over Sunderland from my hospital room thanks to tweets and texts before being conveniently discharged at half-time meaning I could race back in a taxi to watch the second half on TV.

-Eagles soar to first win

The first thing that struck me, again, was the brilliant atmosphere. Palace fans have know for years how great they can sound, but now the rest of the world is getting to see it first-hand. It stems back to a few years ago when the club was in administration and after a fierce battle with Lloyds bank -- who took over ownership of Selhurst Park when the club went into receivership -- Palace were saved from going bust hours before the deadline. Far from the support being terrible before that, it just means Eagles fans never take the club for granted now, and the support at each game is an example of this; unbridled passion no matter the score.

Twitter was awash with plaudits from fans of other clubs and pundits, lauding Palace supporters for another great pre-match display and noise throughout the game. It made it even harder for me to follow from St George's Hospital in Tooting, knowing I was missing out on a great atmosphere. But I probably wouldn't have been that welcome at Selhurst, with needles sticking out of my arms, and weird little electrode things stuck all over my body making me look like a robot.

Yet watching the Palace players cut confident lines through the Sunderland defence in the second half on TV definitely helped with my recovery. It was as if they had learned their mistakes from the defeats to Tottenham and Stoke and added that to all the good stuff they had displayed in those first two games -- and the result was a well-earned, precious victory.

Getting a win was important, especially going into the two-week international break. Had Palace not won, that horrible feeling would have hung over the club making the next result seem ever more important (and that's away at Manchester United, which no one expects Ian Holloway's men to get anything from).

I remember way back in 1997 when Palace again went up to the Premier League as playoff winners but failed to get a home win until APRIL! The players tried hypnosis and staying in a hotel before home games to break the curse. Nothing worked and Palace ended up bottom of the table. To get that first win -- that home win -- out of the way early on is a massive relief.

And that win came thanks to some positive, attacking, confident football from Palace; in particular from new signing Jason Puncheon. I loved the way he took people on, running at the Sunderland back line and causing all sorts of problems. That is so important as it relieves pressure on the Palace defence -- instead of just lumping it forward and waiting for it to come back -- and it really suits the way Holloway sets his team up right now.

Palace looked narrow in the first game against Spurs, but since Puncheon has come in he's offered that width that Wilfried Zaha and Yannick Bolasie so enjoyed last season. The formation -- a sort of fluid 4-2-3-1/4-5-1 -- really relies on those two wide men hugging the touchline and taking full-backs on. If anything, they are the most important players in the team, and if they are failing in their job, chances will not unfold for the man up top.

What was most pleasing about Saturday -- aside from me not dying despite the paramedics and doctors not really knowing what is wrong with me -- is the positivity around the club. Palace really do believe they can stay up and Holloway believes he can be the man to lead the way.

His little dance of delight on the touchline as Stuart O'Keefe curled in a brilliant third goal for Palace in injury time was both a release of joy and a burst of passion. He cares about keeping the Eagles up; he wants to prove he is not just a wise-cracking west country bumpkin who got lucky with Blackpool a few years back. This is the biggest job of his career and he cares more than anything about keeping the club in the Premier League.

And so do the fans. Palace have never lasted longer than a season in the Premier League at the sixth time of asking. Maybe, just maybe, this can be the season. With that first win out the way early on, it has certainly set the mood for a positive nine months to come. I just hope I'll be able to be there to see it and not hooked up to a drip in a hospital again.