January transfer window ins and out at Crystal Palace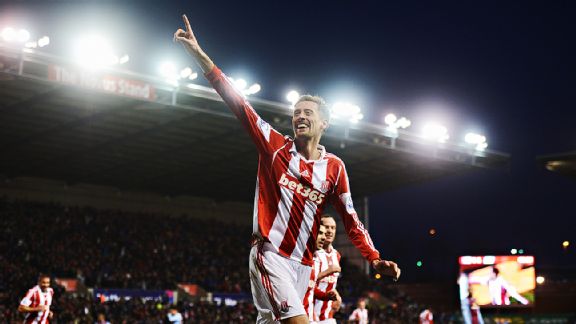 Michael Regan/Getty ImagesA Peter Crouch move to Crystal Palace would reunite the striker with former boss Tony Pulis.
Whom should Crystal Palace bring in during the January transfer window and whom should they ship out?

HIT LIST
When Tony Pulis was appointed manager, it was assumed he would be very busy in the January transfer window, seeing as Palace had been fairly awful for most of the season. But with the help of Keith Millen, he's managed to get the same bunch of misfits looking like some sort of actual team. As a result, it's not expected that Pulis will be as busy as first thought this month, but Palace fans are still prepped for some new faces.

And they will almost certainly be tall, beefy lads in the mould of literally any player Stoke have had in the past eight years. The areas where Palace really need reinforcements are up front, centre midfield and defence. So ... um ... everywhere.
The most pressing positions are probably centre back and left back. I'd expect to see new players in those positions, most likely Mark Hudson of Cardiff -- a former Palace player who was with the club during the last stint in the Premier League -- and maybe Aaron Cresswell at left-back. The Ipswich youngster still cost a packet, but as the likes of Luke Shaw have proved, young, homegrown talent can thrive in the top flight.

Up front, Peter Crouch has been mooted. Definitely a Pulis style player, Crouchy could be useful, but I'm worried it will allow the defenders to start lobbing it up front at every given opportunity. So far under Pulis, the football has been rather good given the limited ability of the team, I'd hate for Palace to start lumping it -- ahem, I'm looking at you Damien Delaney.

Glenn Murray, last season's top scorer, will be returning from injury, and while some fans are keen for him to be raced back into the first team, I don't expect him to feature. He will need reserve/loan games first. I don't think we'll see him back until the summer sadly.

EXIT LIST
Kevin "I need to play for every club ever formed" Phillips has announced he is leaving in January. Palace fans will be forever thankful for his promotion-winning penalty last summer and all his efforts during his short spell at the club. I was hoping he would stick around longer; young striker Dwight Gayle has already visibly benefited from having the old man around the club. Best of luck to him wherever he ends up.

All players in the squad will be fighting for their place in the final 25, which is decided at the end of January, so there will be some disappointed lads in the changing room come Feb. 1. There were some odd inclusions in August, such as Elliot Grandin, who quite simply isn't good enough, and I expect he will be shipped out at the first opportunity. Injured captain Paddy McCarthy was also included but hasn't played a single minute, so expect him to miss out to free up space for a new bruiser to be signed once the window is open.