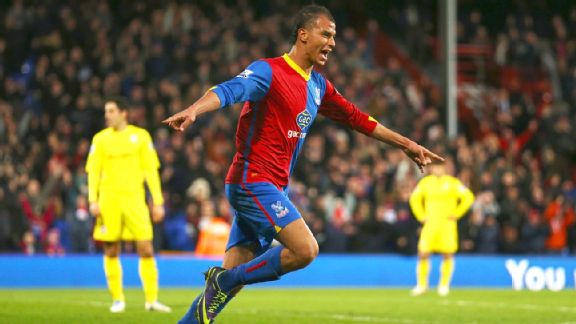 Paul Gilham/Getty ImagesThree goals in three games has made Marouane Chamakh the toast of Selhurst.
Football fans are a fickle old bunch and often very quick to judge. And no-one knows that more than Crystal Palace striker Marouane Chamakh. The Moroccan suffered a terrible time at Arsenal after moving to England from Bordeaux and was rapidly written off by fans and pundits alike, but has found a new lease of life at Selhurst.

- Latest Crystal Palace news

In fact, even that hasn't come easily, as Chamakh came under scrutiny from Eagles fans fairly quickly into life in South London as the goals failed to flow. Just one strike in his 13 games was not pretty reading, and even more distressing was the fact he only had three shots on goal in those games.

But since the arrival of Tony Pulis, things have started clicking for Chamakh. Three goals in three games makes him Palace's top scorer (with four) but has also seen him bang those four goals in from just seven shots on goal. That's a shot to goal percentage of... *gets out calculator*... 57% which even the likes of Sergio Aguero and Luis Suarez would be proud of.

Chamakh's improvement looks to be from nothing more than good ol' fashioned confidence. Whereas at the start of the season when he was making runs and working hard for the team, if things didn't come off, his head started dropping. Now he is putting in 90 minutes of hard graft, chasing down defenders to win the ball, and challenging for everything in the air. Thanks to a boosted ego his touch has improved and suddenly things are starting to go his way.

Strikers are the ultimate confidence players and psychology plays more of an important part of a forward's game than anything else really. Once a player like Chamakh starts believing he will hit the net every time, he probably will. Or at least he will start getting into better positions and find more chances coming his way.

Chamakh will have had even more of a mental mountain to climb having been written off by everyone after his Arsenal outcasting, and then a disappointing loan at West Ham where he lost his place to Andy Carroll. Being ousted by one of England's most overrated players must have hurt. The only thing Chamakh and Carroll have in common is they both have terrible haircuts.

I'll admit that I was perhaps a bit quick to pass judgment on Chamakh at the start of the season. He just hadn't seemed to have settled into the side and it looked like the gamble to relieve him of his Arsenal contract and bring him to Selhurst was not paying off. But looking back at that team under Ian Holloway, no-one was settling in. The whole team was disjointed and since Ollie's departure the entire playing squad have become a closer unit.

Chamakh's signing is looking even more of a stroke of genius when you learnt that they more than halved his wages -- with Arsenal paying off the rest in a bid to get rid of him. He clearly needs a team and a club around him showing him constant love. He needs to be the centre of attention -- as do most strikers -- and now he has that, Palace are reaping the rewards.

That has helped Chamakh massively, and in turn the whole team. Palace are playing so much more confidently at the moment. Saturday's result was a good example, going to a team like Chelsea and putting them on the back foot for long periods of the game shows how bullish the Eagles have become under Pulis.

In return for slagging Chamakh off earlier on in the season, I've written him a song to say sorry. (Sorry also to Gary Barlow and al the Take That boys, but I'm sure Robbie & Co. will appreciate the love that has gone into making it).

I hope when Chamakh hears it he appreciates how much the Palace faithful are behind him and wishing him to be a success at Palace. The club has a point to prove this season and in Chamakh they have a striker who also has a chance to prove people wrong. More goals like the last few weeks and there will be plenty of people making more apologies.