Eagles braced for bump in their road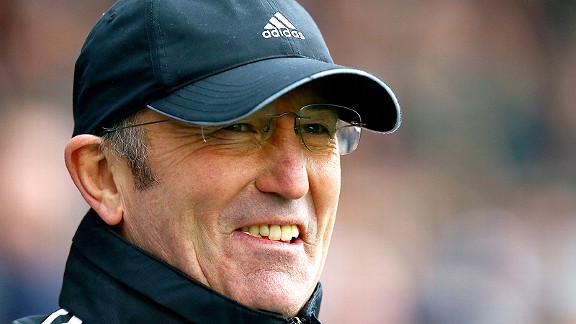 Jan Kruger/Getty ImagesTony Pulis has turned things around at Crystal Palace.
They say form is temporary, but class is permanent. I have no idea who 'they' are -- Alan Shearer, potentially? He's always good for a pointless quip. But nevertheless, it makes Palace temporarily the fourth-best team in the Premier League -- sitting as the Eagles do above Manchester United, Liverpool and Saturday's opponents Chelsea in the form table. No, really!

It's amazing really how quickly things can change in a matter of weeks; a month ago, Palace were already relegated in the eyes of most pundits and football fans, destined to make a swift return to the Championship, the blow only softened by their bulging pockets full of parachute payments. But five games later South London's finest are only in the relegation zone on goal difference, having kept four clean sheets and taken an impressive 10 points. And we're still not even into 2014 yet.

-Worrall: Mourinho mark, Blues' title bid at stake

Much of that decent run of form is down to Palace doing exactly what they need to this season; beating those teams around them in the table. The four wins notched this season have come against Sunderland, Hull, West Ham and Cardiff -- teams that, with all due respect, the Eagles will expect to be floating around them come the end of the season. Well, they are already!

Two of those teams came up from the Championship with Palace last season, so Tony Pulis and co should definitely be looking to take maximum points from those games. Palace beat both last campaign -- in goalfests at Selhurst -- so naturally aiming for similar this time around makes sense.

That the win at the KC Stadium became Hull's first home defeat of the season was only the sprinkles on top of the delicious, three-point cake. The other victories all came at Selhurst against teams who have had poor form away from home. If anything, not winning those games would have been cause for panic.

The rest of Palace's Premier League games -- 10 defeats and one draw -- have all come against established top-flight clubs or in-form teams, barring the anomaly of the ridiculous home defeat to Fulham and a slender loss at struggling Norwich. Has Pajtim Kasami done anything else since his wonder goal that night in October? He might as well retire now because it will never get that good again for him.

So really, given the results so far this season, the Eagles haven't been doing much more - or much less - than anyone expected of a newly promoted team.

No one will be giving Pulis and co a chance at Stamford Bridge on Saturday, especially as Jose Mourinho has never lost a home game as Chelsea boss and the very thought of the likes of Eden Hazard and Juan Mata taking on Damien Delaney and Dean Moxey makes me want to curl up into the fetal position and cry myself to sleep. (Moxey may well miss out due to injury, and was deputised for excellently by Joel Ward against Cardiff last weekend, so much so I'm still convinced Wardy deserves an England call-up).

Palace captain Mile Jedinak will meet arguably his most difficult opposition in Frank Lampard and Ramires in what will potentially be the clash of the day. The form of Marouane Chamakh and Cameron Jerome does actually offer some hope to Palace fans against the rather-slugging John Terry and Gary Cahill -- although if the Eagles try to play the ball in the air expect the Blues defence to eat that up.

But -- and here's the thing -- it doesn't matter if Palace lose to Chelsea at the weekend. They're not really supposed to win. I mean, it would be amazing if they did get a point or three, it would surely be result of season so far without a doubt, but it's not a disaster if they don't.

Promoted teams only have one aim in their first season in the top flight and that is to scrape together enough points to pass that magical 40 mark. That comes from beating those teams in the lower half of the table at home and sneaking a few points away. They may get one or two shock results -- like a win at a Top Four side -- but really those are meaningless, especially if they then go and lose at home to a team bounding around the same end of the table as them.

Pulis has given Palace an excellent chance of dragging themselves out of the relegation zone since arriving at Selhurst (and credit goes to Keith Millen too for steadying the proverbial ship before the baseball-cap wearing one's arrival). If Pulis keeps picking up points against those so-called weaker teams then the Eagles may well climb the actual table, and not just the form table, as the weeks go on.