Palace aim for two straight vs. old foes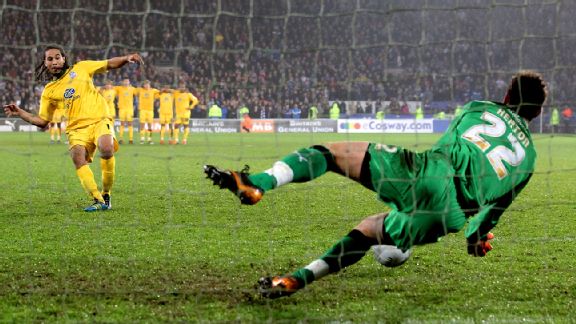 Scott Heavey/Getty ImagesSean Scannell's penalty shootout miss in Crystal Palace's 2012 Carling Cup semifinal loss to Cardiff still lingers in the minds of Palace fans.
They say revenge is a dish best served cold. Unless, I guess, your enemy prefers their food hot, in which case you could put your revenge in the microwave. Either way, it seems that revenge is something you force your adversaries to eat and on Saturday hopefully Palace will make Cardiff eat their goals as revenge for the 2012 Carling Cup semi-final. (Phew! Got there in the end!).

At the start of last year, Palace found themselves in the last four of the League Cup, paired with the Bluebirds, avoiding Manchester City and Liverpool on the other side of the draw, thus giving themselves a real chance of making their first cup final since 1990. It was no easy task as Cardiff had been one of the Championship's best teams for some time but an Anthony Gardner header in the first leg gave the Eagles a 1-0 lead going into the second tie.

- Report: Chamakh fires Palace to victory

It signalled a huge step forward for Palace who, just 18 months earlier, had been on the brink of insolvency and relegation to League One; potentially a drop down the divisions from which the club may never have recovered from. In the quarterfinal, Palace had one of their finest moments ever as they beat a Manchester United side full of internationals at Old Trafford thanks in part of a 40-yard thunderbolt from Darren Ambrose. Gary Neville -- commentating on the game at the time -- called it the best goal he had ever seen live.

So getting to the League Cup final would have been HUGE for Palace. Unfortunately, I was not at either semi-final as I was nearly 6,000 miles away in South America. I'd planned a trip with my best mate- - and Palace fan -- Andy around Brazil, Chile and Argentina long before the Eagles had even got to the quarter-final. We managed to watch the first leg in a hostel in Rio de Janeiro, convincing a French lad who was also staying there to watch it with us and forcing him to wear a Palace shirt.

For the second leg two weeks later we had left Brazil and were travelling around the Aticama desert in Chile in the back of a minibus with 11 other tourists. There was no 3G, obviously, so we had to rely on text message updates from Andy's mum who was watching the game. She didn't quite have a grasp on what was going on. "Are Palace the ones in blue or yellow?" Good start.

As it was, Gardner scored an own goal to level up his strike from the first leg and after a goalless extra-time it went to penalties. The wait for the text updates was excruciating.

"It's a penalty kick thingy," came the text. Our hearts were in our mouths in the minibus, although none of the other passengers could quite work out why we didn't want to talk to them and were fixated on a Nokia 3310.

"He's missed. I don't think he wanted to do that. Cardiff win". It was a dagger to our hearts -- which were still in our mouths. A mouth-heart-dagger. Being so far from the action made it even harder to deal with. I've never forgiven Cardiff since.

You could argue Palace did get revenge over the Bluebirds last season when they came back from 2-0 down at half-time to beat them 3-2 at Selhurst in September thanks to a second half Glenn Murray hat-trick. In fact, that was the game where Palace fans thought "hang on a second, we could actually be serious promotion contenders". From then on the Eagles rarely looked back, and never fell out of the Championship top six.

Thankfully, I am back in the UK for this weekend's game between Palace and Cardiff and not sitting uncomfortably in the back of a nowhere-near-MOT-standard minibus rattling through the desert at ridiculous speed halfway through a 12-hour journey. But it is still going to be nerve-wracking.

Palace need to win their home games against teams they expect to be around them in the table and, although Cardiff have done the best out of the three promoted teams this season, it's their home form that is strong, not quite their performances on the road.

The game will be similar to the win over West Ham on Tuesday in many ways; two teams desperate not to lose, plenty of passion and probably not much quality. But if the Eagles put in the sort of performance they did against the Hammers earlier in the week, they can definitely come away with a win here. And then suddenly survival from relegation doesn't seem like it's half the world away.