Chamakh and Palace perfect for each other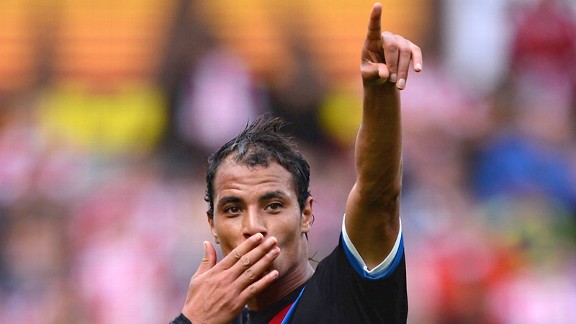 Christopher Lee/Getty ImagesMarouane Chamakh's goal versus Stoke last Saturday was his first Premier League goal in over 700 days.
Now I'm the first to admit I've had a few terrible haircuts. When I was 17 I dyed my dark brown hair bleached blonde and looked like Andy Warhol on his deathbed. Another time I shaved my head thinking I'd look like David Beckham only to emerge looking like one of the backing members from Madness. So I am in no position to criticise new Palace forward Marouane Chamakh, but I would be remiss if I didn't write an article about him without mentioning his truly awful bonce. It's a sort of half-mullet at the back, half-receding hairline at the front. If he were really smart he'd cut off the mullet and stick in at the front of his head.

- Report: Palace tumble out of League Cup

But leaving his ridiculous barnet for a minute, Chamakh's arrival at Selhurst Park could prove pivotal for Palace's survival chances this season. It's no secret that Ian Holloway likes his teams to play attacking football and plenty of times last season we were a joy to watch; flowing forward and creating plenty of chances.

Unfortunately, the two main men who were creating and scoring the chances -- Wilfried Zaha and Glenn Murray -- are not available this campain. Zaha has left for Manchester United and Murray is injured until the new year with a knackered knee. Which leaves Holloway in a predicament; he wants to play sexy attacking football but doesn't have many players who can deliver that.

He's worked hard to bring in an array of attackers during the transfer window (while just ONE defender, but that's another story) and has had mixed results; signing young striker Dwight Gayle from Peterborough for a club record fee and being re-united with winger Elliott Grandin from Blackpool, with veteran wide man Jerome Thomas also coming in. But none of those get the blood racing. Holloway has, though, lost out on a number of striking targets -- including Darren Bent -- leaving him a bit stir-crazy in these last few days of the window. I think once the transfer window closes on Monday, he'll be a different man. He's complained he is "spinning lots of plates" at the moment and admitted he doesn't see as much of his players as he wants to during the week. He'll have fewer plates to spin come Tuesday.

Compared to those other new arrivals at Selhurst, Chamakh is different. Discarded by Arsenal and mocked for being a big ol' Premier League flop, he arrives at Palace with much to prove -- he has top flight and Champions League experience and at 29 is still in his prime. He did well in his first few games at the Gunners after arriving from Bordeaux (eight goals in nine games) but once Robin van Persie recovered from injury, Chammers didn't get a look in.

Clearly talented though, he has all the attributes Palace need in a striker: strength (as showed by his goal on Saturday at Stoke when he muscled Ryan Shawcross off the ball -- no mean feat), pace and a lethal finish. He just lacks one thing: confidence. But if there is any man who can rediscover Chamakh's self-belief, it's Holloway. In fact, confidence was Palace's main ingredient last season as both Freedman and Holloway managed to get the best out of a squad that was by no means brimming with talent -- barring Zaha.

Chamakh is a classic underdog having been panned by everyone and is joining a classic underdog team in Palace. Last season many wrote Palace off at the start of the season and then again going into the playoffs... and look what happened. (The side got promoted, that's what happened for anyone that wasn't sure. That included a 2-0 win at everyone's favourites for promotion Brighton, who also happen to be Palace's archrivals, so it was rather enjoyable).

Write off Chamakh -- and Palace -- this season and that could come back to bite you. Chamakh is bit like Holloway this campaign: desperate to succeed and prove people wrong. This could be the perfect combination for Palace. We've already seen enough from his 60 minutes at Stoke and 20 minutes off the bench against Spurs to suggest he can do the business for the team up front. I believe he could go on to become Palace's most important player this season.

In a way he reminds me of a former Eagles great, Andy Johnson. AJ arrived at Palace from Birmingham in 2002 with plenty to prove, having not quite lived up to big expectations at St Andrews. He began banging the goals in and when Palace were promoted in 2004 he was the main man at Selhurst. He played in a lone role up front -- much like Chamakh will this season -- and a lot of responsibility rested on his (admittedly younger than Chamakh) shoulders, but AJ stepped up to the plate and I think Chamakh will too. There's something about him that suggests his best is yet to come.

He has already made the right sounds too, praising the Palace fans for their support in the first two games, and talking of his respect for Holloway. For a player that was such a "flop" at his previous two English clubs, he is starting the spell at his third in the perfect way. Maybe it will be third time lucky for him.
I just pray he'd get a decent haircut.