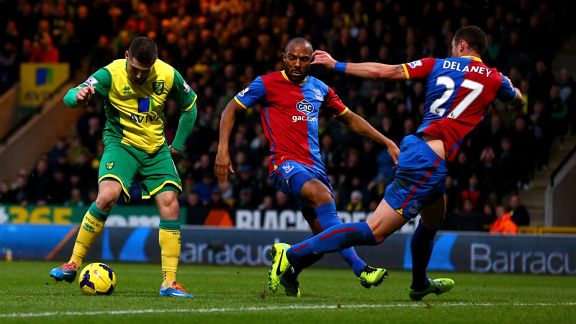 GettyImagesGary Hooper opened the scoring for Norwich against Crystal Palace.
When I'm not watching Palace struggling in the Premier League or writing these columns I spend some of my spare time doing stand-up comedy. And something new Eagles boss Tony Pulis said before his first game, a 0-1 defeat at Norwich on Saturday, made me realise that watching Palace this season is a bit like doing stand-up

Pulis said words to the effect of "whether we win or lose today we will move onto the next game". It's the same with gigging. Some nights you have a great evening, the crowd is on your side and everything you say comes off as you'd hope. But you are only 24 hours away from the next gig where things could go very differently. You could easily die spectacularly. I guess it's about consistency; having decent gigs night after night. And for Palace it's the same, if they can get to the stage where they are consistently picking up draws peppered with a few wins and putting in solid performances week in week out they will have an excellent chance of staying up.

- Davitt: Hughton deserves his break

But whereas I have years to try and finally get to Live At The Apollo, Palace have just five months to try and sort out their performances into some sort of consistency. They are, though, starting to look more like a polished act rather than the disjointed open mic performer they were at the start of the season, scaring people in the corner of a pub in North London. The last few weeks have seen the team playing with more organisation and discipline under caretaker Keith Millen and then at Norwich on Saturday there was an added urgency thanks to the arrival of new boss Tony Pulis.

There is still work to be done, of course. Norwich's opener owed more to some confused Palace defenders completely losing their men in the build-up than real quality. Dean Moxey was actually forced off the pitch by a simple give and go from Nathan Redmond -- who gave the Eagles left-back the run around all afternoon -- whereas Danny Gabbidon looked like a senile old man who'd forgotten why he went to the supermarket in the first place when Wes Hoolahan squared to Gary Hooper for a tap in.

I've lauded the efforts of the Palace defence before and the undeniable heart shown by those players, but I do wonder how many times they can make simple, Sunday League errors like this and still be playing. I have a feeling that come the January transfer window there might be some new faces in the Eagles back line.

But there were plenty of positives to take from the defeat. (Which I know does sound like a stupid thing to say but it's how fans of teams like Palace keep themselves going. And stand-up comedians too I guess. Didn't smash the gig? Well at least they seemed to like that new joke. And someone bought you a beer. Not all bad!) Palace played with much, much more confidence at Carrow Road.

Despite going behind on the half hour mark, the Eagles ploughed forward in search on an equaliser. And even when the home side had the majority of possession the Palace players worked hard to try to get it back. Those may sound like simple things, but all too often teams that have come up from the Championship play with fear -- Palace certainly are not right now. Playing without much quality yes, but without fear? Certainly not.

They are, though, also missing that little bit of luck you sometimes need to help scrape points. Last season Palace were more than fortunate to win some games, this campaign it just isn't happening -- as is often the case when you are down the bottom of the league. Barry Bannan's effort just after Norwich had taken the lead would have bulged the net any other week but somehow Martin Olsson managed to head it onto his own bar and out. I do think your luck does even out over the course of the season -- and Palace have already had a fair share of it (Fulham's two spectacular goals, Kagisho Dikgacoi's sending off at Old Trafford) but I just worry by the time that luck does even out, it will be too late to save Palace from relegation.

That lack of quality still haunts the team though. I praised Cameron Jerome last week against Hull and he was great again at Norwich -- linking up well with Marouane Chamakh and hassling defenders all day long -- but when handed with a chance to equalise for Palace in the dying minutes he scuffed a shot in the six yard box. The Eagles need runners like Jerome but they also need strikers who can finish the smallest of half chances.

But as performances go it was fairly solid. If it was a stand-up comedy gig the crowd would have been fairly happy but probably hoping for another act to then come along and be much more impressive. It was a decent warm up act, if you will. Hopefully a warm up act for what will end up being a much more entertaining five months under Tony Pulis for the rest of the campaign.