Awkwardness aside, Jerome a key for Pulis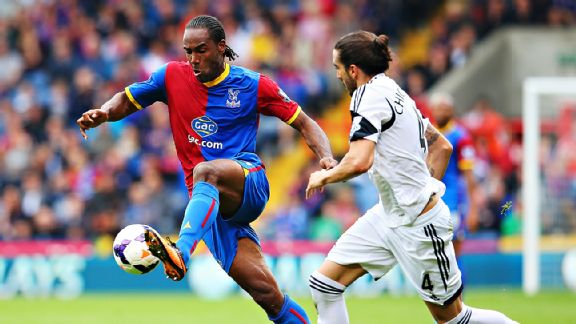 Julian Finney/Getty ImagesCameron Jerome had some choice things to say about Tony Pulis upon joining Crystal Palace.
I've had plenty of awkward moments in my life; I regularly forget people's name the sixth or seventh time I've met them and have to get by with 'mate' and once I turned up to a date with no money after a cash point swallowed my debit card.

- Jolly: Pulis faces battle to keep record intact

So I felt for Cameron Jerome and the awkwardness he must have felt when it was confirmed that Tony Pulis was the new Crystal Palace manager. Jerome tore into Pulis' management style after the Welshman left Stoke in the summer, having not given the striker much pitch time.

"There are no guarantees now, but before, in the old regime, there was a guaranteed XI who played," said Jerome. "No matter what happened, how you trained or if you came on and did well in the games you were involved in, you were still never going to start. I think a few of the lads, who didn't play as much under the old regime won't be disheartened by the fact a new manager's come in with a new method and a new way of thinking." Awkward!

Poor old Jerome must think he can't get a break at all after finally finding some first team action on loan at Palace only to find the manager he royally slagged off now in charge. And Pulis' response to Jerome's comments when asked by a journalist at his first Eagles' press conference hardly suggested everything was all rosy and forgotten about.

"I've not spoken to any player personally," said the baseball-capped one. "What happened, happened. You get on with it. I've been in the game long enough to take a bit of stick and if I have to dish it back, then I'll dish it back. That'll all be done between me and the player and hopefully it will be sorted out.

"Watching the game at Hull I thought Cameron did really, really well when he came on. He was doing what he was doing at Cardiff a few years back, running around causing havoc for the whole back four."

But Pulis was right about one thing: Jerome WAS brilliant against Hull. He did more in the 55 minutes or so he was on the pitch than Marouane Chamakh has done all season. Chamakh is a talented striker without a doubt, but in a team like Palace's, who spend most games chasing possession and having to work hard to create just a handful of chances, his languid style just doesn't quite work. Yes, he does win a fair few headers; he does make some brilliant moves into space, running the channels, but it just doesn't quite seem to be paying off.

Chances are not coming his way (just two shots on target all season so far -- one of those resulting in a goal up at Stoke). In fact, he's had an average of just 0.3 shots per game. Even left-back Dean Moxey has had more with 0.7. Jerome has had 0.8 whereas Dwight Gayle, who has spent most of the season out wide on the wing, has had 1.7 shots per game -- and is also Palace's top scorer with two goals so far this season.

It just seems like the only way the Eagles are going to get something from this season is with a little bit more effort and a dash of that age old confidence; Jerome displayed plenty of that on Saturday at Hull.

If Pulis really has forgotten about Jerome's comments back in the summer, then he will do worse than to start the striker up at Norwich this weekend. The Canaries are going through a difficult patch, things aren't really working for manager Chris Hughton who is under pressure from certain sections of the Carrow Road faithful, and will be keen to avoid defeat rather than earn a win against a refreshed Eagles outfit. A repeat of Jerome's performance at Hull could be exactly what Palace need up front against a team that cannot stop shipping goals.

Confidence is catchy, Jerome's all-action displays last weekend helped the rest of the team raise their game a little and believe in themselves a bit more.

Jerome and Pulis' first encounter at Palace may be a bit awkward, but hopefully things change and it is the start of a beautiful new partnership -- for them and for the Eagles.