Toasting the 'Millen-ium'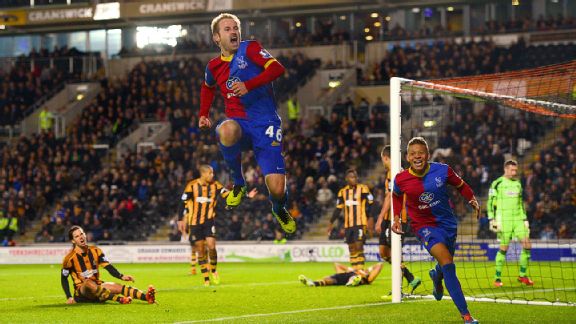 Michael Regan/Getty ImagesBarry Bannan was jumping for joy after earning all three points for Crystal Palace at Hull City on Saturday.
The end of the last millennium was a bit rubbish for me. It was December 31st, 1999 and I was 15 and at a lame house party held by one of my mate's parents. I remember raiding the old man's alcohol cabinet, finding some whiskey and trying to drink it but discovering it tasted terrible. I found out later that lots of my mates from school had gone to a different party and had a great time.

But on Saturday November 23rd, 2013, it was the end of an entirely different era for Crystal Palace FC, and it was much more enjoyable. It was Keith Millen's last game as caretaker manager of the Eagles, having taken charge for four matches after Ian Holloway's departure. He'd overseen two close-fought defeats, a credible draw and finally a win. It was a glorious end to this 'Millen-ium' (I just coined that, you can have it for free).

- Match report: Hull City 0-1 Crystal Palace
- Report: Crystal Palace appoint Pulis as manager

I didn't toast the end of Millen's four-game reign with a whiskey because, well, I STILL think it's disgusting and I'm nearly 30, but for the Eagles caretaker, his stint probably couldn't have gone any better. He clearly improved the team's performances, he earned some much needed points, he improved morale among players and fans AND he is a Palace fan himself! Eagles supporters are all calling for Millen to be kept on at the club in some capacity by new manager Tony Pulis -- and I have a feeling there will be good news on that front next week.

In fact, the performances under Millen were distinctly Pulis-like in recent weeks, almost like he was preparing the team for the former Stoke man's arrival. Millen presided over close defeats to Arsenal and West Brom, a goalless draw with Everton and finally a win at Hull. In each of them Palace were more organised, harder to break down, and more disciplined than at any time under Holloway in the previous year. Eagles fans wondering just how the team will play under Pulis might want to look back over the last four games for some clues.

The win at Hull has been dubbed a 'smash and grab' and that may well be the case due to the fact the goal was late on and Palace were down to 10 men at that point, but over the course of the game Millen's boys did enough to earn a result. There were some stand-out performances from the likes of Barry Bannan, Mile Jedinak and Cameron Jerome, but crucially the whole team were solid. In every game this season -- even the ones against teams around Palace in the table -- they will need the whole side working hard for each other. They got that yesterday and it paid off.

Bannan, who looked busy but ineffective in his first couple of games under Holloway, has started to become the player Aston Villa hoped he would under Millen. At Hull he was everywhere; nipping opposition moves in the bud, flicking the ball to team-mates to keep possession and releasing left back Dean Moxey into space numerous times. Whether it's the position Millen has been playing him -- behind the front man -- or renewed confidence, the little guy is suddenly looking like a very smart signing indeed.

And it was Bannan who scored Palace's late goal to secure the 1-0 win at the KC Stadium, but it came from Jerome's brilliant assist. Jerome started the game on the bench but was introduced in the first half after Maroune Chamakh took a whack on his head from Paul McShane, but to be honest that was probably a blessing in disguise because Jerome was far more effective than the former Arsenal man. A Palace supporting mate of mine said Jerome reminded him of Chris Armstrong during the win at Hull and it's not hard to see why -- Jerome was everywhere; a constant pain in Hull's side and always looking to get the ball down and take on the defenders. His finishing may not be as good as Armstrong's was for Palace in the early 90s, but his assist for Bannan's goal was brilliant. He played a quick one-two with Dwight Gayle, burst into the box, sidestepped Maynor Figueroa with ease and squared for Bannan to tap into an empty net. Palace haven't had a striker working that hard all season. Jerome has not won over the fans with his early performances in a red and blue shirt but more of them like that and supporters will be calling for him to start ahead of Chamakh.

Last season Palace won promotion thanks to an unbreakable team spirit; a bond that was clear to see on the pitch and -- when times were tough -- pushed the players onto that next level that was required to win the playoffs. At Hull (and in Millen's three other games) Palace have started to see that return. Holloway's tinkering and over exuberance in the transfer market at the start of the season wiped that togetherness from the team -- and Ollie himself said as much in his final press conference. Millen has managed to bring that back and the win at Hull was almost the Palace of last season; working hard for each other, a proper team performance.

The only blotch on an otherwise perfect afternoon was Yannick Bolasie's very harsh red card, given for a challenge on Jake Livermore. From replays it looks much more like Bolasie overstretch and clipped the Hull midfielder's ankle; no malice at all, studs down, one footed. But referee Anthony Taylor decided it was a straight red card. Compare it to Kevin Mirallas' reckless challenge on Luis Suarez in the Merseyside derby which only earned a yellow and it makes the mind boggle. Bolasie has always been a bit clumsy and that's why the fans love him, but there was no intent to injure in that challenge. The only intent was to get the ball.

What was also nice about Saturday was the way Palace went about announcing Pulis. A short statement on the website was enough. The new manager was in the stands to watch the game but there was no fanfare -- the day was about Millen, not Pulis. The new man didn't talk to the players; he didn't interrupt Millen's match day preparation. It was a professional way of going about things that, after what seems like a shambles of a month of trying to find a new manager, shows the club are learning.

But thinking about it -- and looking at Millen's results as caretaker -- maybe the long wait for a manager hasn't been a shambles after all. Journalists and pundits have poked fun at Palace for waiting so long to appoint a new man, and the club have been linked with pretty much any available manager in Europe, but in that four-week spell the ship has been steadied and some precious points have arrived. Maybe, just maybe, that 'Millen-ium' between Holloway and Pulis has been just what the club needed.