Palace managerial rejections reaching comical level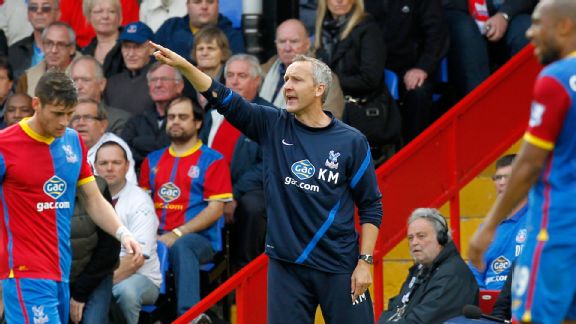 Ian Kington/Getty ImagesOne month after Ian Holloway's departure, Keith Millen is still the caretaker at Crystal Palace.
We've all been subject to a bit of rejection in our lives. I'll never forget being turned down by Jenny Castle for a dance at the Year Six end of term party. Then a few years later I applied for a Saturday job at my local Tesco store but got rejected. I assume because I was over-qualified, at least that's what I tell myself. And just the other day I was denied a credit card on account of having a poor credit history and no money. So I know how Crystal Palace feel right now.

- Report: Middlesbrough appoint Karanka

The Eagles have been turned down by just about every managerial candidate they have set their sights on, and at the time of writing are still to appoint a successor to Ian Holloway. Ollie left his post as Palace manager nearly a month ago, but due to a string of rejections, the club have been unable to find a replacement, leaving assistant manager Keith Millen to steady the ship.

The amount of times Palace have been turned down makes me look like the most popular man in the world. First there was Tony Pulis, who was recommended to the Eagles by Holloway as he headed out the door, and although signified what would be a huge change in playing style, it offered a serious chance of the team potentially stay up. The Welshman did wonders with a limited Stoke team and has the sort of track record that made fans hopeful if not excited, but he wanted more money than Palace were prepared to offer. Aside from the fact he was second only to Chelsea and Manchester City in terms of spending in his time at Stoke, he also would not represent a long-term solution, which is something the owners have always spoken about.

Pulis also signed Millen when the Palace assistant was still a player so would likely keep him on, something that would please the fans, after Millen's impressive work as caretaker manager. Plenty of Eagles fans would be happy with Millen taking over the reins until the end of the season, having seen slow but steady progress under him in the last three games. But crucially he doesn't want the job full-time, despite being a big Palace fan. As it stands though, he is preparing to take the team again for the trip to Hull at the weekend, and if Palace get a win he'll be the most successful manager the team has had this season already.

But as Pulis left the Selhurst boardroom, he passed Chris Coleman. The former Palace defender was not, though, a popular choice with Eagles fans and that could be why talks didn't go any further. In fact, message boards were crammed with supporters urging Palace not to appoint him as manager. I didn't want him purely because I've had enough of former players and managers coming back to the club and being rubbish. Either way, Coleman went back to Wales and signed a new deal with the national team.

Speaking of former managers, Iain Dowie was interviewed for the job also, and apparently impressed big time. This is the same Dowie who left Selhurst in 2006 under a cloud after breaking his contract to move to (sort of) rivals Charlton. Again, the fans weren't overwhelmed with this one.

Meanwhile, Palace were also turned down by Martin O'Neill -- who chose instead to take the Republic of Ireland job and spend his working days with Roy Keane -- and Roberto Di Matteo who took time out from his six million pound gardening leave to tell Palace he wasn't interested in an interview.

With the wish list growing shorter by the day, Palace looked at other options. Former Real Madrid midfielder Aitor Karanka had zero managerial experience but that didn't stop Palace inviting him over for an interview. He came, but must have got lost on the way from Heathrow to Selhurst because he was appointed Middlesbrough manager a few days later. Iain Moody joined as Sporting Director but he couldn't convince former colleague Malky Mackay to leave the madhouse that is Cardiff City and come to South London, all while the Eagles' owners flew to Russia to try and tempt former Chelsea defender Dan Petrescu. The Dynamo Moscow coach seemed keen and even flew to London for second interview but has reportedly decided to stay in Russia. I was excited for Petrescu not just because he looks like an exciting young manager with something to prove but also for the Pet Rescue puns that I could start using.

So here we are -- four weeks later-- still with no-one in the Selhurst hot seat. And Palace are so desperate for someone it seems they have gone back to Pulis, the man that turned them down at the start of all this, like a lonely man going back to his first ex-girlfriend even though he didn't really want to be with her.

As for me, I'm not sure I care anymore. This whole saga has left me tired and confused. If it's Pulis, fine, so be it. I don't even care if it's Palace mascot Pete the Eagle. I can't deal with any more rejection.