Jedinak turnaround would help Palace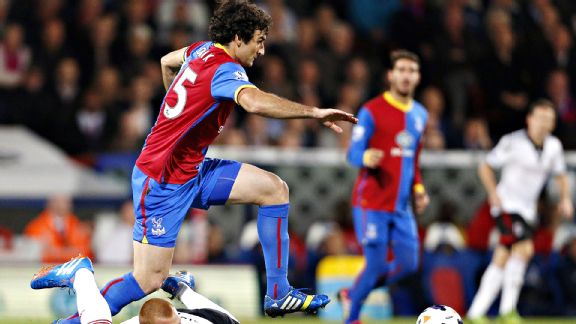 Adrian Dennis/AFP/Getty ImagesMile Jedinak's play last season led Crystal Palace to promotion.
This week Palace captain Mile Jedinak won the Football Federation of Australia's Player of the Year. It's the only thing that Palace are likely to win all season but it was much deserved after he delivered some stellar displays in the Eagles' midfield last season and led his charges to an unlikely promotion to the Premier League.

- Report: Petrescu linked with Palace job

Jedi -- as he is affectionately/lazily nicknamed by the Selhurst faithful -- was an absolute collussus in the centre of the park last season, at times being completely unplayable; winning everything in the air and on the floor with some impeccably timed challenges. Opposing midfields just couldn't get past him as he broke up move after move and fed Palace's attackers for another assault on goal. But this season hasn't quite been as brilliant for Jedinak, and now is time for him to prove why he won that award.

The stats for this season do, however, make for decent reading for Jedi; he's made an average of 4.1 interceptions a game, the most in the Premier League, and an average of four tackles per match, fifth highest in the league, but it still isn't quite clicking for the big Aussie.

In particular, his passing is letting him down big time. Ball distribution wasn't his best attribute last season either, but this campaign it's been really poor and has resulted in Palace losing possession a lot. It really makes all those blocks and tackles redundant if the first thing Jedinak does with the ball once he gets it is give it back to the opposition.

Passing decisions have been off. Last season he did ping a few nice cross field balls to team-mates -- and set up Glenn Murray for a goal against Bristol City with a lovely 40-yard chipped pass -- but more crucially his passing choices were better. When he needed to play it short to keep possession, he did. When it needed to go long, it went long. This season he keeps getting it wrong and it rolls to the feet of an opposition player or out for a throw.

It's frustrating because the rest of his game makes Jedinak one of the most effective players in the Premier League and potentially Palace's best player by a mile. Not only that, but he is captain of the side and a brilliant one at that, leading by example every game and popping up with important goals -- like a last minute header against Peterborough on the final day of last season that secured a play-off spot for Ian Holloway's men. But far too many times this season Jedi's efforts have brought a groan of frustration from the crowd instead of the usual applause of appreciation.

Obviously, it's easy for me to sit here and write about Jedi's faults this season from my desk having never stepped on a Premier League football pitch. The game is furiously fast at this level, far more so than the Championship, and at the age of 29 this is Jedinak's first season in the top flight of English football. Perhaps it is harsh to expect him to settle right away. But sadly that is the demand of the Premier League, and as Palace's captain and leader when things aren't going right, as they are at the moment, the other players will be looking to him for guidance.

I've met Jedinak too, and he's a great bloke. A classic friendly, down to earth Aussie who loves playing for Palace and loves being captain. Perhaps the pressure of the Eagles struggling so much this season has had an effect on him, but there were times last campaign when things weren't going right and he always grabbed the game by the scruff of the neck. Palace need more of that this season.

When Jedinak first joined the club back in 2011, I wrote something similar for the Guardian around this time of year about how he had failed to settle at Palace and looked like a dud signing. He promptly went on to turn in a Man of the Match display the very next game and was the standout performer for the rest of the season. He was then even better the following season, leading the Eagles to promotion, and winning the club's Player of the Season. I still (rightly) get tweets from Palace fans reminding me how wrong I was.

I'm hoping that this article has a similar effect, and Jedinak goes on to tweak the things that aren't going right for him this season and lead Palace to some brilliant team displays -- the sort that earned them so many points last season. If they do, they might even stand a chance of staying up, and then he'd have definitely written himself into Eagles folklore.