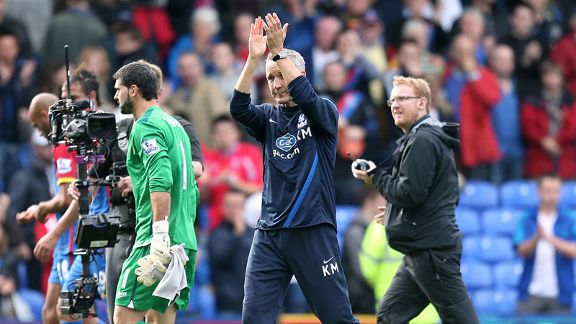 PA PhotosKeith Millen has had a strong influence during tough times at Crystal Palace.
Saturday's goalless draw with Everton will more than likely be Keith Millen's last game as temporary Palace manager, as the club announced the intention to reveal a new manager this week. In fact it may be his last game in any capacity as any new appointment will potentially have his own back room staff and tell Millen to hop it. But just as hippies since 1969 have been singing "Give Peace a Chance", my message to the incoming new manager is "Give Keith A Chance." (Catchy, I know)

Millen was brought to the club as assistant by Ian Holloway when he took charge a year ago but has always had a connection to Palace, having been born in Croydon and grown up as a lifelong fan of the Eagles. He played some reserve games for the club as a youngster but never made a first team appearance for his beloved red and blue army.

But when Holloway walked out of his position as manager three weeks ago Millen was handed a lifelong dream of managing Palace, and he's taken it with both hands. In the three games he has been in charge, the team have been more organised, more consistent and on Saturday even managed to keep a clean sheet -- their first of the season.

Against Everton at a wet and windy Selhurst Park, Palace came as close to getting those elusive three points since the last time they won a game this season, against Sunderland way back in August. They had the better chances of the two teams despite not having as much possession as their hosts, and were it not for some terrible heading from Kagisho Dikgacoi and Marouane Chamakh, that win could easily have been secured and no-one would really have questioned it.

The Toffees are one of the Premier League's in-form teams, with another new manager, Roberto Martinez, settling in quickly at Goodison Park having made some very smart signings over the summer. But at times on Saturday it was hard to decipher between the top flight new boys and the established Premier League team... well, apart from the terrible heading.

Palace carved out more clear cut opportunities against Everton than I can remember in the rest of the season. KG and Chamakh's 50p heads aside, there was a golden opportunity for Jerome Thomas after breaking the offside trap, but he lobbed the ball wide, and then was denied a brilliant 30-yard curled effort by Tim Howard's fingers. It was, on the whole, a positive performance and offered some suggestion that this squad could, with some fine tinkering possibly even avoid relegation this season. Possibly.

Since Holloway left after the terrible 4-1 home defeat to Fulham, Millen has managed to make the same group of players look more compact, more confident and has moulded them into a team that look like they believe they can actually win games. Palace don't quite have the quality of, well, any of the other teams in the Premier League but with some self belief, hard work and organisation there are points to be had.

Millen has managed to make progress in all areas of Palace's game they were struggling with; the midfield and defence are much more organised, the forward line are finally creating more chances (if not converting them yet) and some of the new signings (Jerome Thomas, Barry Bannan) are finally settling into life at Selhurst. Bannan has already played in a handful of different positions since arriving from Aston Villa in the summer transfer window so it's no surprise he's struggled to find consistency. Against Everton on Saturday he replaced the injured Adlene Guedioura in a central attacking midfield position and looked much more at home. An excellent cross, which a combination of Chamakh's terrible hair and large forehead skewed wide, an example of the sort of quality Bannan can offer.

So it's all very positive. But the only problem with all this is that Millen doesn't want to be Palace manager. Well, not yet anyway. Even if offered the job full time right now he'd turn it down, but I'd like to see him kept on in some capacity. Ideally, assistant manager, but if the new guy brings in a whole team of back room staff, then maybe we could make Millen kit man? Or chef? He needs to stay.

He has also conducted himself brilliantly in the last few weeks of uncertainty, always coming across as friendly and knowledgable in interviews. I've been lucky enough to chat to Millen a couple of times and he was always engaging and friendly when discussing Palace's fate, despite me clearly not knowing what I am talking about when it comes to tactics and team selection (not that that's ever stopped me).

Palace have made plenty of progress in the short time that Millen has been in temporary charge and to continue doing so, he needs to hang around a bit longer. All together now: "All we are saying is... Give Keith a chaaaance..."