Palace season stuck on repeat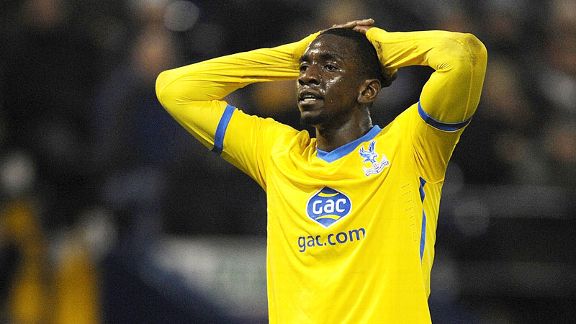 Steve Bardens/Getty ImagesAfter losing to West Brom, Yannick Bolasie and Crystal Palace now have nine losses in 10 Premier League matches.
Another week, another defeat. I can pretty much copy and paste that first line from nearly every article I've written this season. This venture into the Premier League -- Palace's fourth since 1992 -- is proving the hardest they've ever faced. The Eagles are 10 games in and have won just one of them, losing the other nine. They are rock bottom of the table. Oh, and they don't have a manager.

- Report: West Brom 2-0 Crystal Palace

The latest defeat was at the Hawthorns to a West Brom team that haven't exactly been setting the world alight, and even though Palace huffed and puffed, they couldn't get a result, leaving them without a single point from their travels this season. Caretaker boss Keith Millen praised his players' effort and team spirit, but unfortunately effort and team spirit doesn't win you points in the Premier League. If it did, Stoke would win the title every year and no-one wants that.

There was plenty to pick apart from defeat to the Baggies. Firstly, the Eagles defence, while looking more organised and compact than they had all season, was still at fault for both goals, exposing the defenders' naivety and general lack of top flight ability. Dean Moxey, for example, is having a fairly decent season in that he's playing better than what fans expected seeing, as he has never played Premier League football before this season, but one mistake -- not tracking Saido Berahino's run towards the end of the first half -- resulted in a goal for the Baggies. It's a harsh, harsh world out there, folks, and players like Moxey are getting punished even though overall they are playing well.

And in the second half, despite plenty of positive play from Palace, they were put out of their misery thanks to Gareth McAuley's header, and again the mistake came from one of the Eagles' better players. Mile Jedinak was Player of the Year last season, bossing the midfield week in week out, and at the Hawthorns on Saturday he had a good game. The Australian is one of the Premier League's most successful tacklers already and is Palace's captain and leader. He's had a shaky start to the season but against West Brom was almost back to his battling best. But one slip, letting McAuley in ahead of him as the ball drifted towards the back post, was all it took for the Baggies to make it 2-0.

The Premier League is an unforgiving mistress, unlike the Championship, where quite often mistakes would go unpunished. Palace rode their luck at times last season but often would be let off the hook and then go on to score. This campaign, neither is happening. Last season, Berahino and McAuley's chances would probably have hit Row Z and, with renewed confidence, Palace would have taken the game to West Brom. Not this season; each time a goal goes in, the players' shoulders drop. They look like they don't quite believe they can get back into it. And maybe they're right. Maybe they can't.

But for long periods of the game at the Hawthorns, Palace contained their hosts, and didn't look like they would be broken down. The main problem came when the Eagles had possession. Too many times simple passes went astray and back to the opposition. Again, last season you would get away with it, but in the top flight you get punished. I know Palace are the weakest team in the league in terms of Premier League experience, wage bill and, arguably, ability, but that doesn't excuse crappy 10-yard passes. Maybe it's a lack of confidence in their own ability. Maybe they've read all the newspaper articles which have already written Palace off. I don't know, but something is off. It's all a bit disjointed.

Palace were wearing quite a nice new yellow kit though, so I guess that was good? I mean you have to take the positives from wherever you can at this stage. The Eagles have traditionally done quite well in seasons where they have worn yellow, and although I think this season's away kit of black with a red and blue sash (nicknamed the evil sash by fans) is gorgeous, I'm willing to try wearing yellow instead. Having said that, its first outing resulted in a defeat.

It's all rather depressing. I mean, I knew it would be a tough season, and Palace would struggle, but the harsh reality is even harsher than we expected. Can we just finish the season now? I'm not sure how much more I can take.