Palace's pointless hustle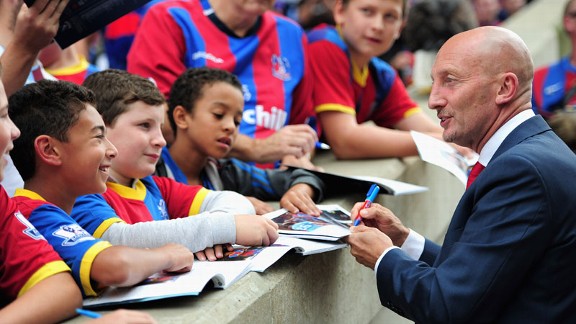 GettyImagesCrystal Palace have banded together in the past and must do so again.
I'm used to being disappointed. When I was seven I asked my parents for a Sega Megadrive for Christmas. When I rushed downstairs on Christmas morning I unwrapped the present that was shaped very much like a Sega Megadrive only to realise, as more wrapping paper was torn off, that it was in fact a box of Lego.

Don't get me wrong, Lego is great, but it's not a Megadrive.

As a result I've been prepped for a life of letdowns (which coincidentally makes me the perfect Crystal Palace fan). Sunday's result against Spurs was like that doomed Christmas morning all those years ago.

- Soldado spot-kick seals win
- Holloway sees rough ride with refs

The general consensus from Palace fans after the game was "well, we gave a good account of ourselves" and it's true that the Eagles did. But good accounts don't equal points. A good account is a box of Lego, but it's not the three points of a Megadrive.

The build-up to the game had been furiously exciting. Twitter and forums were full of Palace fans getting as crazy as I did that festive morning. It was like Christmas, birthdays and losing your virginity all wrapped in one (only without the crying). Eagles fans are massively proud of their team for gaining promotion and will be whatever the outcome of this season. Especially as the club have had to suffer through administration and Simon Jordan in the last decade.

But in the end, it wasn't the glorious return to the Premier League that had been hoped for after an eight year wait. Roberto Soldado's penalty just after half-time earned Gareth Bale-less Spurs a 1-0 win at Selhurst in a game that was notable more for its hustle and bustle than any real quality. Which, to be fair, is pretty much what the world expects from Palace this season. And the Eagles are nothing if not reliable.

But what Sunday showed was that the players are ready to give their all for 90 minutes - I just worry that it will be impossible to chase games that much all season. In truth, Spurs could have won 3-0 as they took advantage of tired Palace legs only to miss guilt edged chances in the final few minutes.

But an equaliser from Ian Holloway's boys also wouldn't have been totally unjust - and it took a good save from Hugo Lloris to deny Kagisho Dikagcoi (known as KG on account of no-one being able to spell his name) late on.

On the game's main talking point; I thought it was a penalty. If your hands go up in the box and hit the ball the referee has every right to point to the spot. No matter what you are doing. Yes Dean Moxey was unbalanced but he knows the score. (As an aside, I thought he had a great game though. I'm not his biggest fan but he was very solid.)

This campaign is a world away from last season, when even the top teams in the Championship came to Selhurst and were blown away with ease. This year it is going to be very, very different. But something in me (call it naivety, call it stupidity, call it last night's beers) makes me think Palace CAN beat the odds and stay up.

There were glimpses of quality on Sunday; be it Mile Jedinak's bossing of the middle of the park, Jonny Williams' quick feet or Marouane Chamakh's driving runs when he came on. Given time to blend, settle and get into their rhythm, those guys can do some damage.

If this first game of the campaign is anything to go by, Holloway will look to set up his team to chase and hassle the opposition and then look to hit them on the break. Even at home. Admittedly this was a clash with a top six side and when the likes of Norwich and Hull come to Selhurst we may well see a more attacking and confident Eagles.

Palace approached this game much like the playoff final in May; clearly the underdogs, a starting XI that looked ready to defend for their lives from the first minute but always hopefully that they would snatch a goal. Indeed, all but two of Sunday's starting lineup started the final against Watford three months ago - with one of those exceptions being Dwight Gayle, who has barely played that many Championship games let alone a top flight match. With all this in mind, to come away with a 1-0 defeat is actually rather good.

Except it isn't. Because it's a defeat. They say a good start is key for any promoted team. When Holloway's Blackpool kicked off their first ever Premier League campaign in 2010 they won 4-0 at Wigan. And they still went on to get relegated (albeit by a tiny margin). Palace now need to pick up points against Stoke and Sunderland in the next few weeks to give themselves a chance.

Whatever happens it's going to be a rocky season and the club are ready for that. But there is one thing you can guarantee will be consistent in SE25 this season and that's the fans. Selhurst Park was packed out on Sunday and the atmosphere was electric! Add to that a brilliant pre-match display from the Holmesdale Road stand and it made for the sort of performance from the Palace supporters that brought plaudits from all and sundry on Twitter (other social networks are available). It was the sort of display that continues to make me proud to be an Eagle.

We know things are going to be tough this campaign, but if the sort of battling we saw on Sunday gets Palace enough points to stay up then we'll happily settle for Lego over a Megadrive.