Old ties not always best for next manager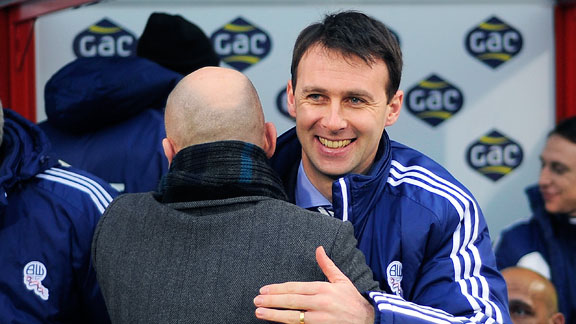 Charlie Crowhurst/Getty ImagesDougie Freedman greets Ian Holloway before a Championship match last January. Could Freedman return to Selhurst Park?
Crystal Palace fans do nostalgia very well. In fact, studies have shown that the average Eagles fan (I know what you're thinking; there is no such thing as an 'average Eagles fan' and you're right) think about past great Crystal Palace moments an average of 327 times a day. That's more than they think about sex.

For clubs like Palace, who have spent most of their existence struggling, those times when it all went well are ones that fans cherish as much as they do special moments with their family (possibly even more), and as a result players who enjoyed fruitful spells in red and blue are handed legendary status.

Which might explain why the bookmakers' odds for the next Palace manager read a bit like a Who's Who of former Selhurst greats. Amongst the names linked with the vacant space in the dugout are . . . . (deep breath) . . . Steve Coppell, Neil Warnock, Tony Popovic, Gareth Southgate, Chris Coleman, Dougie Freedman, Paul Hart, Neil Redfern, Steve Kember . . . (another deep breath) . . . . Attilio Lombardo, Ian Wright, Iain Dowie, Mark Bright, Steve Bruce, Keith Curle, Terry Venables, Chris Powell, Peter Nicholas, David Swindlehurst and Peter Taylor. Plus current caretaker manager but also former Palace youth team player Keith Millen as well as current player/coach Kevin Phillips. Whew!

-WBA's Clarke expects response vs. Palace
-Holloway says ummer signings hastened exit

As you would expect, the message boards, Facebook and Twitter are all going into meltdown over the new Palace manager, with some brilliantly entertaining suggestions for the new gaffer. I saw someone suggest Kenny Sansom. Oh, the recovering alcoholic who was sleeping rough on a park bench until two months ago? Yeah, I'm sure he'd be ready to organise a squad of highly paid egotists against teams of even higher-paid egotists. Kenny needs support and help from Palace, not a manager's jacket, and thankful that is what he is getting. The owners have been brilliant at offering him work back at the club in a corporate capacity on match days; the club should care for its former players who are struggling and they are, which is brilliant.

For some reason, though, there is a theory among a section of Palace support that just because a coach or a player has played for Palace, that this experience will somehow help them become a great manager at Selhurst Park. It's rubbish. It just means they might hurt a bit more after a defeat than anyone else. I'd rather bring in a manager who has no connections with the club but has the credentials and managerial experience to get the best results. Yes, in an ideal world a former fans' favourite would develop into a great manager, but the heart cannot rule the head here.

Palace fans all hoped it would happen with Freedman. He was a big fan favourite, having scored more than 100 goals for the club in two spells as a player, before hanging up his boots to be Paul Hart's assistant when the club was in administration three years ago. He then took over from George Burley in 2011 and slowly seemed to be shaping both his managerial future and the club's slow ascension up the league. It would have been perfect.

But he left last year when Bolton offered him lots of money and the chance to coach a "big team" -- his words, not mine. It's another reason why football fans shouldn't attach too much sentiment to things. Yes, it helps make the good times great, but it can be heartbreaking when it doesn't work out. Just ask Peter Taylor, who returned as coach in 2006, having been one of the club's best players, only to be a terrible manager and ruin his reputation.

Despite leaving the club last week, Ian Holloway has talked about "being a Palace fan now". There is something about the Eagles that gets under the skin of players and managers. Shaun Derry and Danny Butterfield told me they used to have regular long chats about the club and why it was so special.

I love seeing former players back at the club as special guests and I've been lucky enough to interview lots of them, and pleasantly surprised to discover most are lovely chaps who always chat affectionately about Palace and the fans. I would rather keep it that way and have a new manager, with no connection, come in and let the club get under his skin, like it has with all of us.