No glory, but plenty of pride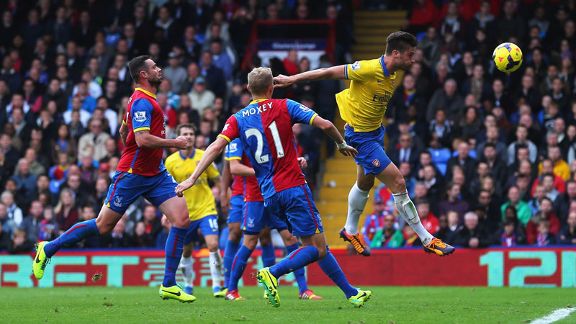 GettyImagesAside from conceding two goals, Crystal Palace looked a changed team.
Palace fans are pretty good at finding positives in the most dreary of situations. We lost? Well, at least we tried to play some nice football. The club is going bust? Well at least we won't have to watch them lose every week. My house is being repossessed and my wife has run off with my best friend? Well, it's nice that he's found someone finally.

And Saturday was another example. The Eagles went down 2-0 at home to Arsenal, their eighth defeat from nine games this season and the sixth loss on the bounce, but most fans walked away from Selhurst Park feeling strangely happy. Not happy about the league position, obviously, or the fact that the team is currently manager-less, or the fact that the catering staff ran out of milk before half time (again) in the Main Stand meaning you couldn't even get a cup of tea. But happy because they had, for the first time in two months, seen their team actually play with intensity, discipline and organisation (which is more than can be said of the catering staff).

No-one gave Palace a chance before kick off. League leaders Arsenal were strolling into town, bringing with them pricey assets like Mesut Ozil and Aaron Ramsey whereas Palace's most expensive asset is probably Steve Parish's wig. The odds on a Palace win, or even a draw, were longer than the queue to the toilets in the Arthur Wait stand at half time, and for caretaker manager Keith Millen, taking the reigns for the first time after Ian Holloway's departure earlier in the week, it was almost a free pass.

No-one expected anything from the home side given the 4-1 defeat at home to Fulham a few days previously and most pundits were smugly wondering if the Gunners would hit double figures.

But instead, Millen sent out a Palace team that was as defensive as it was organised, and it worked. Well... not straight away. Arsenal had 87% possession for the first 15 minutes and as possession is nine tenths of the law, I think that means they legally own part of Selhurst Park now. It looked like an FA Cup tie with Palace as the plucky non-league outfit, just lucky to be on the same pitch as the Gunners. But slowly confidence began to spread throughout the home side and they started matching their hosts in all areas of the pitch.

Mile Jedinak, a player who last season was an absolute colossus but this season looks like he's got the wrong contact lenses in when he's trying to pass to a team-mate, had his best game of the season so far (not hard). Barry Bannan finally added some gameplay to the little-legged scurrying around he does (which looks like a cartoon character about to take off at speed) and Adlene Guerdioura, who in his first few games genuinely looked like he'd won a competition to play for the Palace first team, was suddenly this confident, skilful beefy midfielder who repeatedly took on his Arsenal counterparts. In fact, he was arguably Palace's best player on Saturday and was unlucky to be the man who in fact handed the Gunners the lead when he rashly gave away a penalty.

Palace's performance was as surprising as it was pleasing and it's amazing what a little self belief can do. Some footballers have too much self belief (cough cough Nicklas Bendtner) but the Eagles team have been seriously lacking in confidence. Yet, in just a few days, Millen has managed to instill some belief into those players and the result was a battling, proud performance against a team that could well win the league this year. It speaks volumes about Holloway's loss of dressing room control that Millen was able to get them so organised in such a short time.

In a perfect world, Millen, a local lad and a big Palace fan, would get the job full time and lead the Eagles to safety, thus confirming him as Croydon's most famous ever resident, and forcing the local council to erect a giant statue of him outside the Fairfield Halls. But it seems like he doesn't want the job, and may even leave when a new manager comes in and brings his own back room staff. He's a lovely bloke and deserves credit for stepping up to the plate and delivering, arguably, Palace's best performance of the season. The club right now doesn't really know what it wants to be -- from the boardroom to the pitch -- but he managed to bring some organisation in a sea of madness.

If the players can continue to believe in themselves there's nothing to suggest they can't carve out points against the lesser teams in the league and give themselves a fighting chance of staying up. Whoever takes over will need to continue Millen's work in doing so. Millen, meanwhile, may well ride off into the sunset like Shane at the end of the movie, his work done. There may well be nothing more romantic.