More pals than points for lovable losers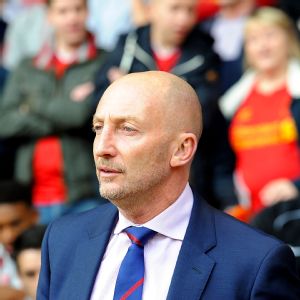 John Powell/Liverpool FC/Getty ImagesCrystal Palace hosts Arsenal Saturday in the Eagles' first game without Ian Holloway, above, after his midweek sacking.
They say nice guys finish last, and at the moment that's exactly what is happening at Crystal Palace. The club has won plenty of friends this season but not many points.

Plaudits have been flooding in week after week thanks to the Eagles fans' brilliant pre-match displays, constant singing and unbridled passion. Supporters of nearly every club Palace have played have taken to social media to comment on how great the red and blue army's fans were during the game. Sadly, the same has rarely been said of the players.

And on Wednesday, when Steve Parish and Ian Holloway sat ashen-faced in the Soho Hotel and poured out their hearts to the world's media about everything that has gone wrong this season, it was another reason for neutrals to fall more in love with Palace, who have the unenviable task of hosting first-place Arsenal Saturday.

-Millen: Time to impress

At that press conference, Parish revealed that Holloway was leaving the club after less than a year in charge, one promotion, and just eight Premier League games, seven of them defeats. Holloway, who had been the victim of cowardly abuse from some fans at the end of Monday's 4-1 home defeat to Fulham, opened up, and with more honesty than is usually seen in football, admitted he was not up to the task of keeping the team in the top flight. He spoke of being "tired", "having no energy", missing his family, and looked like a man who had just given up. It was as refreshing as it was heartbreaking.

But it won Palace countless friends in the media, and around the footballing world. The Eagles are fast becoming everyone's second Premier League team (much like Holloway's Blackpool were three years ago). It might be a bit patronising, it might be sympathy, but it's nice that people are liking the Eagles. I think this week most neutrals wanted to hug a Palace fan.

Holloway's candid press conference even won him thanks and best wishes from the very fans at Selhurst who were frothing at the mouth for him to leave. It seems many only saw the jovial, clown-like side of him, with his back catalogue of funny quotes, and didn't realise there is a man under there who lacks a lot of self-confidence, and perhaps is even a bit depressed.

And it's a refreshing change from the club's previous regime. Under Simon Jordan, Palace were bullish, arrogant and hard to like. Jordan was all mouth, spouting off with all the subtlety of a Damien Delaney first touch, and most in the game hated him. The new owners at Palace have worked hard to rebuild some of the bridges Jordan ruined with other clubs; he would saunter into board rooms at away games with his entourage five minutes before kick off, make disparaging comments about the home team's ground and leave before the final whistle. He then wondered why clubs were reluctant to do business with him when it came to transfers.

The new owners are savvy businessmen who have turned Palace into a friendly, likeable club who people want to do business with. Now neutral fans are coming round to the Eagles too.

Yes, Parish does look a bit like Jordan. He's also a fan of expensive suits, flash cars and expensive haircuts, but crucially, he is a people person. He knows how to create a positive image.

And in temporary charge of first-team affairs now at Selhurst Park is the nicest guy you'll meet in football. Keith Millen, who was Holloway's assistant but has stepped up to the plate for the time being, is a local lad, born in Croydon, and a Palace fan all his life. He will be brimming with pride (although probably not confidence) on that touchline and a more pleasant chap you wouldn't want to meet. I've been lucky enough to share a beer with him and he's as excited about working at Palace as any fan would be.

But none of this will save Palace from the drop. And perhaps it's the very reason why the team is doomed this season. No one got anywhere by being nice. Sir Alex Ferguson certainly didn't and he is widely regarded as the best manager that has ever lived. Palace will win lots of friends this season but they won't win points, unless something changes. Maybe that isn't a problem, maybe it would be OK if they went down with more pals than points.

But should they want to change all that, there is a man from Stoke in a baseball cap who could be just their guy.