Focus needed for 'TV Derby' at Morelia
A week after Club America took the Mexico City derby against Cruz Azul by a resounding 3-0 margin, the so-called TV derby is upon us Friday night. Morelia, owned by Mexican conglomerate Grupo Salinas (operators of TV Azteca, the nation's second-most viewed television network) hosts Club America, owned by Grupo Televisa, Latin America's largest media company behind Brazil's O Globo. (8:30 ET, ESPN3/WatchESPN),

While not necessarily a duel that will provoke oodles of passion on the pitch, both teams have produced memorable matches in the past. This season, Morelia is on the downturn, meaning the team will focus its energy that much more on taking three points against Las Aguilas in order to revive their waning playoff hopes. Here are four things America needs to do to secure victory at the Estadio Morelos:

1. Stop Hector Mancilla

The Chilean striker has scored 11 times on America while playing with Toluca, Atlas and Tigres, his previous clubs. The veteran forward will obviously try to extend his run, so America's trio of central defenders, Aquivaldo Mosquera, Diego Reyes and Francisco Rodriguez, will need to make shutting him down their top priority.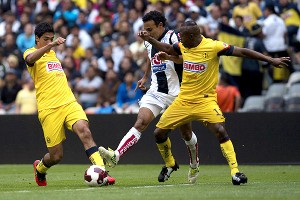 Yuri Cortez/AFP/Getty ImagesRaul Jimenez (left) and Christian Benitez (right) should be able to create a few chances Friday night at Morelia.
2. Get Raul Jimenez involved

Christian Benitez was formidable against Cruz Azul last week, and an unsung hero behind the Ecuador international's hat trick was Jimenez. With five goals under his belt this season, teams can't afford to ignore the 21-year-old, who will need to impress this weekend if he wants to get back in the Mexican national team.

His ability to team up with Benitez will be crucial, and if both are on the same page, America will have no problem generating offense against Morelia.

3. Watch the wings defensively

Morelia's South American trio of Jefferson Montero, Joao Rojas and Mancilla are the obvious focal points of any defensive game plan. Montero and Rojas are especially adept to creating chances thanks to their blinding speed and impressive ball-handling ability.

Both Ecuadorian midfielders like to spread out into the wings and take defenses by surprise by either cutting towards the middle and taking shots, or launching dangerous crosses into the box. Paul Aguilar and Adrian Aldrete, who both have good chance of making El Tri's March 22 and 26 rosters, will need to be on guard.

4. Get an early goal

If it feels like I'm repeating myself from last week, it's because I am. America is a much better team when it gets an early goal. Miguel Herrera's strategy is much more efficient with a lead, because it means that America can counterattack its way to a wider margin of victory later on in the match. It's no coincidence that every one of America's wins this season (except against Jaguares) featured a first-half goal.

PARTING SHOT: El Tri Americanista

There's a pretty big chance that up to six Club America players will be called up to the Mexican national team to face Honduras and the United States. On the radar right now, according to national team scouts, are RB Paul Aguilar, LB Adrian Aldrete, DM Jesus Molina, CB Francisco Rodriguez, CB Diego Reyes and F Raul Jimenez.

If all four defenders named atop are selected, we might see an all-America back line at some point, especially considering Jose Manuel "Chepo" de la Torre plays a 4-2-2-2 or 4-2-3-1 depending on the situation. How likely is that? Not very, unless Espanyol CB Hector Moreno comes down with an injury or suspension.