Cup loss won't dampen America's Liga MX fervor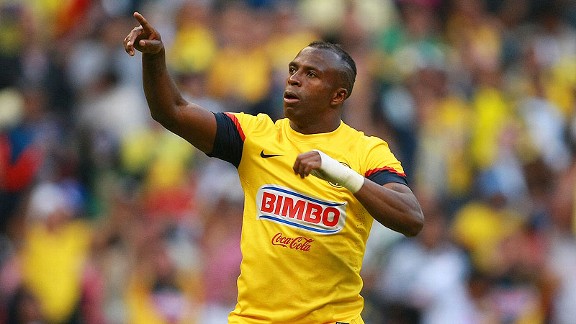 Francisco Estrada/Jam Media/LatinContent/Getty ImagesClub America's Christian 'Chucho' Benitez answered his critics with a sparkling hat trick last Saturday against Cruz Azul.
Cruz Azul proved to be quite the slump-buster over the weekend, eradicating Club America's two game winless streak and Christian Benitez's shocking form over the first part of the Clausura 2013 season. The Ecuador international now has six goals on the season, is the tournament's second-best goal scorer, and overtook teammate Raul Jimenez as the team's scoring leader -- all in 90 minutes against Cruz Azul.

While it was huge to get Rubens Sambueza and Diego Reyes back after a two game absence thanks to a suspension and injury, respectively, the only black mark on the resounding 3-0 victory over La Maquina was Paul Aguilar's silly red card.

Manager Miguel Herrera's fiery temper has raised some questions in the past, and while the whole "lead by example" thing had fallen on deaf ears in recent times, Herrera's behavior off the pitch is now translating to mental mistakes by his players on the pitch. America has seen three players be sent off in the last four matches -- all starters.

Players who have been sent off have seen a sort of solace within cup play, opportunities which Herrera has taken to give Sambueza, Aguilar and Aquivaldo Mosquera competitive minutes to keep their rhythm when not able to play in the league thanks to the aforementioned red cards.

Thus, it was no surprise to see right back Aguilar starting against Neza in an otherwise meaningless game. After five games in the Copa MX, America had assured passage to the quarterfinals thanks to a perfect record. And though Neza ultimately beat the Eagles 1-0 at the Estadio Azteca, expectations are high towards a potential double.

Six months ago, teams had brushed the Copa MX aside as a secondary tournament. This time around, teams were warned to take it seriously, and America has been leading the charge as one of the clubs who might very well cherish taking the trophy in April.

Still, some concern might arise from the fact that in the last five games, America has won just two after a very hot start to 2013. The team had been holding firm in second place behind a monstrous Tigres, but have now fallen back to third place, first to Tijuana and now to Atlas.

Even then, a huge win in a local derby is usually the kind of thing that will lift your spirit and push you onward, especially in such a short season.

Parting shot: 'Chucho' keeps on trucking

Despite having played 30 less games in a Club America uniform, Christian Benitez is closing in on his goal-scoring mark with Santos Laguna where he smashed 51 strikes in 95 matches. With America, 'Chucho' has tallied 41 scores, and might reach 100 goals in the Mexican league by the end of the tournament.

His hat trick against Cruz Azul was the third of his Liga MX career. All of those matches have come with America.