Four keys to victory vs. Chivas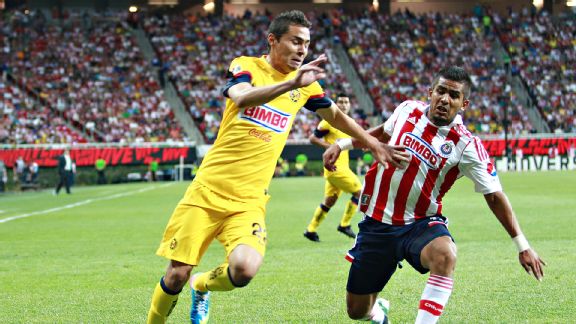 Cioran Castañeda/Getty ImagesPaul America and Club America head into Saturday's clasico versus Chivas boasting a 20 point lead in the table over their long-time rivals.
MEXICO CITY -- Club America will face Chivas Saturday in the most lopsided Mexican Clasico to date. After 70 years in the Liga Bancomer MX, never have the Mexico City giants faced the Guadalajara greats with a 20-point lead in the table. Even then, form is not necessarily the main factor in a game so emotionally charged as this one. Chivas will be looking, by all accounts, to salvage its pride today at the Estadio Azteca.

- Marshall: Four factors that make the SuperClasico classic

After a short week of training, caused by the Tuesday night win over Tijuana at the very same Estadio Azteca, this has been, perhaps, one of the clasicos with the least amount of build-up in recent history. Even then, America's training this week has seen some serious quirks and strategic wrinkles take place, which leads us to believe that Miguel Herrera's team is taking El Clasico with the seriousness it deserves.

1. Never stop pressuring Chivas in their own half

America's intensity has been unmatched this season, and a great deal of the team's success has stemmed from pinning teams deep in their own half early and often as players circle about in endless pursuit of the ball, often pressuring them to make mistakes in bad places on the pitch.

It took Herrera 18 months to develop the team's pseudo-Barcelona approach in this regard, but it's one of the main factors that has made this team so difficult to beat. At home, the intensity is doubled, with the large Estadio Azteca crowd behind them, mistakes are amplified as the ball comes loose. Long stretches of possession are prized duly as fans have been educated by this batch of players to understand when the team is capable of creating danger.

2. Score as early as you can

Nothing has deflated Chivas more so than being consistently down in the scoreline. If America is capable of getting on the scoreboard first, we will likely see the usual Chivas disarray and desperation that we've come to experience from this hapless version in the current Apertura 2013.

Herrera noted during this week's press conferences that even though that will not be their goal, this could very well be a historic defeat for Chivas. To exemplify how predictable the Guadalajara side has been even with replacement manager Juan Carlos Ortega on the bench, a storyline will often work out with Chivas receiving a goal, then pushing recklessly forward for the draw, and not receding back into their regular stance. This, usually, is later punished with another opposing goal.

America will likely sit back and counterattack if the first part of this equation happens, and with the team's stout defense and killer speed, they'll have a field day.

3. Keep emotions in check at all times

In the past, when one of the two teams heads into El Clasico with a bad season or a slew of injuries, the other team will predictably dominate. This, in turn, is always viewed with hot-headed disrespect, or at least has the potential to. In this case, America will need to avoid scuffling with Chivas players, and take the game off rails with a potential red card.

Games between the two rivals have been relatively dramatic of late, with three of the last four games seeing at least one player sent off. There's a pattern here, and if America ignores it they'll likely get struck by a referee with an itchy trigger finger and a hankering for TV time.

4. Eliminate Marco Fabian from the offensive flow

Chivas has turned into America in the late 2000's. Buoyed forward by a stellar 'keeper (Ochoa; Michel) and a marquee offensive player (Cabañas; Fabian), they meandered around the middle part of the table for quite some time, sometimes making the playoffs and other times crashing out, before eventually bottoming out and forcing a mass implosion (Clausura 2008; Apertura 2013).

No other player on this team can get up and produce an individual masterpiece. Thus, Marco Fabian must be acknowledged. And though his personal problems and unfortunate sound-bites may bring a former America starlet to mind (Angel Reyna), Fabian is quite frankly the only person capable of bringing about a heroic Chivas performance Saturday at the Estadio Azteca.