America aim for first Azteca win vs. Tijuana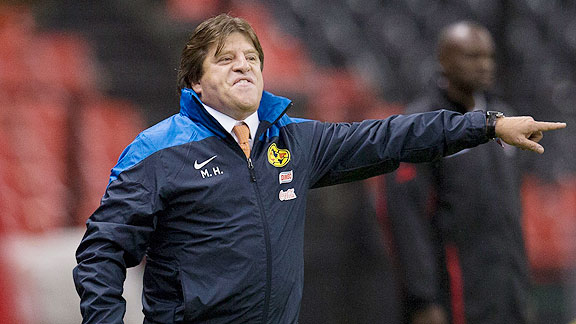 Miguel Tovar/LatinContent/Getty ImagesMiguel Herrera has Club America on the way to a historical season in Mexico's Liga MX.
MEXICO CITY -- Of the 18 teams currently in the Liga Bancomer MX, only one has never lost at the Estadio Azteca. This season, no opposing team has left the stadium with a point after four tries. The colossal home of Club America has retained its mystique on the club side, if only to have suffered many blemishes on the national team side, its other permanent occupant.

- Canales: America strengthens grip on first

Strangely enough, the team with the most amount of foreign-born players in the Mexican league is exactly the one that has never lost there. Club Tijuana has only made two visits to the stadium, the third one coming tonight in an odd mid-week game which will allow both clubs to make up for the Week 2 game that was postponed after America exploited a clause in the rulebook to protect its then-decimated roster.

Antonio Mohamed, now a legendary figure in Tijuana's growing lore, is to blame for America's inability to win at home against the Xolos. In his first game in charge, he led the northern Mexico side to a 1-1 draw highlighted by a Tijuana goal just 12 seconds into the match. A year later, a defiant Mohamed executed a strategic masterpiece, with his team playing perfect defense and riding a spectacular goal from Cristian Pellerano to secure a 1-0 win that made headlines.

Tonight, with Mohamed gone and the Xolos in rebuilding mode, America has a sterling opportunity to end its tiny streak against Tijuana. With national team midfielder Fernando Arce gone on El Tri duty, and the hosts minus Raul Jimenez and Miguel Layun (their two top scorers), the game will go on, ironic considering America pushed it back precisely because it did not want to be without its top players in July.

Should the team win tonight, it will extend its lead in the Liga Bancomer MX table, and continue in the growing chase to eclipse the 43 point mark it set in 2002 as the most successful season in the history of the league since the current format was adopted in 1996.

Despite losing Christian Benitez to the Qatari league before his untimely death this summer and losing out in the chase to sign Morelia winger Jefferson Montero, Miguel Herrera has guided his team to a flying start, one that seems all the more impressive given the current state of affairs of rivals Chivas and Pumas.

Finally, a win over Tijuana will shift the balance of power in their short history. In four matches, Xolos has drawn twice with America, gotten one win at the Estadio Caliente and lost at their home ground also just once. In those four matches, discipline has been a problem for both teams, as five red cards have been dished out since 2011.