Vucetich 'spares' Club America in first Mexico call-up list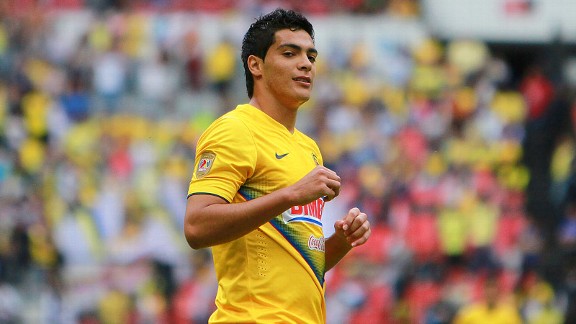 Hugo Avila/Jam Media/LatinContent/Getty ImagesStriker Raul Jimenez is just one of two Club America players who have been called up by new El Tri head coach Victor Manuel Vucetich.
MEXICO CITY -- Just a week after Victor Manuel Vucetich was named Mexico's new national team manager; the former Monterrey boss has turned in his first player list as El Tri prepares to mount its last stand towards Brazil 2014 at the Estadio Azteca next October.

- Sutcliffe: Vucetich Q & A

While many had speculated that current league champions Club America would be vital for Vucetich, only two players from the squad were selected for the first proper post-Chepo camp. Raul Jimenez and Miguel Layun, bright spots for the Mexican national team during its ill-fated Gold Cup campaign, are the lone americanistas who have been tapped by the current administration.

Unsurprisingly for many, Vucetich turned to those who produced success for him at the club level to do the same with the national team. Monterrey players Severo Meza, Jonathan Orozco, Jesus Zavala and Hiram Mier were all vital components of a team that won three consecutive CONCACAF Champions League titles under the manager.

Also called up was current Chivas striker and former Monterrey hitman Aldo de Nigris. Crosstown rivals Tigres, Vucetich's fondest enemies, were rewarded with five call-ups, despite lounging in the bottom half of the current Liga Bancomer MX table.

Back in Coapa, America manager Miguel Herrera ironically praised the fact that his team wasn't gutted in the face of El Tri's necessity. Herrera, a candidate himself for the job Vucetich eventually accepted, feared that players such as Moises Munoz, the team's starting goalkeeper, and Luis Mendoza, the breakout star of this season's squad, would be among those missing time from their club duties.

"We have two games coming up that would have affected us [with several players being called up]; we're looking to qualify out of the CONCACAF group and we must travel to Tijuana and fight for first place," a relieved Herrera told reporters on Friday.

"The league champion doesn't have to have many players selected for the national team. I respect what Victor [Vucetich] does, if he calls up two of my players or none, we'll still support him," he continued.

Despite the early snub, Vucetich may very well call upon more America players next week when the Mexico boss is required to present a new list of players for training. Former Tri captain Francisco 'Maza' Rodriguez, a staple of de la Torre's lists, along with Munoz, Mendoza and perhaps even wingback Paul Aguilar would be those in line to be given a look.

With the Panama game less than three weeks away, Vucetich would be wise to look at as many players as possible in order to form a cogent final list for arguably Mexico's most important game ever. He is, however, not obliged to present the current batch of players an opportunity on October 11th. In keeping with his prior statements regarding the European-based players, it wouldn't be a surprise to see more than two Club America players in the final list.

At this point, most Mexican fans don't care where their national team players hail from -- as long as they can make a positive difference.