Despite finals, its end of an era for Club America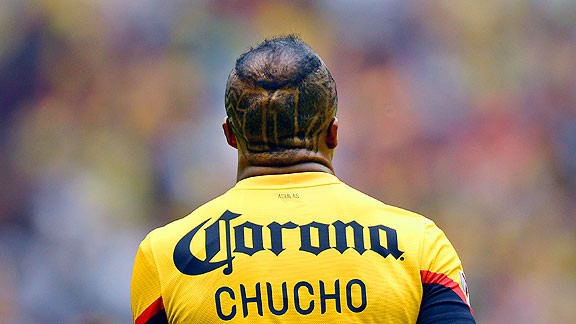 Alfredo Estrella/AFP/Getty ImagesEcuadorean Christian 'Chucho' Benitez grabbed the Liga MX Clausura scoring title and likely will head to Europe in the summer.
MEXICO CITY – Club America players, management and fans got a full evening to celebrate the team's triumph in the Liga MX semifinals over Monterrey. It was, after all, revenge coolly exacted on a squad that had so cruelly denied them in the recent past and ripped the national spotlight away from the ten-time league champions.

On Sunday morning, it's all business with the knowledge that a quick turnaround is needed before the final's first leg kicks off this Thursday. One more time. One last time. With the team perhaps not planning but fully aware that it will endure a massive makeover this summer, the current era of Club America soccer will come to a close next weekend. With or without a title to show for it.

It started innocently enough. Diego Reyes, Mexico's wunderkind in defense, the 20-year-old heir to Rafael Marquez in top European competition, was quietly sold off to Porto last January, with the specification that Reyes were to stay on with the team for the next six months. Weeks later, the team's nerve-wrackingly talented striker Christian Benitez exploded out of the gate, building towards his third consecutive scoring title.

The Ecuador international, frustrated by prior European experience at Birmingham City, suddenly became aware of Spanish teams hounding his signature for the 2013-14 season. Benitez, who came over from Santos Laguna for a reported $10 million, has quietly forced the issue, and along with increasing tension with manager Miguel Herrera, told the team that his priority is to exit over the summer. At 26, it is quite obvious that it's now or never for Benitez to launch a successful career in one of the world's top leagues.

Meanwhile, Benitez's heir apparent, Raul Jimenez, quickly became a star of his own. With last Saturday's penalty kick goal against Monterrey, the Olympic gold medalist notched his tenth goal of the Clausura 2013 season. With the "Chicharito effect" still in full swing an ocean away, top shelf teams have already lined up for the 22-year-old.

Still more intriguing is the situation developing with the Mexican national team. A key stretch of matches in early June will decide whether Jose Manuel de la Torre continues on as manager. One of the top candidates on a very short list to replace him is America boss Herrera. Between the aforementioned certainties and possibilities, it becomes obvious that the very fabric of the team fans are enjoying today will become altered come the Apertura 2013 season.

Whether Herrera and/or Jimenez continue on is irrelevant at this point, Benitez and Reyes, the players whose exits are confirmed, are truly the stars that stand out on this roster. Appealing to glory days of old, America will likely chase a South American or European striker to fill the void as Benitez leaves for an assured eight figures. While that seems great on paper, keep in mind that America's track record with these types of signings has been a mixed bag, at best.

Reyes' exit provides a bigger problem. As opposed to his aging, stocky teammates 'Maza' Rodriguez and Aquivaldo Mosquera, Diego's build and playing style offered an excellent change-up to opposing strikers who wished to penetrate America's three-defender set. In a country renowned for producing great defensive talent in the current century, Reyes stands out as one of the best, if not the only challenger and heir to the aforementioned Marquez throne.

After spending cash on 'Maza' this January, it is unlikely that America will scour the market for another central defender. Instead, it is likely that youth teamers Erick Pimentel and Ventura Alvarado will fight it out with veteran Juan Carlos Valenzuela for the spot. Not discounting their particular abilities, it will likely be a noticeable step down from Reyes at this point in time.

If Cruz Azul pulls off the highly probable and advances to the Liga MX final to face America, media attention will escalate to astronomical levels, giving the two rivals one of the brightest spotlights shone on the competition's final in recent memory.

Six years ago, when Club America made its last final, a similar vibe was in the air. A veteran team that had steadily reached the end of the tournament with more consistency than spectacle, was consciously preparing to say goodbye to one it's biggest idols. Cuauhtemoc Blanco had announced his signing with MLS, meaning he would get the chance to exit his boyhood club with silverware.

Thanks to an 82nd minute goal from Juan Carlos Cacho in the second leg, breaking a 2-2 aggregate tie, Blanco exited without his second club championship. His exit set off a cavalcade of change. Within months, half of the starting lineup had been replaced. The manager, Luis Fernando Tena, fired.

Just one season after being a goal away from winning the title proper, America finished dead last in the Liga MX for the first time in its history. With just 11 points, the team began a long, rebuilding process that yielded absolutely no playoff success until now. Which illustrates the need, nay, urgency to win the Clausura 2013 title before facing a murky and undefined future.