Sambueza's injury reveals weaknesses
Since Rubens Sambueza came on as a substitute and later hobbled off the pitch in a 1-1 draw against Morelia March 8, America has adopted the same position, hobbling to five draws and a win.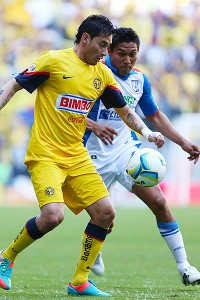 Miguel Tovar/LatinContent/Getty ImagesWithout Rubens Sambueza, left, Club America's offense has nearly ground to a halt, endangering their bid for an 11th league title.
The victory, a 2-0 Clasico win over Chivas March 31, was punctuated by the Goats' own injury woes, with manager Benjamin Galindo exhausting his three substitutions due to various knocks picked up by Guadalajara stars Marco Fabian, Hector Reynoso and Jorge Enriquez, not to mention right back Sergio Perez's sending off after about a half-hour.

Even then, Club America nursed a 1-0 lead until Sambueza stepped in at the 68th minute. Seven minutes later, America were up 2-0 and threatened consistently towards a third in the dying minutes. Without Sambueza, the team has not been able to cobble together a decent offensive performance, scoring just five goals in the five matches the Argentine winger has been limited by injury.

With fellow wide midfielder Osvaldo Martinez, America manager Miguel Herrera has offered a bevy of potential solutions, with Christian Bermudez, Miguel Layun and Juan Carlos Medina failing to light the offensive spark Sambueza has jealously kept sitting on the injury list. With three games remaining in the regular season and no timetable for his return, America needs a solution fast or risk sealing its fate early in the playoffs.

The overarching certainty that Sambueza is America's offensive mastermind is an inconvenient truth for fans and pundits alike. With talent like strikers Christian Benitez and Raul Jimenez on the pitch, surely someone is able to create the minimum amount of opportunities for them, right? So far, that has been an unsolvable problem.

The lack of a cogent diagnosis on the Argentine's injury is, perhaps, the most troubling thing for fans. On a team noted for its depth, not one player has been able to step in. The urgency has become apparent, as Herrera risks losing his job if he does not mount a title run after two unsuccessful tries in the league as well as the recent Copa failure.

As we've mentioned before, defender Diego Reyes is on his way out, sold off to Porto next January. Meanwhile, a growing transfer saga has developed with striker Benitez. It's almost a certainty that either Benitez or strike partner Jimenez will exit the team over the summer, creating further turmoil towards an already murky future.

For now, Sambueza is slated to be healthy enough to play against Pumas Saturday, though it remains to be seen whether he'll start or come off the bench. In a rivalry game against his former team, it would make sense to slot Sambueza back in to the lineup, though it wouldn't be too unexpected to see a few harsh tackles go his way, with the risk of reaggravating the injury heightened.

Whatever the case, the key will be to get him back for the stretch run, where even appearances in small doses can swing the balance America's way towards a toward a long-denied 11th league title.