Dressing room drama threatens to kill promising season
This week, while attending the latest Club America press conference, I noticed a trend developing among my fellow reporters. After a couple of standard issue questions regarding the team's next opponent and requesting a health update or two, the inevitable locker room query is hurled like a Molotov cocktail.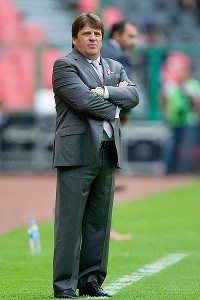 Angel Delgado/Clasos.com/Getty ImagesThese are uneasy times for America manager Miguel Herrera, who has to deal with issues both on and off the pitch.
Adrian Aldrete, the sometimes Mexico national team left back and America starter, was the target Wednesday, as he stopped his car begrudgingly as reporters surrounded it. "That's just gossip. If we were having problems, the team wouldn't be in the spot it is now, with the points we've accumulated. This is a healthy group. We're all in this together," he fired back before speeding away, seemingly peeved by the question.

A pretty convincing answer, sure, but the idea that this has become a recurring topic is no coincidence. Christian Benitez stormed off the pitch straight into the locker room after being subbed out against San Luis. Aquivaldo Mosquera and manager Miguel Herrera had a heated discussion in public after last week's Copa MX loss to Cruz Azul, prompting even more rumors.

Benitez's situation is clear. The Ecuador striker is unsettled, as he feels his time in the Liga MX has come to a close and is surely entranced by the supposed offers coming in from abroad. This summer, league championship or not, Benitez will be gone, with Raul Jimenez and Narciso Mina given the opportunity to form a new partnership.

Diego Reyes, who is a confirmed exit, will continue the exodus. Two of the team's most talented players will leave, which makes Aldrete's argument moot amidst the Copa MX elimination.

The domestic cup represented a huge opportunity for America to win a title, and they essentially bequeathed it to Cruz Azul, who hoisted their first trophy in 15 years Wednesday in Cancun.

There's a growing sense that the winning team should have been them, and the drop in team morale has been apparent. America was barely able to salvage a 1-1 draw against bottom-feeding Puebla last Saturday, and will now travel to Leon this Saturday and face another of the Clausura's worst sides.

Anything other than a win would be devastating to fans and would further curb the excitement within the team as they gear up for the playoffs.

Then there's Mosquera and Herrera. The Colombian defender and the team's captain since 2011 was famously called "Captain Chocolate, leading a watery defense" by Angel Reyna after a loss last year. While Reyna was bounced from the team soon after, some within the locker room did not consider the statement to be out of line.

Though the captain, Mosquera will often be barked at by Reyes and 'Maza' Rodriguez, his fellow defenders. The tension has been visibly apparent, and I've been told Mosquera's argument with Herrera stemmed from the captain complaining to his coach about a lack of authority on the pitch due to insubordination of sorts.

Which brings us, finally, to Herrera. The team's management has been quite clear for some time. If Herrera does not at least bring the team to a final, he will be fired after this season. With the Copa long gone, his last chance becomes the aforementioned league championship.

The confirmed and rumored exits along with dressing room drama have given this America team a sort of "last run" vibe, one that can be strangely punctuated by the fact that they've yet to win anything, and could very well bid adieu to fans without having added to the team's trophy room, one that's looked the same since 2006.