Keys To A Super Clasico Victory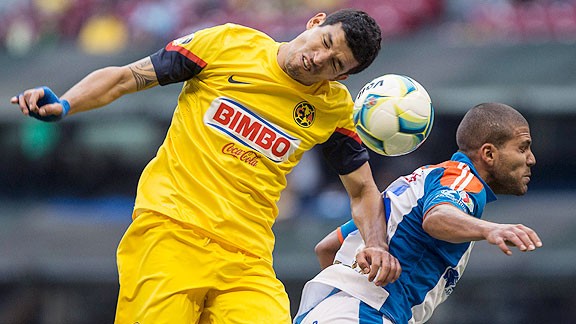 Miguel Tovar/LatinContent/Getty ImagesThe sight of Francisco 'Maza' Rodriguez, left, in a Club America jersey will not make many fans at the Estadio Omnilife happy Sunday.
The Estadio Omnilife will come to life Sunday at 10 p.m. ET when Club America visits Guadalajara in Mexico's 'Super Clasico'. Here are Eric Gomez's keys to victory over Club America (Tom Marshall gave his keys for Guadalajra earlier Sunday).

Exploit a slow defense

America has one of the quickest strike forces in Liga MX. Off the break, Christian Benitez and Raul Jimenez can launch a hearty counterattack that has created a large number of offensive opportunities for one of the most prolific goalscoring units in Mexico.

Quite frankly, to match Benitez and Jimenez against the slow-as-molasses duo of Hector Reynoso and Victor Perales seems downright criminal.

It's no secret that America coach Miguel Herrera's offensive drills last week featured tons of counterattacking, aimed at taking this into account. Patricio Araujo, Guadalajara's shield in the middle of the pitch, and the defensive safety net for Reynoso and Perales, is out due to suspension.

Guadalajara manager Benjamin Galindo will have to employ a deep line (something that seems unlikely as they're playing at home) in order to watch for quick breaks.

Minimize the loss of Diego Reyes

America will have its own defensive absence to deal with. The future FC Porto player is out, and may have already played in his final Clasico. How important is Reyes? There are two reasons the U.S. had one shot on goal on Tuesday against Mexico. The first? Jurgen Klinsmann's defend-first-ask-questions-later strategy. The second? Diego Reyes.

Reyes is a younger, smarter Rafael Marquez. He's all finesse, and despite his wire-thin frame, can hang with anyone in the Liga MX due to his aforementioned smarts. The decidedly-less skillful Juan Carlos Valenzuela will sub in.

While Chivas strikers Rafa Marquez Lugo and Miguel Sabah aren't necessarily Mexican equivalents of Lionel Messi and Cristiano Ronaldo, it will become a difficult endeavor if Mosquera and Francisco "Maza" Rodriguez can't pull together.

Take Guadalajara crowd out of the game

Speaking of Maza the former Chivas defender will go play against Chivas for the first time in more than half a decade. To make matters worse, he'll do so wearing an America jersey. Every time Rodriguez touches the ball, he will feel the fury of more than half of the nearly 50,000 in attendance. Hell, if he makes a gaffe the size of the one against Honduras a week ago, he might hear it from everyone in the stands.

A quick goal can definitely quiet the Omnilife down and take the focus off of Maza, minimizing the pressure he understandably might feel. Generational shift and Chivas' exportation policy means Rodriguez won't see too many familiar faces on the other bench, but fans certainly haven't warmed to the fact of seeing him play for the sworn enemy. Part of America's job Sunday to take the focus off of him.

Out-passion Chivas

These types of games are rarely won with skill. Despite the somewhat quieted nature of this last Clasico (brought on thanks to the proximity of the last two Mexican national team matches), all 22-plus players have circled this game on their calendar since the start of the season. This is the match that polarizes the country and beyond, despite regional allegiances.

America needs to forget about finesse, playing Champagne Football, and just go out and outhustle, outmuscle and outrun Chivas in their own yard. Guadalajara did this to great effect six months ago and pulled out a 3-1 victory against a far superior America side.

It's time to return the favor.