Was Reyes' hand ball worth it?
What happened last Saturday afternoon at the Azteca? America had a very winnable home game against San Luis, the Liga MX's worst team, and somehow snatched a draw from the jaws of victory. In the 88th minute, a very lackadaisical Eagle defense allowed two attackers to cut in towards Moises Munoz's area.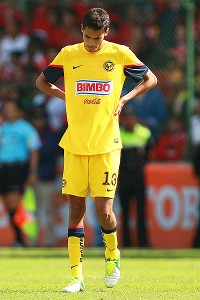 Francisco Estrada/Jam Media//Getty Images A gallant but ill-advised attempt to stop a San Luis goal will keep Diego Reyes out of the game against Chivas.
The goalkeeper was unable to step back toward his line as a shot ricocheted off the bar. Worse, he stood there while the ball cannoned back into the box and the oncoming path of a third San Luis player. A couple of bounces later, Diego Reyes was standing on the line, having to play keeper and stuck his hand out to avoid the late tie.

A penalty was called, Reyes was sent off (effectively suspending him from El Clasico against Chivas March 31) and about a minute later, Juan Cuevas calmly struck home a penalty to bring the game even. With the game's dying seconds, Raul Jimenez took one into San Luis' penalty box, was grossly tackled, and . . . .yellow carded for apparently diving in the area. Game over.

Let's brush that humongous error aside for the moment. Purists point to the fact that Reyes was heroic in sticking his hand out in Luis Suarez-like fashion to force a penalty in the game's dying embers, instead of giving up the tying goal.

Others --- let's call them "football sabrmetricians" -- said that Reyes' handball was moot, as statistics tell us that a penalty kick is overwhelmingly put away, and that the only thing America's captain did was assure he would be ineligible for the all-important Chivas game.

I tend to side with the latter group. Sure, Reyes had the clear-cut thought of giving his team the best chance to win, but never stopped to think that putting his hand out there would net him a red card.

I do think, however, that Reyes shouldn't be chastised for not stopping to think about the next game. The play developed in less than three seconds from the initial shot off the bar to Reyes' handball, after all. Still, the lasting effect of the suspension will mean that for the second consecutive game, America will be without one of its defensive starters.

Worse, America has yet to win this season when Reyes is out of the starting lineup. Not a good stat to stare at when your next opponent is Chivas.

Seven America players called up

Reyes, 'Maza' Rodriguez, Jesus Molina and Raul Jimenez all received call-ups from Chepo de la Torre to don El Tri's mythical shirt for the Friday's game against Honduras and Tuesday's against the United States. Also, Osvaldo Martinez will suit up for Paraguay, Christian Benitez will do the same for Eucador and Aquivaldo Mosquera is with Colombia; no other Liga MX team had that many players called up for international duty.