Mourinho's expected Chelsea return raises as many questions as answers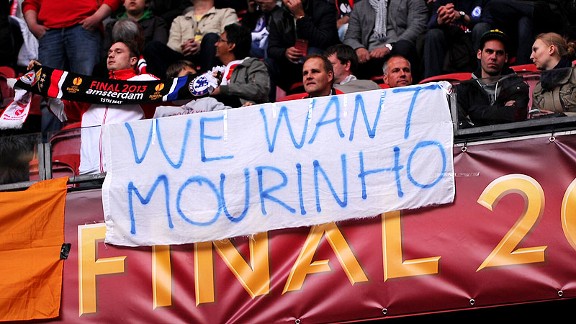 Michael Regan/Getty ImagesThe wish of Chelsea fans to have Jose Mourinho return to Stamford Bridge looks almost certain to happen.
After the kind of season that Chelsea have just experienced, it would usually be the time to sit back, relax and breathe deeply knowing that there are three months of rest and recuperation until the madness starts all over again. Except this year.

Instead, the nervous anticipation and biting of nails has continued into the close season as supporters and players alike wait to officially find out the name of Rafael Benitez's successor in the managerial hot seat. Not that the name will be a surprise, more that nobody will quite believe it until they see the man in question hoist the blue flag over his head or see an official club photograph of him signing his contract alongside chief executive Ron Gourlay. That man is, of course, Jose Mourinho.

- Hunter: Mourinho's act wore thin
- Cahill would 'relish' Mourinho return

In the royal blue swathe of West London, Mourinho is God. Not 'a' God. Simply God. His impact on Chelsea Football Club in tandem with Roman Abramovich was seismic upon his arrival in 2004, elevating the former butt of music hall jokes into one of the most feared teams in world football. Mourinho installed a winning mentality, the need to extract the maximum from every game not just the finals, local derbies or top of the table clashes. Blackburn away was as vital as Arsenal at home. Chelsea became stoic, resilient, indefatigable; not words ever previously associated with the club. They were obdurate, tough as teak and nigh on impossible to break, whether in spirit or in defence. Chelsea became a force to be reckoned with, one that refused to be cowed.

These are the memories and images that Chelsea fans are hoping will be resurrected if/when the Special One rides back into town and this blogger will be among the throng of those cheering his return. But away from the nostalgia of the noughties and the ensuing messianic adulation, there are some genuine questions and concerns that will need addressing should Abramovich choose to eat some humble pie and re-hire the man that cost him £18m to get rid of in the first place.

Mourinho is a man that adores the limelight, a trait that reportedly grated with his former/future Russian employer during his first spell at Chelsea. His dealings with the media and touchline demeanour are all part of the theatre and are an integral part of his modus operandi. Mourinho could not function without having his charismatic yet forceful personality in his armoury. Whether Abramovich will attempt to rein him in over his outspoken remarks will be one of many intriguing sub-plots.

They say there is no such thing as bad publicity, but over the past decade Chelsea have utterly disproved that theory when you consider the raft of negative headlines that the club has garnered, be it the retirement of referee Anders Frisk, the Mark Clattenberg affair or John Terry's array of indiscretions. The owner is thought to care deeply about the club's public image and will be wary of the potentially destructive influence that Mourinho could have upon it.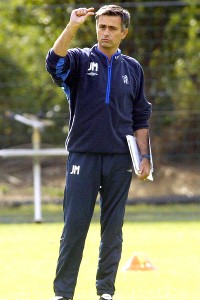 Carl De Souza/Getty ImagesThe Special One during one of his first training sessions with Chelsea in 2004.
Another poignant debate will revolve around the current structure in place at Chelsea and the new manager's role within it. The beginning of the end for Mourinho's first spell at Chelsea came when his power was eroded through the appointment of Frank Arnesen and Avram Grant in roles of superior authority. This time the structure is already in place with technical director Michael Emenalo and director of football operations Mike Forde firmly in situ. One might think that the situation is clear and that Mourinho would slip seamlessly into position as first team coach, though presumably that is what Real Madrid president Florentino Perez thought when he decided to employ the Portuguese in 2010. Instead, an internecine power struggle was soon underway resulting in Mourinho achieving greater influence and the removal of sporting director Jorge Valdano. Whatever platitudes are offered about this issue upon Mourinho's unveiling, it is unlikely to be as cut and dried behind the scenes as the weeks and months pass.

The make-up of the playing squad will be another area that will be interesting to watch. Chelsea undoubtedly have one of the best squads in the Premier League and in Eden Hazard and Juan Mata they have two of the most exciting talents in Europe. While that duo's Stamford Bridge future might be assured, there will be others who will be waiting nervously to discover their fate. Newspaper rumours have placed David Luiz's position under threat which might surprise some, but is not as outlandish at it might initially seem. Luiz has grown in stature significantly over the past few months, though he does not fit the traditional mould of a Mourinho centre-back who prefers to field physical titans such as Marco Materazzi, Walter Samuel and John Terry. Mourinho hates his players to take risks in central defence; Luiz likes nothing more.

The Brazilian's capacity to play in midfield has been widely lauded, though he is far from the finished article in that position and there is every chance that Mourinho will seek to bring in someone with an established reputation in that role. On the flip side, the maestro One never chose to curtail Ricardo Carvalho's penchant for bringing the ball out of defence so that attitude could work in Luiz's favour, while his burgeoning leadership qualities will surely be admired by his new boss. Aside from Luiz, Fernando Torres must be concerned that he will be no longer required and it is hard to see every single one of Chelsea's current crop of attacking midfielder being retained beyond this transfer window.

Another challenge that Mourinho will be tasked with is to introduce more youth products into the first team. With the younger age groups witnessing significant progress and success over the past couple of years and the imminent imposition of the Financial Fair Play regulations, it would be neglectful to ignore the resources on offer.

Many claim Mourinho has no track record of developing young players and while this was true at Chelsea, there are a few exceptions from his time at Inter Milan and Real Madrid. Current Newcastle defender Davide Santon played his first senior game while at the Nerazzurri under the Special One and Mario Balotelli broke through into the first team during the same period. At the Santiago Bernabeu, Raphael Varane has become a fixture in the first team despite having only just turned 20 years of age. Three swallows certainly do not make a summer and while it is hardly the nurturing of talent on the scale of Sir Alex Ferguson or Arsene Wenger, it does show that if the player is good enough, and with the right mentality, Mourinho is not afraid of taking his chance on youth. The question will be whether he deems Chelsea's youngsters of having the qualities he desires.

The potential return of Chelsea's greatest-ever manager is a genuinely exciting prospect with trophies almost guaranteed. Harmony, however, is not. There will be plenty of friction within the club, with rivals and with the media. There will be confrontation, acrimony and several resentful noses put out of joint.

Whether he can answer all the questions and demands made upon him by the club will be fascinating to discover, but one thing is for certain, love him or hate him, nobody in England will be able to ignore the Special One.

Follow Phil Lythell on Twitter @PhilLythell