Chelsea secure Europa title and Lamps' future in day of celebration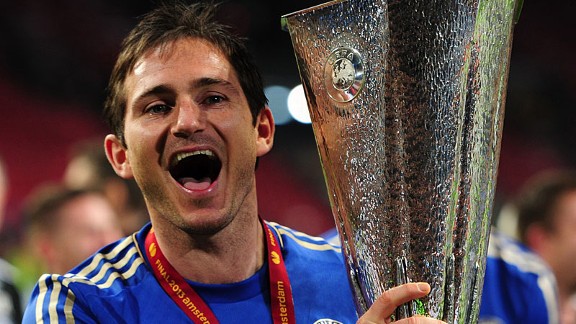 PA PhotosLampard's Chelsea career will now extend into its 13th season
In a season of constant flux and surprises, not many of them pleasant, Chelsea's 2-1 win over Benfica in the UEFA Europa League final was perhaps the craziest game of what has been the campaign's craziest period.

A series of high-profile must-win games that has seen Manchester United, Tottenham and Aston Villa dealt with over the preceding days culminated in the acquisition of another piece of silverware albeit secured largely against the run of play. That Chelsea were second best on the pitch in terms of performance matters little in a final. It is the only the result that matters and on that score Chelsea came up trumps.

- Lampard signs new one-year deal
- Kundert: Cruel game - what now for Benfica?
- Delaney: Rafa's style the key to Europa triumph
- Brewin: Benitez eventually calls the tune
- Europa League final gallery

The fact that the decisive blow was struck deep into injury time at the end of the match will ensure that this victory will always hold a special place in the hearts of Chelsea fans. There is nothing quite like a last-minute winner. It is, quite simply, the very best thing in football. The visceral outpouring of joy amongst the blue half of the Amsterdam ArenA that greeted Branislav Ivanovic's winner betrayed the pent-up and keenly felt emotions amongst the travelling fans from London. When the ball hit the back of the net it seemed obvious that there was no time for Benfica to reply even if it took a tremendous last-ditch intervention from Gary Cahill to preserve that advantage. The moment the net bulged, the cup was won. The feeling was almost overwhelming.

It will never rival last year's Champions League final win over Bayern Munich, but it clearly meant much to the hordes who behaved impeccably - or as impeccably as you can in Amsterdam - both around the stadium and in the canal-side bars in the city centre. The atmosphere during the whole day was one of conviviality and celebration from both sets of fans. From a Chelsea perspective, it was difficult not to feel a tad sorry for those coming from Lisbon having been thwarted in sickening fashion right at the death. But unfortunately that is football, one man's unconfined joy is another's utter despair.

For Chelsea it means that their name is written that little bit larger in the annals of football history. They become just the fourth club to have won all three of UEFA's major cup competitions, joining Ajax, Bayern Munich and Juventus in that particular roll of honour. For all those, particularly in one half of Merseyside, who have sought to question Chelsea's past achievements while venerating their own, there is a banner now familiar around matches at home and away that perfectly encapsulates the difference between the two clubs. It pithily reads: "Chelsea. Making history, not re-living it." While that sentiment might feel somewhat triumphal, it is equally important that Chelsea's feats are respected rather than disparaged, a constant feature of opposition fans songs.

The constant flow of silverware should hopefully be slowly eroding those negative attitudes, though it must have some rival managers tearing their hair out. No matter how inconsistent Chelsea perform on the pitch or how many barmy decisions are made by Roman Abramovich or Michael Emenalo, the club keep picking up trophies. According to the allegory about the hare and the tortoise, "slow and steady" is supposed to win the race. For Chelsea that should probably read "haphazard and bonkers".

For the second European final in a row the Blues have come through a game that, on balance, they had little right to win. Benfica gave Chelsea a footballing lesson in the first 45 minutes, carving out chances at will. Their manager Jorge Jesus, a man who has never been particularly fond of English football or Chelsea in particular, bemoaned the fact that the best team lost. He was right, though it was due to their over-elaboration around and inside the penalty area together with a complete lack of cutting edge that they failed to emerge victorious. For all the pretty patterns and heart-stopping openings, Petr Cech barely had a save of note to make all game. There was a wonderful tip over from Oscar Cardozo's lofted shot but that was about it. Had the Portuguese side been just a fraction more direct and inclined to pull the trigger more often, then the game could have been decided in their favour by half time.

As has been the trend all season, Chelsea were much perkier after the interval, though were hardly a team-transformed. It seemed that Rafael Benitez had instructed his charges to meet fire with fire by pressing high up the field in order to win the ball back in dangerous areas. Benfica had done that brilliantly in the first half, either turning over possession quickly or forcing pressurised Chelsea players into making hurried passes straight back to the men in red. The table turned slightly in the second half which gave Chelsea a foothold in the game, a position that was exploited fantastically by Fernando Torres. The strength, poise, pace and composure that the Spaniard showed in brushing past Luisao before rounding the goalkeeper was forward play of the very highest calibre. When such glimpses are seen, suddenly his £50 million price tag appears justified. Should he be able to reproduce that on a regular basis then he might just pay that fee off in full, whether he will still be around to do so next season in another question.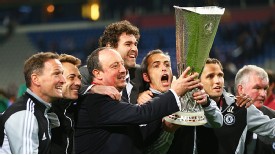 GettyImagesRafael Benitez was applauded by Chelsea fans
One person who certainly will not be at Stamford Bridge when the new campaign kicks off is Benitez and the time has come for him to be commended, if not entirely lauded, for achieving the targets set out by him. Champions League football is assured and an addition made to the trophy cabinet. Perhaps a top four finish could have been secured earlier and surely the League Cup should also have been won given that just Swansea and Hull stood in their way. But effectively it is a case of job done. There was no singing of his name as he posed for photos on the pitch after the game but there was an acceptance of his contribution from a sizeable proportion of the Chelsea supporters in the stands with respectful applause rather that riotous adulation being afforded to the controversial figure.

As if there was not enough to celebrate, Chelsea fans then woke to hear the news that Frank Lampard has signed a one-year-extension to his contract. Only the short-sighted or downright curmudgeonly would begrudge the veteran a new deal after yet another season where he has made a significant mark. His role might have diminished since his halcyon days, and he is no longer guaranteed a starting spot, though he remains a hugely influential figure and his acceptance of his new circumstances illustrates his humility perfectly as well as his genuine love for the club.

Lampard simply had to be retained in some capacity and when his playing days are officially over it is paramount that he is kept on behind the scenes so that young players can see firsthand what is required if you are to make it to the top of the world game and stay there. His professionalism is renowned throughout the game, his dedication always there to see when he takes the field and yet again he played his part in a victorious final. Along with his team-mates, he had been given the run around by Benfica's skilful midfield in the opening exchanges, though he began to make his presence felt in the second half.

As Chelsea grew in stature, Lampard was a matter of inches away from settling the game in his own trademark fashion only to see his sweetly struck shot from outside the area thud off the crossbar with the goalkeeper beaten. It can be said with confidence that Chelsea will be making waves in the transfer market this summer, which is essential if the tea are to progress. That might limit Lampard's opportunities still further though it is also likely to give him another chance to win silverware. And should that happen you can be certain that the English international's contribution will be right at the forefront once again.

The final match of this insane season will take place on Sunday and it will do so on the backdrop of yet more glory. It is a continually eventful and enthralling ride supporting Chelsea, whether for the right or wrong reasons. It is never dull, not for one minute. Ivanovic's perfectly timed header made sure that legacy remains intact.

Follow Phil Lythell on Twitter @PhilLythell