Chelsea must learn from Spanish woes for Basel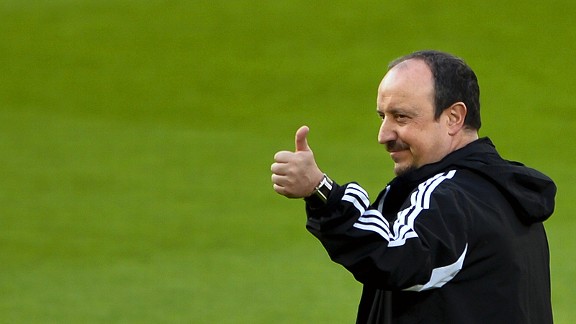 Fabrice Coffrini/AFP/Getty Images
Chelsea face Basel on Thursday evening in a Europa League semifinal first leg that will focus the attention of all involved at the club.

This competition represents the last and only chance of winning silverware this season, an alarming turn of events seeing as Chelsea have been entered into eight competitions if you factor in both major European tournaments. Rafael Benitez will hope that it is a case of the third time being lucky, seeing as he has seen his team crash out at the penultimate stage twice already in the Capital One Cup and the FA Cup. Technically, there was a semifinal victory against Monterrey in the Club World Cup, but that would be clutching at straws as a win in that fixture was the least of expectations.

- Torres blasts Chelsea 'priority' claims
- Chelsea train ahead of Basel semifinal
- Basel looking for home domination

If any further motivation was needed, or should there be any chance of complacency sneaking into the minds of the Chelsea players, then this week's Champions League results should have resolved any issues. The popularly held wisdom is that it is better to play the first match of a two-leg tie away from home so that any damage can be overturned on familiar territory and any extra time or penalties will prove hostile to the visitors. What that doesn't guard against is a first-leg spanking that can settle the result before there is any chance for an advantage to kick in.

Both Barcelona and Real Madrid have been given the highest of mountains to climb after conceding four in Germany; Chelsea must make sure they don't suffer the same fate. It took Ashley Cole's goal-line clearance at Napoli last season to keep the first leg deficit to 3-1 and ultimately pave the way for that glorious night in Munich. The margin between success and failure can be miniscule so concentration will be a key factor in Switzerland.

Diligence and application will be required all the more when you consider Chelsea's performances on the road in Europe this season. Out of seven matches played away from Stamford Bridge, Chelsea have lost five (Atletico Madrid, Shakhtar Donetsk, Juventus, Steaua Bucharest and Rubin Kazan) and won twice -- struggles against the meagre opposition provided by FC Nordsjaelland and Sparta Prague. Perhaps in Chelsea's favour is the fact that Basel's home form has been erratic in the Europa League, with only Zenit St Petersburg providing a notable scalp at St. Jakob-Park. Sporting Lisbon were vanquished, but they have endured a horrible campaign, while the Swiss drew with Tottenham before progressing via a penalty shootout.

Ignoring the opposition for a moment, Chelsea would do well to harness the anger and frustration from what has been a trying couple of weeks. The refereeing debacle against Manchester City at Wembley was put in the shade by the scandalous turn of events at Anfield, which must have left the players fuming. These situations can be turned into an advantage, though it needs a ringmaster prepared to draw on that raw emotion. But Benitez has kept his own counsel -- whether to curry favour with Liverpool supporters or simply because he doesn't believe in that style of management -- so the opportunity to galvanise the squad in adversity appears to have been lost.

Having said that, the likes of David Luiz and Juan Mata have emerged as strong characters within the squad, and you can be certain that John Terry will be instilling the drive and spirit into his teammates, whether he's on the pitch or in the dressing room.

Whatever the outcome of this match, there can be no underestimating the importance of an away goal, which the edgy return match against Steaua highlighted two rounds ago. If another example as to its importance is needed, one just has to look back to events that took place exactly one year and one day ago when Chelsea visited the Nou Camp. Barcelona's failure to score at Stamford Bridge ultimately proved the difference as they were forced to chase a goal deep into the game. Their urgency was memorably punished by Fernando Torres, a strike that meant the Catalans needed to score twice in injury time to avoid elimination. Just in case you've been living on Mars, it didn't happen and 10-man Chelsea pulled off arguably the greatest single result in their history.

A year on and Chelsea face equally determined but more humble opponents. Given what the club accomplished last season, the Blues should not have any fear when they take the field in Switzerland. But neither can they afford one iota of complacency.

Follow Phil Lythell on Twitter @PhilLythell.