Chelsea invoke old values in thrilling comeback at Manchester United
In the immediate aftermath of Sunday's pulsating 2-2 draw with Manchester United in the quarterfinal of the FA Cup, the first question that comes to mind is: Where has has that Chelsea team been for the past few months?

The desire, work rate, intelligence and especially belief that the visitors showed at Old Trafford in the second half was an absolute delight to see and harped back to previous vintages that would venture to Old Trafford season after season without fear knowing that they were capable of turning over the Red Devils on their own patch.

-- Match report: Manchester United 2-2 Chelsea
-- Tyler: More questions -- Payne: Honours even

Had the Blues not gifted the Premier League's runaway leaders two goals in the opening minutes, Chelsea fans could well be reflecting on a famous win at the Theatre of Dreams, though perhaps that is just being greedy.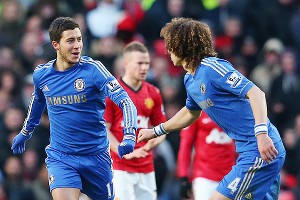 Alex Livesey/Getty ImagesEden Hazard, left, a second-half substitute, is congratulated by David Luiz after his goal in the 59th minute to start the Chelsea rally.
As it was, Chelsea should probably have won anyway having made all the running from the 25th minute onwards and forcing David De Gea into some excellent saves as the match approached the final whistle. His close-range stop from Juan Mata was of the highest quality, and while it was a very different type of block, it brought back memories of his brilliant fingertip save to deny his compatriot a late winner in last season's 3-3 draw at Stamford Bridge. De Gea might be maligned elsewhere in the country, but he continues to thwart the men from West London.

While the Blues had controlled much of the play in the run up to halftime, they had created few real chances and it took the introduction of Eden Hazard to turn them into a truly menacing threat.

Reuniting the Belgian with Mata and Oscar meant that Chelsea could make the most of the spaces that were opening up in the United midfield and often left the home side chasing shadows. In a stark contrast to the first 45 minutes, the Blues started to make the correct decisions when entering the final third of the pitch. Hazard's roving and willingness to receive a pass when under pressure from defenders created gaps for others to run into as United's players were drawn towards him.

Their concern was all the more understandable as the one time they stood off him Hazard curled an absolute peach of a shot into the far corner of De Gea's goal.

As well as the twinkle-toed trio played, their efficiency owed a huge debt to John Obi Mikel, who came on in place of Frank Lampard at the same time as Hazard. The Nigerian gave the team ballast and stiffened a midfield that always looks flimsy when either Mikel or David Luiz are not selected to play that pivotal role.

Almost every time that United attempted to muscle out of their half, Mikel was in the perfect position to break up the play or mop up an errant pass to put Chelsea back on the front foot and set the Reds backpedaling once more.

The double substitution was the catalyst for Chelsea's dramatic comeback and was crucial to the outcome of the game. Of course, credit for that call has to go to Rafael Benitez, though it also left everyone scratching their heads as to his choices for the starting eleven.

Chelsea's Achilles' heel this season has been central midfield, with the partnership of Ramires and Lampard having struggled when faced with dynamic skilfull opponents. Injuries and the African Nations Cup has forced Benitez's hand at times this season, but with both Mikel and David Luiz currently fit and available it beggars belief as to why neither were asked to play the anchor role in front of the back four against a team such as Manchester United.

There is even a case to be made for both of them to start in tandem to create a physically powerful barricade to stem the tide of opposition attacks -- though that would mean one of the best defenders in world football over the past decade, John Terry, being selected at centre-back for a meaningful game, something Benitez is clearly not prepared to do. Hazard's omission is possibly a touch more understandable given that he offers little defensively in comparison to Victor Moses, though when you have a weapon of such potency it always seems like folly when he is left on the sidelines.

In this incredibly draining season that is demanding endurance of Tour de France proportions, a replay is probably not what Chelsea need, though it is far preferable to being eliminated from the FA Cup. In fact, this draw that was earned with such a positive mental attitude and no shortage of skill could be just what Chelsea require to inject some belief and grit into their performances during the rest of the campaign. That belief would only be enhanced should they knock Manchester United out of the competition when they come to Stamford Bridge for the return match.

Resolve, skill and a never-say-die attitude is what everyone has come to expect from Chelsea over the last 10 years. On Sunday at Old Trafford, we saw those traits rear their heads defiantly once again, and it is a mark of their exhilarating response to falling two goals down at the champions-elect that there is an acute twinge of disappointment that they could not complete the comeback.

More of that and Champions League football next season should be a given.

Follow Phil on Twitter @PhilLythell