Double-winner Malouda deserves better from Chelsea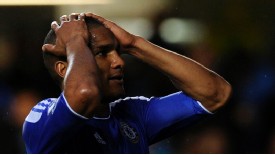 GettyImagesFlorent Malouda has dropped out of the pecking order at Stamford Bridge
They say a picture can speak a thousand words but when Florent Malouda posted a photograph on Twitter hinting at his new lowly status at Chelsea countless more were subsequently written in the world of both social and conventional media.

It seems Malouda has been banished to train with the Under 21 squad for this season after failing to secure a move away from the club. Moves to Brazil and France fell through over the summer after interested parties were unable to match his wage demands and the Frenchman has decided to remain at Stamford Bridge against the wishes of the club.

This decision has naturally stirred up a hornet's nest among Chelsea fans and seems to have split support right down the middle with some dismayed at the club for their stance and defending his right to see out his contract while others hurl accusations of greed towards the player.

For what it's worth, I am completely on the side of the first group. For a player who was so instrumental in delivering Chelsea a historic league and cup double in 2010, I am astonished to see the club treat him with such disdain. Malouda has not always shone during his time with the club but when on top of his game he has dazzled. The expert tutelage of Guus Hiddink and Carlo Ancelotti brought the best out of him and he was not the only player to struggle during the regimes of Luiz Felipe Scolari and Andre Villas-Boas.

Yes, he may have been below par during the past 12 months or so but that's football, everybody's time at the top must come to an end. In addition, he has never been accused of having a bad attitude or being a disruptive influence in the dressing room so being on the receiving end of the kind of punishment that Joey Barton might be given is little short of insulting. In fact, it would be interesting to know exactly who at the club has made this decision. Was it Roberto Di Matteo, Roman Abramovich, Michael Emenalo or someone else? It would be nice to hear the justification behind it.

If Chelsea were so desperate to get Malouda off their books perhaps they should not have given such a lucrative four-year contract to the player in the first place. If you offer sky high wages to entice and then keep players then you run the risk of not being able to move them on at your leisure due to their comfortable circumstances - something Manchester City have found out with Wayne Bridge and Emmanuel Adebayor. When you consider how many times football clubs (if not Chelsea in particular) have complained about players wanting to leave halfway through the duration of their contract it seems hypocritical, to say the least, to punish them for doing precisely what they said they would do when they signed on the dotted line.

Accusations of greed are also wide of the mark. As I have already mentioned Malouda has made a significant contribution to the club's recent history and has never courted any controversy. He was offered a good deal and has taken it. Ask yourself this question: would you gladly leave a well-paid job for a lower salary elsewhere just because your boss wanted you to? I am not fully informed about Malouda's personal situation but should his family be happy in London with his children settled at school, why should he give it all up through no fault of his own?

Some have equated his circumstances with the Winston Bogarde debacle a decade ago but again I believe this to be inaccurate. Bogarde had a shocking attitude during his time at Chelsea and showed no ambition whatsoever. Players have a right to collect the huge sums that have been offered to them but equally they have an obligation to try their best for the fans who put the money in their pocket in the first place. Malouda has done his bit while Bogarde barely disguised his apathy exposing the fact that he had no intention of creating any kind of bond with the club or its supporters.

While I would rarely cite the Daily Mail as a reliable source and one that reflects my opinion, his time at Stamford Bridge has been put into context in this article from last year and particularly the quotes from Graeme Le Saux, a true professional.

It would be nice for the club to see sense and treat Malouda with some dignity. He might not quite have the same stature as other modern-day Chelsea heroes such as Didier Drogba or Frank Lampard but he merits recognition all the same. He certainly deserves better than being condemned to seeing out his time in West London training with the kids.