Chelsea's soft centre exposed by Newcastle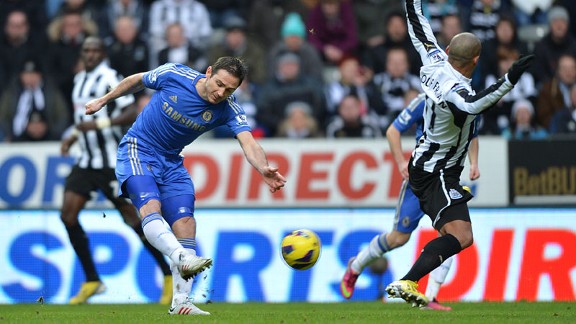 GettyImagesFrank Lampard scores to equalise for Chelsea at Newcastle.
With Chelsea's home form a constant concern in the first few weeks after Rafael Benitez took over, the Spaniard could always point to his side's displays on the road to support his case. The 3-2 defeat at Newcastle has definitively obliterated that defence.

- Duffy: Sissoko, he's magic, you knoooow!

Chelsea have enjoyed their trips to Tyneside in recent years, even securing a 3-0 win last season when the Magpies were flying high. On this occasion, against a team sapped of morale and struggling to earn positive results, it was expected that the Blues would maintain their impressive record at St James Park, or at least return south with a draw. Instead, another capitulation has seen the points slip away yet again to follow on from disappointment at Swansea, Brentford and Reading.

In truth, it was a captivating game of football, full of high-tempo play and committed individuals, but ultimately Chelsea came away with nothing. Entertainment value is worthless unless you leave with the spoils. The Blues contributed some excellent football to the occasion, though the intricate and incisive passing moves were evident only in spurts, the Londoners unable to take a decisive hold on the game.

In a game of fine margins, Benitez could rightly direct his critics to two great chances spurned by Frank Lampard and Juan Mata when his team was leading 2-1. Although a two-goal lead has proved a poisoned chalice to Chelsea in recent weeks, the momentum would have been solidly behind them had either hit the back of the net.

Alas it was not to be. With a sense of irony, both misses came from the two goal scorers, each of whom netted truly brilliant strikes from distance but were unable to convert from within 12 yards.

The difference between the two teams came in wide areas. Newcastle always looked dangerous on the flanks, and their delivery into the penalty area was threatening more often than not. In contrast, Chelsea struggled to create any width to stretch the home side's defence, and on the rare occasions that they did get behind the full-backs, the final ball into the box was well below the standard expected.

Much of the momentum that the Magpies built up late in both the first and second half came through the midfield axis of Lampard and Ramires being overrun. With Oriol Romeu and David Luiz injured and John Obi Mikel on international duty, the pair have been the only real options in that area, though they are a flawed combination in such a crucial part of the field. Both are excellent footballers and provide vital energy and skill to the team, but the two of them in tandem are easily bypassed. It occurred not just against Newcastle but also in the second half against Arsenal, when they were reduced to being spectators by the Gunners quick-passing game.

The much maligned Mikel is growing in stature during his absence. The Nigerian might have his deficiencies, but he is adept at holding his position and using his physique to win possession. Playing either the visionary Lampard or the effervescent Ramires alongside him provides a degree of balance. Without him, the midfield is increasingly frail.

Mikel's international colleague Victor Moses has also been missed. His strength and direct running have become a useful weapon whether from the start or off the bench. The midfielder's unavailability in conjunction with that of Eden Hazard meant that there were few options for Benitez to call on.

Nevertheless, Chelsea are showing a worrying lack of backbone in trying circumstances, and that is even with the presence of John Terry, Ashley Cole, Petr Cech and Lampard on the pitch. In fact, it was Terry's uncharacteristic lunging tackle on the halfway line that enabled Newcastle to score the equaliser just as it seemed that the Blues were going to take the game away from their hosts.

It is unclear if it is the players' abilities as a whole that should be called into question or Benitez's instructions that are not up to the mark. Either way, the situation needs to be rectified quickly if Chelsea are going to guarantee themselves Champions League football next year and make themselves attractive to prospective managers and players in the summer.

This reflection could not end without a word on referee Howard Webb, who managed to get almost every decision wrong. Chelsea were the first beneficiaries of his leniency when Ramires' two-footed challenge brought only a yellow card from Webb's pocket. But from that moment forward, every call seemed to go in Newcastle's favour.

Fabricio Coloccini was somehow allowed to rearrange Demba Ba's face with his right boot without conceding a penalty, the sight of the Senegalese's shattered nose clearly not enough to convince Webb that there had been a high boot, one that could have been considered to be dangerous play. Papiss Cisse then managed to escape with just a booking after first cynically elbowing Terry in the face and then grabbing Cole around the neck. Webb saw fit instead to apply the same punishment to Chelsea's left-back despite him being the wronged party.

Benitez will no doubt receive the brickbats once again after another disappointing result, and some of those will be justified. Unfortunately for him and Chelsea, luck appears to have deserted them -- along with their form.

Follow Phil Lythell on Twitter @PhilLythell.