Chelsea and Torres miss a golden chance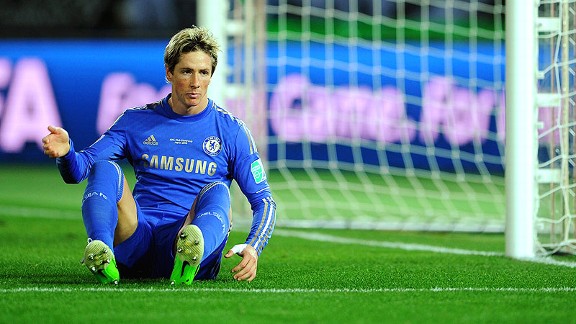 Michael Regan - FIFA/FIFA via Getty ImagesFernando Torres' abject failure vs. Corinthians has confirmed he is little more than a bully for use against weaker clubs.
If I had to choose one word to describe the FIFA Club World Cup final from a Chelsea perspective, it would have to be "frustrating."

In a game in which the balance of play was very even throughout, it always looked like the team that could make the first breakthrough would end up victorious, and Chelsea's spurning of chances ultimately proved costly in its 1-0 loss to Corinthians.

While Corinthians' effort made it hard for the Blues to settle into their rhythm, several opportunities were still carved out, yet none were taken. It is instructive to see that the Brazilian goalkeeper Cassio was named man of the match, so crucial were his interventions from Victor Moses, Gary Cahill and Fernando Torres -- though on at least two of those occasions the stopper should not have been given the chance to make the save.

Report: Blues beaten 1-0 in CWC final

All in all, too many Chelsea players were below par, with few able to walk off the pitch safe in the knowledge that they had performed to their maximum. Juan Mata took a long time to get going while Moses was unable either to beat his fullback or deliver a decent ball into the box. Ramires flitted around with his usual energy but without much impact, leaving many to question why David Luiz was not allowed to reprise his midfield performance from the semifinal against Monterrey. He did put in a good display in his usual defensive position, but his muscularity was missed in the middle of the park.

Frank Lampard had an excellent first half though it was no surprise to see him fade after the break seeing as it was his first start for almost two months. With his influence dwindling it was disappointing not to see anybody else impose themselves on the proceedings, making it clear that another central midfielder must be acquired to both share those duties and to eventually replace the club legend, as his departure this summer looks inevitable.

But the greatest amount of frustration -- bordering on anger -- has to be directed at Torres. The Spaniard has become an easy target for derision over the past couple of years, and as a result it almost seems like a cop out to single him out for blame. Unfortunately, his miserable display in Yokohama reinforced all those doubts and leaves this author with no choice but to point the finger. There was one flash of class when he plucked an arcing pass from Lampard out of the air before shooting tamely at the goalkeeper, but that was the sum total of his positive contributions for the evening.

The compact, disciplined defending employed by Corinthians did make life difficult for him, but he failed to show the movement, strength or intelligence to find an edge over his opponents. When he pulled out wide, he appeared clueless as to what his next move should be, losing possession with depressing and predictable regularity. When in the centre, his static body position gave the centre backs an easy target to defend.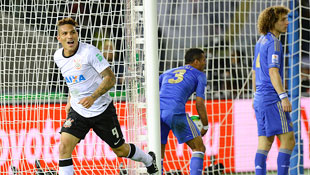 Mike Hewitt - FIFA/FIFA via Getty ImagesPaolo Guerrero's second half goal capped an unspectacular effort by Corinthians, yet still one that Chelsea couldn't match.
And then there was the miss. Much has been made about the transfer fee paid to pry the player from Liverpool, and it has to be acknowledged that Torres himself played no part in establishing that figure. Nevertheless, when such an exorbitant sum is laid down for a striker, it is largely due to him possessing a cold, ruthless streak in front of goal. Big moments in big games are supposed to be the natural domain for such players, yet when the ball dropped to Torres on the cusp of full time with no defender anywhere near him, he showed a stunning lack of composure in firing straight at the advancing Cassio.

Torres' performance in the final has rubber-stamped the concerns that he is unable to do the job against quality opposition and is now little more than a flat-track bully. Goals against the likes of Nordsjaelland, Sunderland and Monterrey are left almost without value if he is unable to deliver when it really matters.

We will always have his goal against Barcelona at Camp Nou and his powerful run that won the corner from which Didier Drogba scored in the Champions League final -- for those moments Chelsea fans will always be grateful. But football is not a sentimental business, exemplified by the imminent departures of club stalwarts such as Ashley Cole and Lampard, and so it should come to pass that Torres' time at Chelsea must be drawing to a close.

The desire and unity that Corinthians displayed in the final means that their victory is probably warranted, yet they were surprisingly prosaic and unspectacular -- a Brazilian version of Stoke City -- thus making Chelsea's failure to win the trophy all the more deflating. It didn't help that referee Cuneyt Cakir had an astonishingly bad game, first failing to book striker Paolo Guerrero for catching the ball when under pressure and ignoring a blatant dive from the same player before sending off Cahill thanks to the theatrics of Academy Award nominee Emerson, but ultimately, the players didn't help themselves.

That is now the third trophy that has slipped from the Blues' grasp this campaign after defeat in the UEFA Super Cup and elimination from the Champions League. With very little rest before a trip to what will be a hostile Elland Road against Leeds United in the Capital One Cup, the opportunities for winning silverware could be narrower still by the end of Wednesday night.

Reinforcements are needed desperately in midfield and up front. January can't come soon enough.

Follow Phil Lythell on Twitter @PhilLythell